Kent County Sprint Fling (2008)
| | |
| --- | --- |
| Date | May 23-26, 2008 |
| Hosts | Baltimore Bicycle Club |
| Where | Chestertown, MD |
| Who (else) | Judy Allison and Malcolm Boyd, Marji Brandriss and Dave Kristol, Vann and George Connolly, Deb and Al Cudworth, Pat and Ed Gifford, Martha and Jim Gullo, Brenda and Larry Isherwood, Julie and Phil Latzgo, Renee Mayeux and Bud McIlvain, Barb Flint and Neil McPhee, Nora and Paul Meixner, Susan Nicolich and Dave Snope, Cheryl Prudhomme and Mark Cook, Pat and Bill Rock |
Kent County Spring Fling is such a well-organized event, it's hardly possible to say much that's new about it. So I refer you to the write-ups from last year and the year before. Some changes on campus did scramble the usual routine. Hodson Hall, the student center and dining hall, is about to be renovated. The college had erected a new temporary dining structure, and it turns out we were the first people to use it. The dining staff had some problems because they were finding their way around in this new place, and they ran out of a few things, possibly because they couldn't find them! Also because of this change, registration had moved to the Casey Academic Center.
And this year (geeks take notice), there was limited wireless Internet access. The school wouldn't let the BBC tap into their network, so the BBC folks set up a wireless network that connected via Sprint's cellphone data network.
The weather this year was fabulous, as the photos will attest, with temperatures no higher than the low 80's. The past two years had been brutally hot. The only downside was that it was persistently windy the whole weekend.
Marji and I reached Chestertown around 1:30 Friday, leaving time to get into our dorm room, change, and take a modest warmup ride. We had kept in touch with Al and Deb Cudworth and arrived at nearly the same time. We decided to do the Three Bridges ride (29.4 mi.) together, which was a modified version of the former Blue Bridge ride.
Our dorm room was on the first floor of Minta Martin, which allowed us to roll the bike into the dorm relatively easily. Our floor was pretty quiet, but there was a boisterous social scene on the third floor comprising quite a few DOGS teams.
Friday night dinner was on our own, and two different groups ended up at Andy's, a nice little place just opposite the main square in Chestertown. To make a much too long story short, the food was very good, but the service was very bad. It took a long time to get served, some of the stuff that was served was either very late or incorrect, and it took a long time to get the check. Something about a new chef and being short-handed, which didn't make sense on Memorial Day weekend with its annual Tea Party tourist crush. Of course, there was some urgency to finishing dinner, because the usual ice cream social was 8-9:30. Our dinner group (Marji and me, Al and Deb, Bud and Renee, Neil and Barb) made it to the social relatively early. The other group just barely made it toward the end. As I said, service was slow.
Saturday we decided to do the Antiquing in Galena ride (39.2 mi.) with Al and Deb and Susan Nicolich and Dave Snope. The ride was, frankly, boring, and we would recommend skipping it. We did wander through a few of the antique stores in Galena, which was fun.
After the ride, Marji and I walked into Chestertown to cruise the craft vendors' wares. As usual it was a lively and busy scene, with lots of vendors selling food, crafts, and art. Once again we missed the 2 PM Tea Party reenactment. (We have yet to see it!)
Team Elsberg, who live in Chestertown, were hosting a reception at their home. We looked for it, but we were given incorrect directions and didn't find it. So we made our way back to the dorm to clean up for dinner.
Meals at Washington College are really quite good, though this year there were, as mentioned, some start-up problems in the temporary dining facility. The dining service staff is usually pretty good about having good supplies of good food for the bicyclists-cum-locusts. Following dinner there was a supremely decadent dessert and cordial party under a tent across from Hodson Hall. The calorie consumption there probably well-exceeded the calorie expenditure of the weekend's rides, at least for me. The party was accompanied by the bluegrass group, Fiddlestyx.
The annual picnic lunch is on Sunday, so everyone has to do a little calculating about what ride they want to do and how early they want to start in order to get to the lunch at a decent time. Moreover, we definitely did not want to miss the annual Raft Race at Wilmer park at 2:30, so we wanted to be sure to get through lunch early enough.
For the previous two years we did the "unauthorized" Betterton Beach ride. It wasn't one of the listed picnic rides, but it passes by Worton Park, the picnic site, in both directions. This year the ride was "official" (29.1 mi.), and we did it again. The scenery is pretty nice, and it's fun to stop at Betterton Beach and take in that part of Chesapeake Bay.
On the map there's a Howell Point Lighthouse that looks to be a short detour from the route, so we decided to try to find it. However, the road ends at the entrance to a private estate, and you can't even see the lighthouse from there. We did see some very active osprey using two hacking towers, though. And we could admire (ogle) some very, very nice houses that overlook the Bay.
We finished lunch in plenty of time and took the most direct route back to campus. We cleaned up a bit, I grabbed some photographic gear, and we cycled to the park. (Driving there is crazy, because parking is hard to come by, but it's a bit of a hike on foot.) The Race was the usual hoot. The teams produced clever and imaginative designs, some of which were actually seaworthy. Some rafts fell apart, or almost, and some sank, or almost, even before the race began. The winning raft, Rowbert, was made of cardboard! There was the usual beer-fueled rough-housing among the teams, and everyone had a great time. Some DOGS are thinking the club should enter a raft in next year's race. (This year's rules are here.) We'll see.
Another fine dinner at the college was followed by desserts left over (leftovers!?) from Saturday's dessert party.
Because Monday is departure day, people have to do some more time calculations. After breakfast, quite a few people, including us, did the Chester River Overlook (24.1 mi.) ride. This is a revised version of the former Cliff City Crabbers ride, and it's even better than that one. We thought it was the nicest ride of the weekend. There were two stops at docks along the Chesapeake, the terrain was pleasant and scenic, and the perfume from the honeysuckle and wild blackberries was intoxicating.
Following the ride, we cleaned up, loaded up the car, and grabbed an early lunch, as well as some leftovers to eat at home for dinner. Once again we had a fine time, capped off by an uneventful trip home.
Fourteen DOGS teams attended. KCSF is highly recommended!
Saturday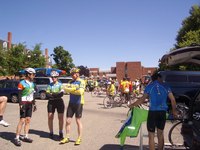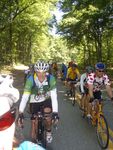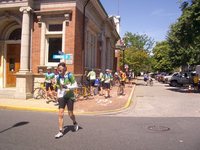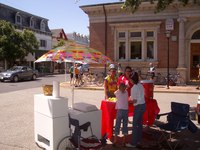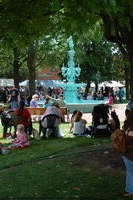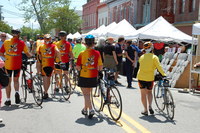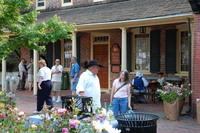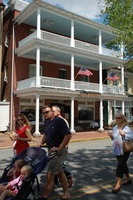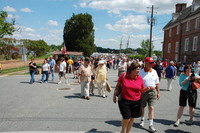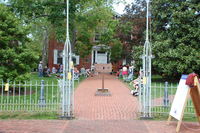 Reception...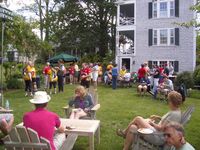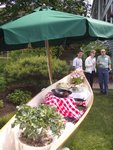 Dinner and dorm party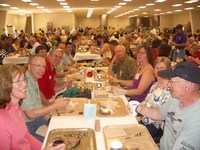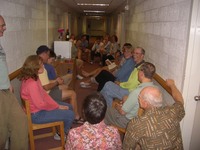 Sunday -- riding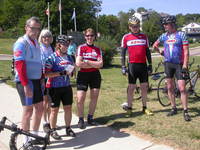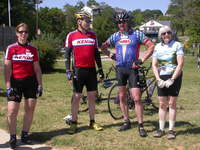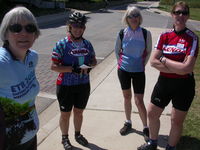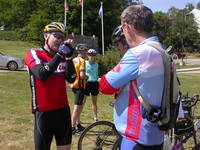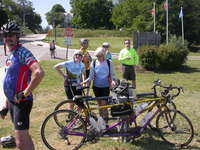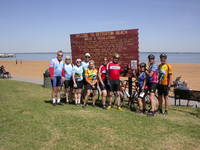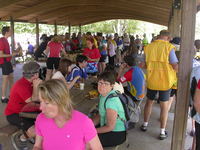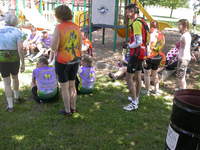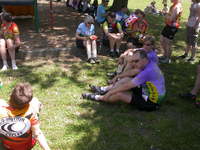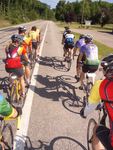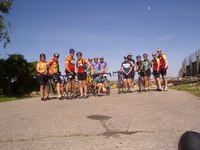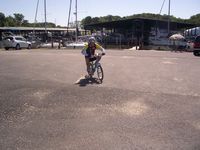 Sunday -- the race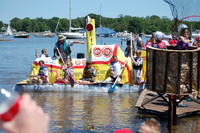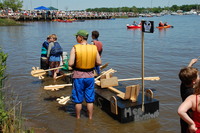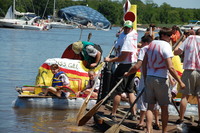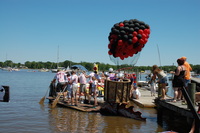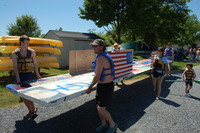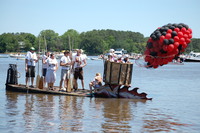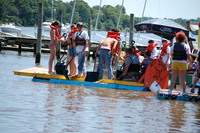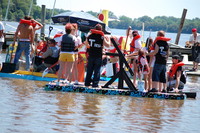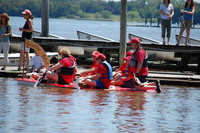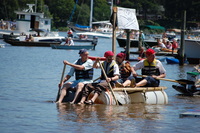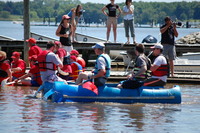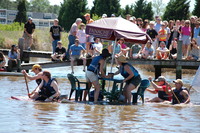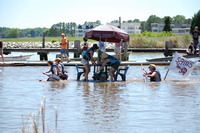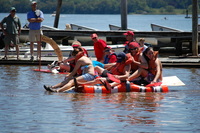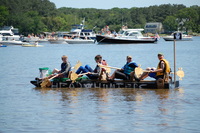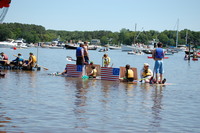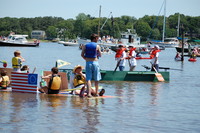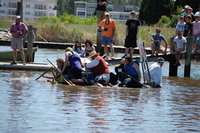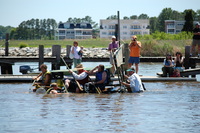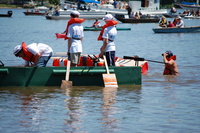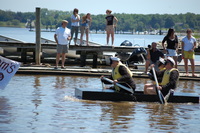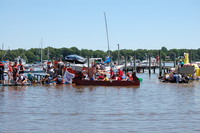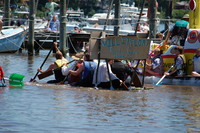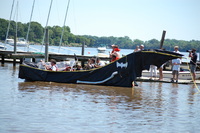 They're off!...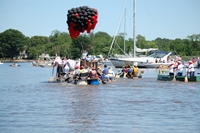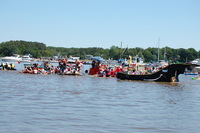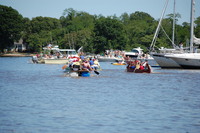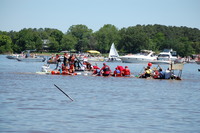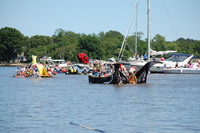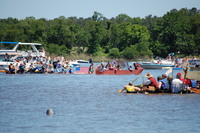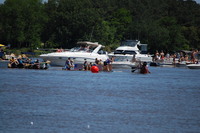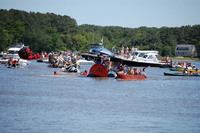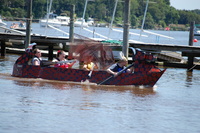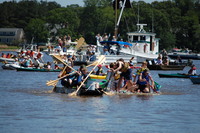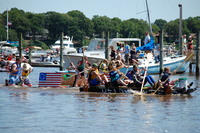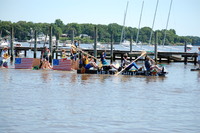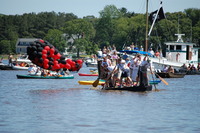 The winner -- Rowbert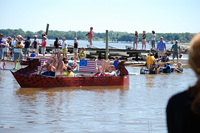 Followed by...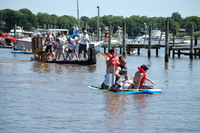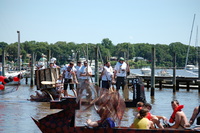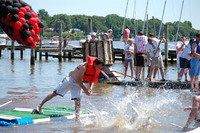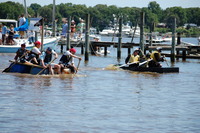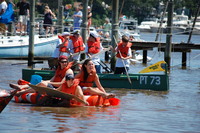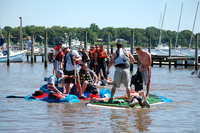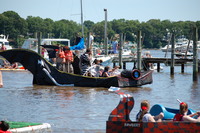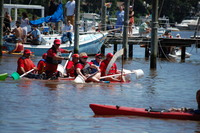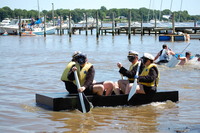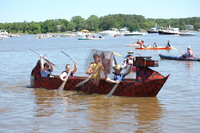 Spectators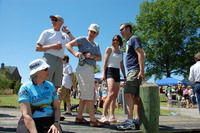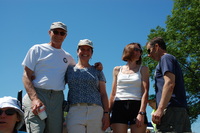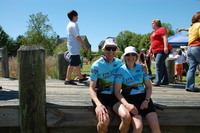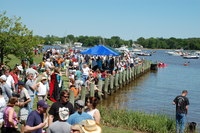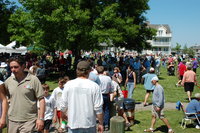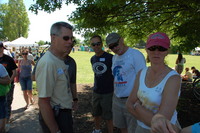 Sunday -- party time in the dorm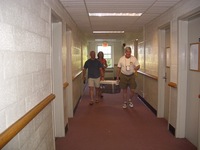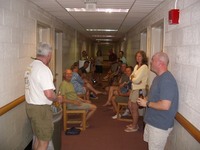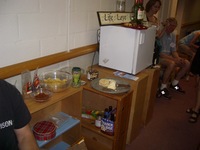 Monday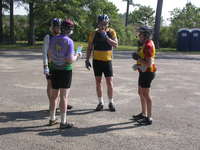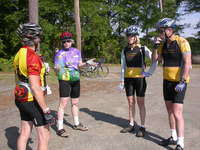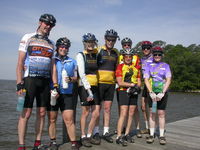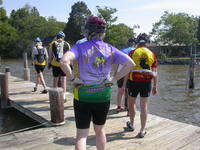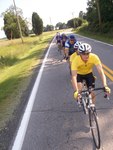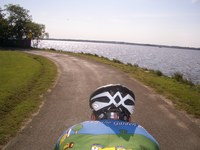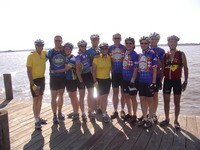 ---
---
Generated automagically on Sun Jun 29 18:36:30 2008 from kcsf2008.pho dated Sun Jun 29 18:35:02 2008 by /home/dmk/perl/pho.pl, @(#)pho.pl 1.31.
Copyright © 2008, David M. Kristol (text, photos); Brenda Isherwood (photos)