Kent County Spring Fling 2006
| | |
| --- | --- |
| Date | May 26-29, 2006 |
| Hosts | Baltimore Bicycle Club |
| Where | Chestertown, MD |
| Who (else) | Judy Allison and Malcolm Boyd, Marji Brandriss and Dave Kristol, Van and George Connolly, Julie and Stu Conway, Debbie and Al Cudworth, Jane and Paul Fialcowitz, Martha and Jim Gullo, Cheryl Prudhomme and Mark Cook |
The Baltimore Bicycle Club has run their annual Spring Fling for 24 years, now. It's been held at Washington College in Chestertown, MD, for many of those years, and they've got the routine down really well. So the event is very well organized, the college knows how to handle the cyclists (in other words, lots of food, good food -- how many other bicycling events publish a menu with their registration materials?), and the BBC has lots of nice cycling routes through the area. The College has a wonderful assortment of trees on its campus, including a number of southern magnolias. Their flowers are enormous, waxy and white, quite different from the saucer magnolias we have in NJ.
The cycling comprises a wide assortment of distances on lightly trafficked, well-maintained roads. The area is largely rural, so the scenery comprises farm fields and woods. Some of the routes go to Chesapeake Bay, so there are water views, as well. The terrain is mostly flat. Although the event draws all kinds of cyclists, there were many tandems, and the terrain is certainly tandem-friendly.
Besides the cycling, there's lots to do in Chestertown. The Spring Fling occurs on Memorial Day weekend, which also coincides with Chestertown's Tea Party celebration: Chestertown had its own "tea party" a few months after the more famous one in Boston. This year's was the tricentenary.
The celebration includes a reenactment of the tea party by people in period dress, and there are craft stalls and other things for sale, and entertainment. The next day there is the Raft Race on the Chester River, which is a real hoot. Teams assemble rafts out of all sorts of parts -- except for anything nautical. They then have to propel them -- snow shovels make popular paddles -- around a race course, competing for the glory of bragging rights as the year's winners.
Marji and I left Summit around 10:15 and arrived in Chestertown about 1:45. It being the Friday of Memorial Day weekend, traffic around the Delaware Memorial Bridge was heavy, and that slowed the trip. We also encountered rain through southern NJ into Delaware, and we wondered how the folks who went to Chestertown for morning rides might be faring. As it turned out, the weather all weekend was excellent, warm and mostly sunny.
Once we arrived in Chestertown, we quickly found the college, got ourselves checked in, and moved all our stuff into the Minta Martin dorm. We still haven't figured out why the organizers chose Minta Martin to house the tandemists, except maybe for the comraderie. The dorm itself isn't very tandem-friendly. There aren't any elevators, and the stairs are rather steep and narrow. We ended up on the third floor, so we kept our bike locked on the first floor, outside a lounge. The dorm itself is a bit shabby, though it was supposedly renovated recently. We thought the housing was probably the weakest aspect of the weekend.
Once we got ourselves organized, we prepared to take a ride. Al and Debbie Cudworth were in the same parking lot as we, and we decided to ride together. We also picked up Stu and Julie Conway and Barbara and Tim Briggs from Ohio. We set off on the 32-mile Tunnels of Love ride (so-named because it traverses two different Lovers Lanes), which served as a nice introduction to the area. Along the way we saw many thirsty and stunted cornfields and smelled the heavenly scents of wild blackberries and honeysuckle.
After our ride, we cleaned up and went to dinner with Al and Debbie. We were looking for a place called Andy's that Stu and Julie had recommended. They had forgotten the name but gave us directions that we failed to follow successfully. Instead we stumbled into The Blue Heron, which turned out to be really nice, and we had a terrific meal. For dessert we returned to the campus for the Ice Cream Social.
Next morning we had our breakfast and hooked up with the Cudworths again. The "official" tandem ride, Divine Inspiration, sounded a bit too long for us (56 mi.), so we did Rock Hall Ramble (47 mi.) instead. It turns out that that's the customary Saturday tandem ride, but it somehow got bumped from Saturday's schedule. So the early arrival tandem folks did this ride on Friday. Once again the ride was nice, making its way to the Bay and onto an island that comprises Eastern Neck National Wildlife Refuge.
There were a bunch of people gathered at the Tubby Cove trailhead. We walked out to the blind but saw little more than mute swans. Although we saw lots of osprey during the ride, we didn't see any in the Refuge! We rode further into the Refuge to the newly opened Visitor's Center, which entailed some gravel road. The volunteers there filled us in on the Refuge's history. Apparently, through the intervention of the Maryland Congressional delegation, the island escaped the fate of being developed into condos and houses some years back.
One of the highlights of the ride is that it passes near Waterman's, a famous seafood house, on the return trip. Because we were on our own for lunch this day, we stopped there and had a nice meal. (I was obviously more dehydrated than I realized and easily downed three large glasses of free-refill raspberry lemonade.) We completed the ride too late to see the Tea Party reenactment, but we did walk into Chestertown and examine the stalls. Not much caught our fancy, but we did buy a present for the folks who were taking care of our recently adopted springer spaniel, Timoteo.
Saturday dinner is part of the Spring Fling package, and it's impressive. Apart from a wide variety of food choices (and ample quantities), there's a separate dessert and cordial buffet with some awesome goodies. Of course it's essential to try a little (or not so little) of everything. I can personally vouch for the several variations on chocolate cake. Following dinner there was square dancing on the plaza near the dining hall.
We had heard that the Raft Race was not to be missed on Sunday, so we made a point to be back in time to see it, around 2:15. Lunch was to be a picnic in Worton Park, and there were a variety of ride options with varying distances before or after the picnic. Again we rode with Al and Debbie and chose "none of the above," instead opting to do the Betterton Beach (Short) ride, a 28-miler (total) that passes Worton Park along its out-and-back route. This ride had our biggest hills, such as they were, leading down to the Betterton Beach (and back up).
Once again we had a pleasant ride on quiet roads. At the beach we ran into Malcolm and Judy, Mark and Cheryl, and the Briggses, but they were doing different rides. The beach was pretty deserted for such a sunny, warm holiday weekend.
The lunch spread was excellent, as were all the college-supplied meals, with lots of choices and quantity. It was also impressive to see the colorful assortment of bikes arrayed around the park while people ate.
After lunch, our route back was just a few miles, which gave us time to get to Wilmer Park for the Raft Race. We decided to ride there without first showering, having discovered yesterday that the walk to town got us all sweaty anyway. We would clean up after the Race.
The Race lived up to its billing. The rafts were imaginative, the competition was heated, and the crowd was lively. Apparently the chief fuel of the rafts is beer, so the competitors seemed to have a pretty good time, whether they won or not.
Dinner at the College was another amazing production, which was again followed by a dessert spectacular. (The advertised Ben & Jerry's ice cream never materialized, however, as if I really needed it.)
Monday involved calculations as to how long to bicycle, when to leave for home, how much traffic might there be, and where and when it might occur. We decided to get an earlier-than-usual (for us) start, do a 27-mile ride (Blue Bridge Special), and try to leave by 1. Again we rode with the Cudworths, and we got back to the college around 11. We cleaned ourselves up, loaded up the car, checked out of our room, and went to the dining hall for brunch and take-out. Having eaten our fill, and more, and having put together something to eat when we got home, we departed.
The homeward journey went well until we got to I-95, which was slowed by an earlier accident. Traffic also slowed on the NJ Turnpike north of Exit 7, probably due to shore traffic, and it didn't really pick up again until the turnpike widened. In all it took us about 3 3/4 hours to get home.
We really enjoyed this event and will probably do it again next year. Highly recommended!
Washington College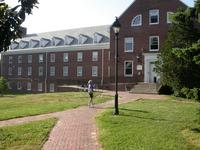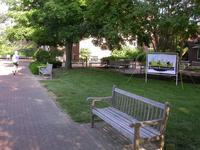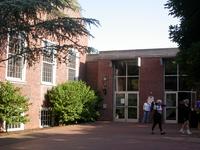 Rock Hall Ramble -- Eastern Neck NWR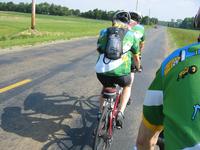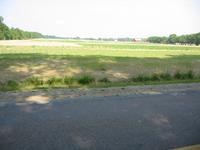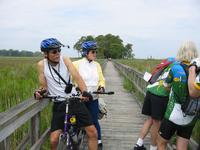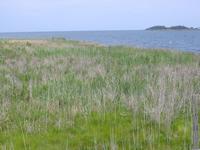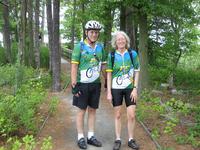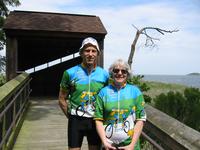 At Waterman's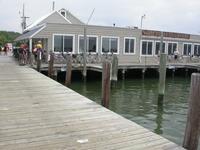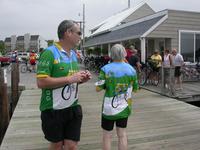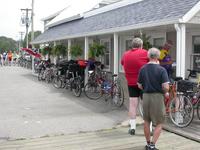 The Schooner Sultana in Chestertown Harbor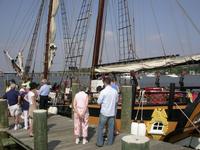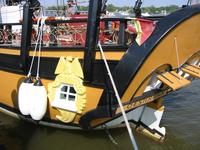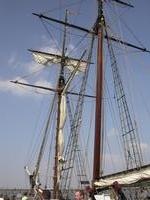 At Betterton Beach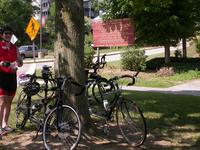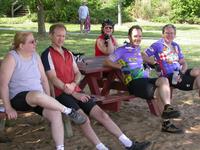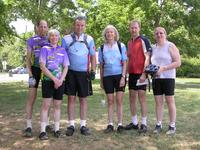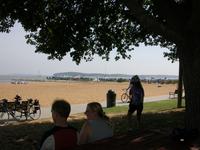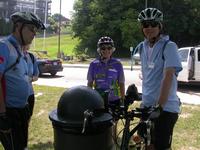 Sunday Picnic in Worton Park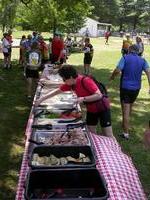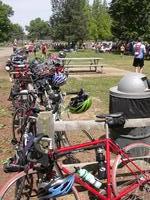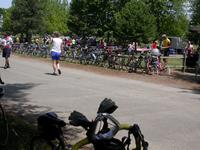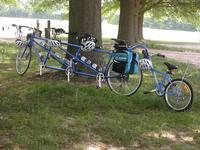 The Raft Race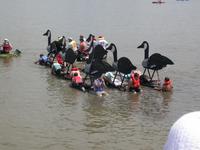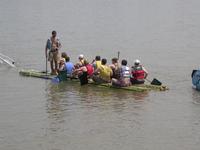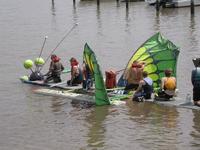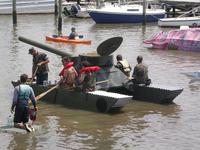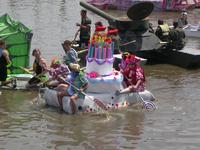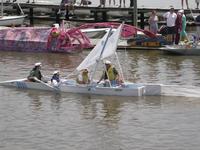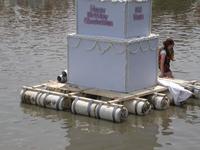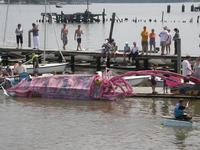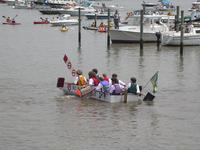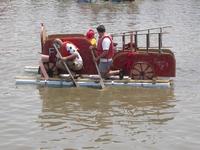 The Winner -- "Get Tanked"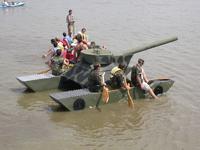 After the Raft Race...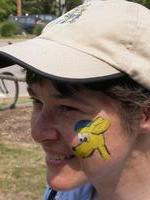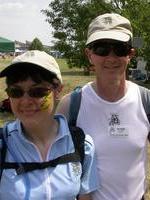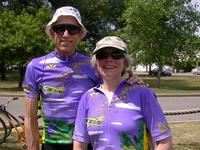 Sunday dinner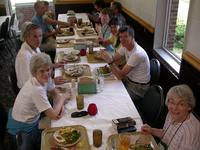 Chestertown from the Chester River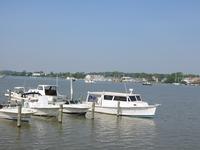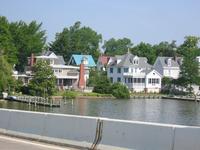 Southern magnolia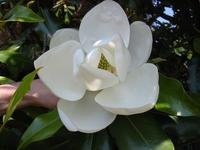 Timoteo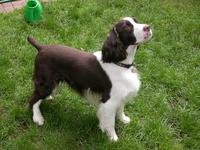 ---
---
Generated automagically on Tue Nov 21 20:03:14 US/Eastern 2006 from kcsf2006.pho dated Tue Nov 21 20:03:10 US/Eastern 2006 by /home/dmk/perl/pho.pl, @(#)pho.pl 1.24.
Copyright © 2006, David M. Kristol (text, photos); Marjorie Brandriss (photos)