Kent County Spring Fling (2007)
| | |
| --- | --- |
| Date | May 25-28, 2007 |
| Hosts | Baltimore Bicycle Club |
| Where | Chestertown, MD |
| Who (else) | Judy Allison and Malcolm Boyd, Marji Brandriss and Dave Kristol, George and Van Connolly, Julie and Stu Conway, Deb and Al Cudworth, Martha and Jim Gullo, Brenda and Larry Isherwood, Julie and Phil Latzgo, Paul and Nora Meixner, Susan Nicolich and Dave Snope, Cheryl Prudhomme and Mark Cook |
[Team Isherwood report]
Friday through Monday, May 25th thru 28th 2007, was our first but will definitely NOT be our last Kent County Spring Fling in Chestertown, MD! We had a great DOGS showing at the KCSF, we had our tandem friends from VT, Jim & Kelley Odorisio, plus 11 DOGS teams: Brenda & Larry Isherwood, Dave Snope & Susan Nicolich, Mark Cook & Cheryl Prudhomme, Phil & Julie Latzgo, Al & Deb Cudworth, Malcolm Boyd & Judy Allison, George & Van Connolly, Dave Kristol & Marji Brandriss, Jim & Martha Gullo, Paul & Nora Meixner, Stu & Julie Conway...and if we missed someone we are sorry we did not see you there!
We had an easy drive down on the Friday morning of The Memorial Day Weekend and arrived at Washington College to join some DOGS and other tandem teams for a 10 am ride hosted by the Baltimore Bicycle Club and our long time experienced tour guides, Malcolm Boyd & Judy Allison. We did the 48 mile Rock Hall Ramble route with a delicious lunch stop at Waterman's Crab House and a stop at the park and a view of numerous Osprey nests along the route. We had crab cake sandwiches which were MD delicious! We had about a half dozen DOGS teams and our friends from VT, Jim & Kelly along with some very friendly BBC teams on the ride. In the evening we had 6 tandem teams eat dinner at a nice local restaurant. We decided that since we were in MD we should have crab cakes for dinner even though we just had them for lunch! The weather was HHH so we were glad that there was an evening ice cream social and our dorm rooms had window air conditioners! We were also thrilled that most of the DOGS were in the same hallway and we enjoyed acting like college students numerous times by having "block hall parties" and sharing our drinks and snacks.
Saturday was the 56 mile Divine Inspiration ride that toured five historic churches in the local counties dating back over 200 years. Our mid-ride stop was at one of the churches and they were so kind as to provide bathrooms and water & ice. After the ride some of us walked to the waterfront to enjoy the Tea Party Street Festival. Dinner in the evening at the college was fantastic! They had more than delicious food, and wine was served for part of the dinner hours! They of course did have crab cake with salmon that we enjoyed again for a 3rd time! Dessert was consumed even though our bellies were more than satisfied from dinner. There was Blue Grass music and Contra/Square dancing in the college square outside afterwards that we enjoyed while we socialized with our fellow tandemists.
Sunday was another beautiful day with most of us choosing the 52 mile ride out to the lunch stop at Worton Park and then the 5 miles back after eating ourselves sluggish! The riding got hotter as the day progressed but we must have been enjoying ourselves enough, for some of us were singing old TV sitcom songs while riding out to lunch while the others made sure that they kept the pace UP on the riding while this was going on! After the ride we again walked down to the waterfront, but this time was to see the ever crazy homemade raft race! This was as silly as kids making go-carts and driving them while some fall apart and others excel, but it was a sight that must be seen. There was even talk about how the DOGS could pool together and collectively make a raft to enter for next year! We'll have to wait and see if this takes off! :-)
Dinner again at the college was delicious and with wine and this time we were sorta glad that crab was not offered, because we just may have taken them up on it for a 4th time in 3 days! Of course there was dessert to devour after dinner and somehow we found room! Afterwards the sock hop was interrupted by a fast moving HHH summer storm which had us all flee for another block hall party that we enjoyed until we had to sleep so we could ride the next day!
Monday had us taking a shorter 21 mile ride, the Cliff City Crabbers ride out to the Chester River, which was done at a very moderate pace so we could socialize with our tandem friends and be kind to our legs after so many days of so many miles of riding before we had to put them into our cars to drive home.
The riding in this area is mostly flat to some rollers and very scenic with mostly quiet roads. The Baltimore Bicycle Club is to be commended for the spectacular event that they host with everything from rides, rooms, food, and entertainment at a top notch level. They have us hooked!
The drive home was again surprisingly uneventful for a holiday weekend and we returned home awaiting next year's sign-up which will come just after the new year begins!
---
[Dave Kristol report]
I'll second Brenda and Larry's report. Rather than duplicate what they said and what I wrote last year, I'll briefly describe some more personal observations.
Friday
Marji had sprained her ankle in a bizarre and freakish accident the previous Friday while horseback riding. At the time I had my doubts whether we'd be able to ride at all at Spring Fling, but we decided to go anyway. Marji was pretty sure she'd be able to ride, at least a little.

We left home around 10:15 (no early birds, we) and reached Washington College just before 3. After checking in, moving in, and changing, we chose the 14 mi. Osprey Odyssey ride as a warm-up and to check out Marji's ankle. Even though she had been walking gingerly, she had no trouble pedaling. What was hard for her was clipping out of the pedal, which required an ankle twist. Ouch! But she managed.

The ride was a lollipop course, and it lived up to its name. We passed five very active osprey nests that were close to the road. As we passed each one, the adults took flight. We were sorry to have disturbed them, but we got terrific views of them up close.

We had a pleasant (if slow!) dinner with Al and Deb Cudworth outside on the deck of the Olde Wharf Inn, overlooking the Chester River. Al and Deb seemed to like the place, because they ate there several times during the weekend. On the last such occasion, they learned the place was closing down on May 31 and would re-open under new management in a week!

We didn't try hard enough to save room for the Ice Cream Social, but we indulged anyway.
Saturday
We wanted to be cautious with our riding today so we don't over-stress Marji's ankle. We chose the ride to Waterman's and back and tacked on the extension to Tubby's Cove. We had been to Tubby's Cove last year, so wanted to visit again. Our math was a bit off, because in the end we did 42 mi., which is much further than I had imagined Marji would be able to pedal this weekend, so it was quite noteworthy.

On returning to our room, we cleaned up, then ate a meager lunch of peanut butter sandwiches we had made at breakfast. Then we walked(!) into town to check out the craft exhibits.

We enjoyed dinner and the dessert buffet, though we were sufficiently late that we missed most of the chocolate desserts, which is to say the only relevant ones. Marji filled a plastic bag with ice, which she applied to her ankle in our room to manage the swelling.
Sunday
We really did take it easier today. After breakfast we rode the 28 mi. Betterton Beach ride with Al and Deb and Dave and Sue. The route is an out-and-back, stopping at Betterton Beach on the Chesapeake Bay. Although it wasn't one of the "official" rides to the picnic lunch, it goes right past the picnic site in both directions. Worton Park is at the 4 and 24 mi. marks of the 28-mi. ride. Because we didn't want to reach the picnic too early, we dawdled at the beach quite a while, during which time Sue located an indigo bunting that we all struggled to see.

In spite of our best efforts, we ate too much at the picnic and then rode the last 4 mi. back. (The food's so good, you want to try at least a little of everything!) It was important to get back at a reasonable time so we could rest up a little before going to the not-to-be-missed Raft Race. After resting awhile, we cycled to the park where it's held. (It's a long walk and parking is hard to find.) Once again the event was a hoot and is almost enough of a reason to attend Spring Fling all by itself.

As you can tell by now, Spring Fling offers terrific meals, and a wonderful dinner was followed by more desserts in a separate area where cordials were also served. Apparently some of the chocolate desserts were held in reserve from Saturday, and I snagged a portion of an utterly decadent flourless chocolate torte.
Monday
As a fine wrap-up to the weekend, we did the Cliff City Crabber's Special, 21.3 mi. We joined a formidable group: Larry and Brenda, Malcolm and Judy, Al and Deb, Phil and Julie. This time, when Larry said he was going to take it easy, he meant it. That means we were able to hang on as we five teams cruised along the scenic, quiet roads to the Chester River and back.

After our return to campus, we cleaned up, ate lunch (at 11:00!?), packed up our stuff, and headed home. Leaving at 11:50, we got home at 3:25 with only minor slowdowns.

This is a terrific event, well-suited for tandems, and extremely well-organized. This was Spring Fling's 25th year, so the Baltimore Bicycling Club and Washington College really know what they're doing. You should definitely plan to attend next year. It's always held on Memorial Day weekend.
Friday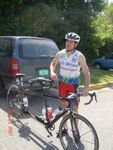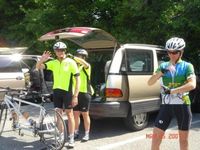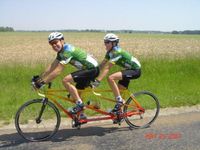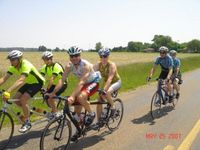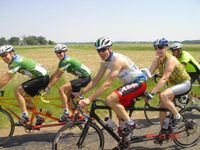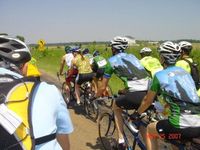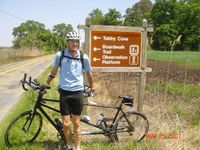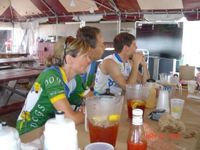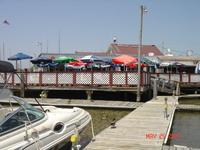 ---
Saturday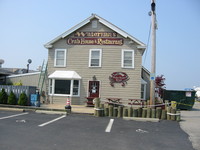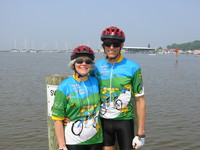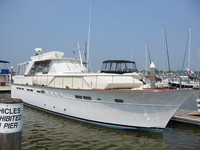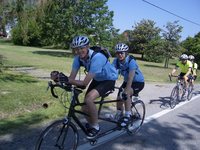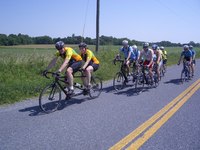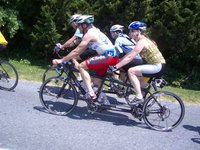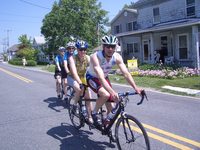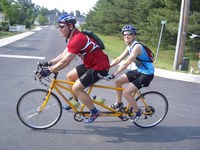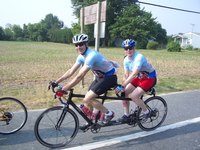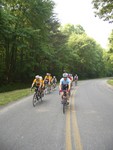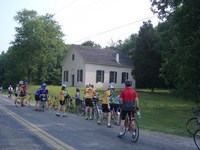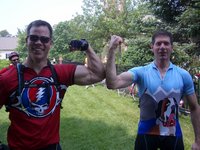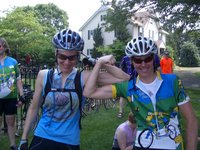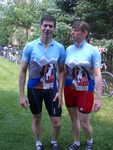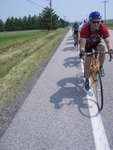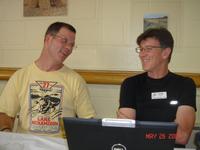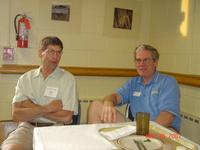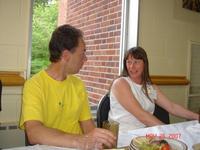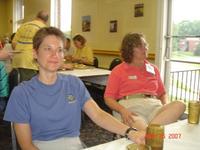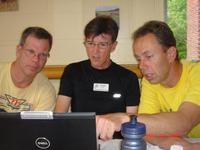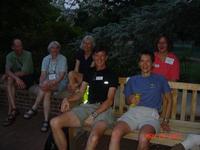 ---
Sunday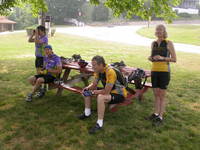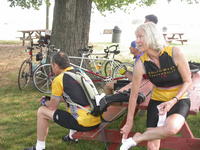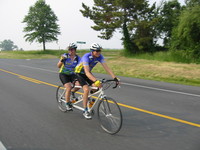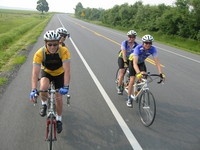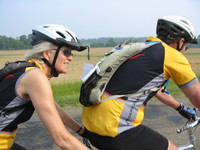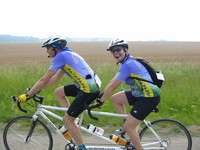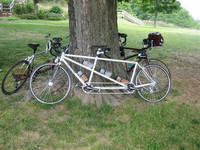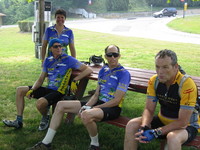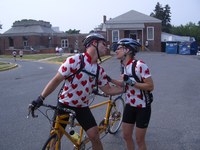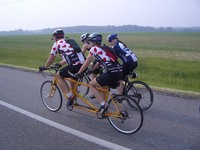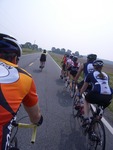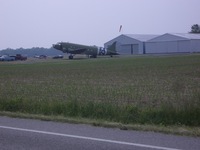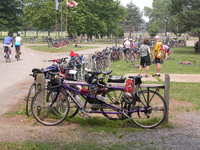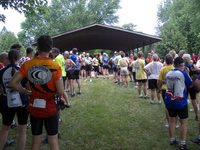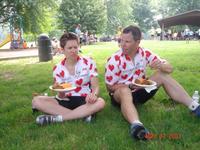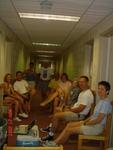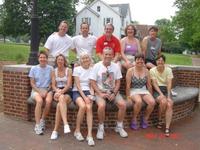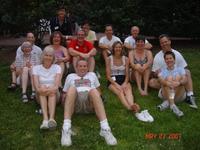 The Raft Race -- Competitors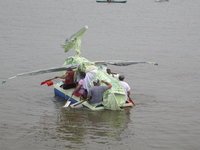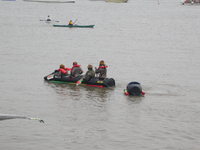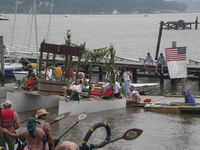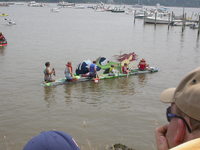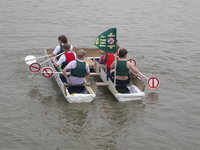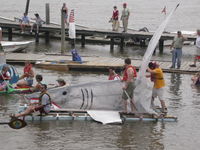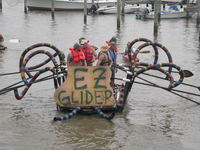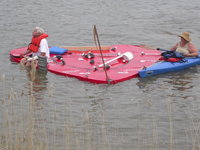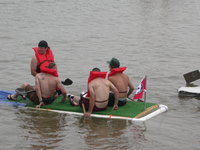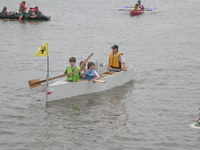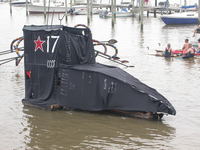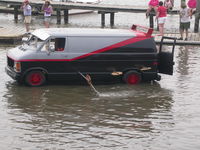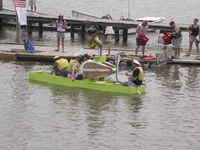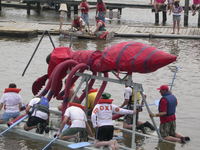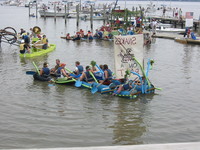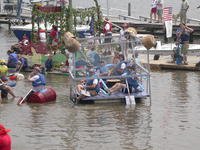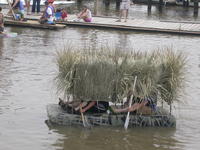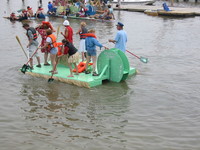 The Raft Race -- Racing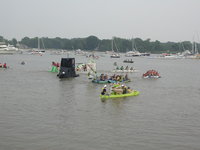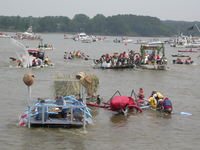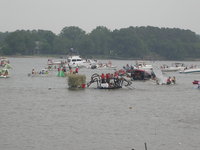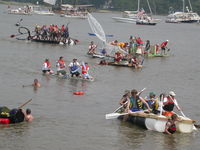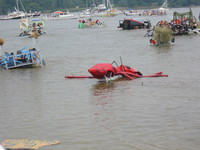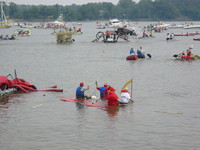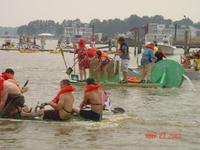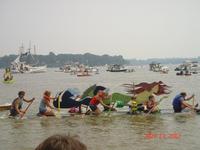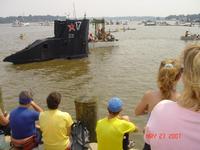 The Raft Race -- Winners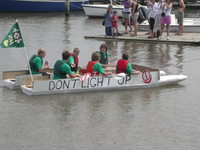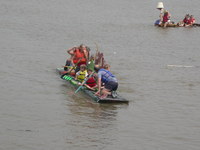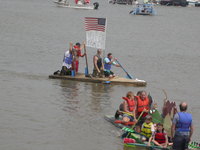 ---
Monday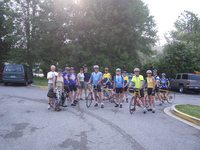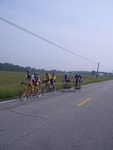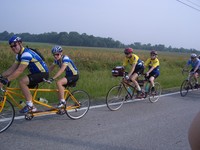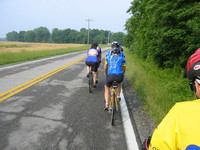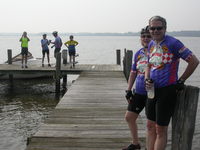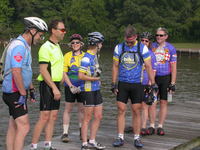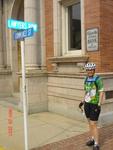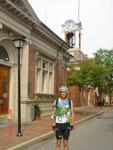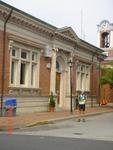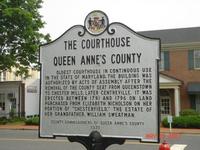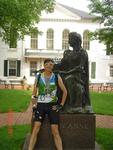 DOGS-friendly?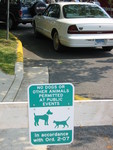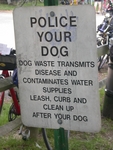 ---
---
Generated automagically on Tue Mar 18 22:46:33 US/Eastern 2008 from kcsf2007.pho dated Tue Mar 18 22:46:30 US/Eastern 2008 by /home/dmk/perl/pho.pl, @(#)pho.pl 1.30.
Copyright © 2007, David M. Kristol, Brenda and Larry Isherwood (text, photos); Mark Cook, Marji Brandriss (photos)