Hill and Dale, Scale and Sail
| | |
| --- | --- |
| Date | September 4, 2004 |
| Hosts | DBLS DOGS (Brenda and Larry Isherwood, Susan Nicolich, Dave Snope) |
| Where | Isherwood house, Succasunna; Morris and Somerset Counties |
| Who (else) | Judy Allison and Malcolm Boyd, Helen and Bob Bird, Marji Brandriss and Dave Kristol, Barbara and Tracy Cate, Christina Chan and Rich LeGrand, Julie and Stu Conway, Debbie and Al Cudworth (after the ride), Michelle Emerson and Dan Dodson, Claire Hamanaka and Walt Willard, Paul and Jane Kimmel, Linda and George Wells, Karen and Cam Witt |
DBLS DOGS report Team Wells report
Mountain Top Road. Hilltop Road. Mountain Avenue. Mountainside Road. Horizon Drive. Pleasant Hill Road. (Pleasant Hill?) If those names don't give you pause, how about the five places in the route slip that even the DBLS DOGS indicated "GG" -- for "granny gear"? Yes, the ride was hilly.
An impressive crowd gathered at the Isherwood's early on a clear, cool, beautiful holiday weekend morning, innocently unaware of the challenges to come. Everyone dropped off food for later, socialized, and enjoyed some pre-ride snacks. Following the ritual group photo, we got underway.
The first 13 miles were mostly rolling, with a few manageable hills, through pleasant suburbia along quiet streets. After the nice downhill beside Ravine Lake, we arrived at Pennbrook Rd. What begins as a modest incline finishes with a series of alternating short, sharp uphills and plateaus known locally as "Jacob's Ladder." We were displeased to have to contend near the top with a huge trailer carrying a backhoe that nearly blocked the whole road.
After some more huffing and puffing through Far Hills, we headed back toward Mendham. After climbing on Hilltop Rd., we got a respite as we crossed Main St. and headed downhill for a stretch before a brief, sharp uphill to Mountainside Rd. Mountainside is actually a nice, mostly rolling, well-paved road. Too bad we turned off it onto Horizon, which immediately begins climbing. And climbing. For whatever reason, we weren't feeling terrifically strong today, and we eventually dropped into our great-granny gear (walking) to reach a cross-street, before resuming our pedaling. By comparison, the remainder of the ride seemed pretty easy. (I kept expecting another nasty hill and was pleasantly surprised that it didn't show up.)
After the ride we had another festive DOGS food fest. In honor of Christina and Rich's leaving in early October for Texas, Judy and Malcolm brought some barbecued brisket and chili. Of course there was lots of other food, including burgers and dogs from the grill, chicken salad, and that summer picnic staple, watermelon.
Pre-ride snacks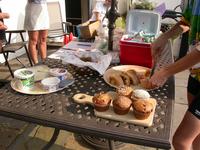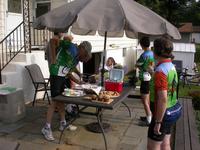 Smiles and socializing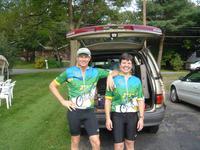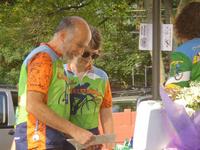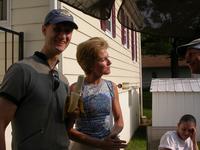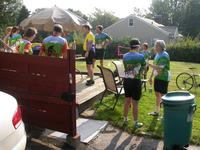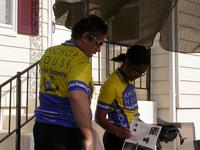 Bikes galore!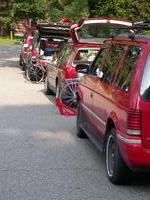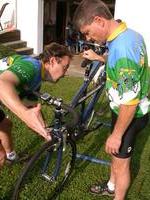 Now it's official...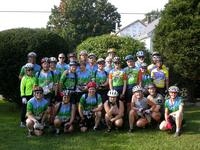 And, they're off!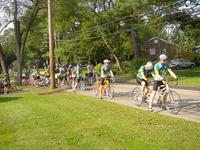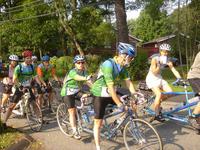 After the ride: course after course of food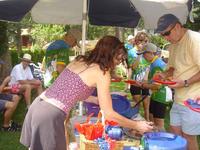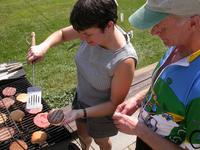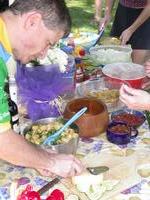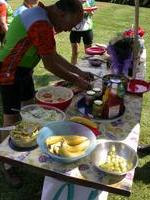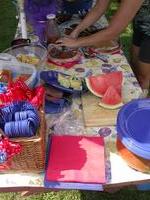 Great friends, great fun.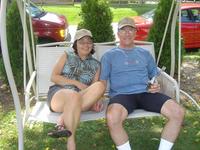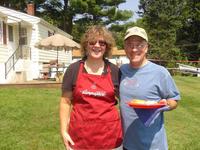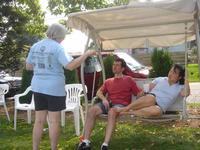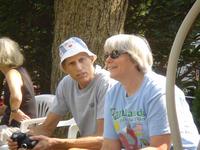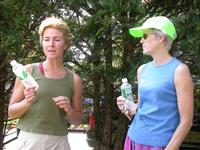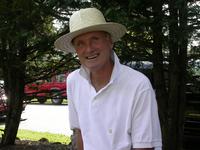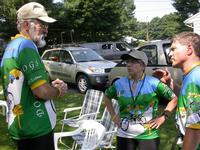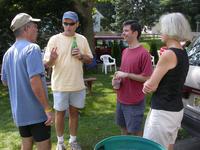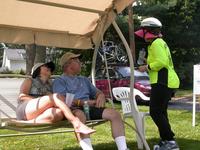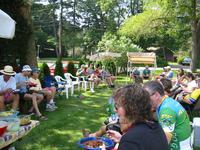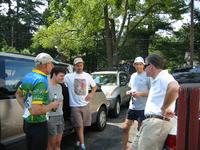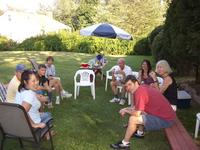 Well done, Tracy and Barbara!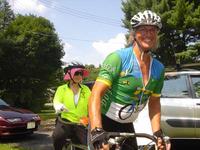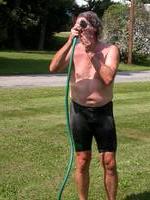 We'll miss Rich and Christina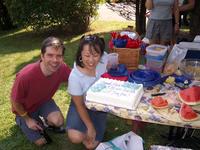 They're trolling for visitors for the SWTR...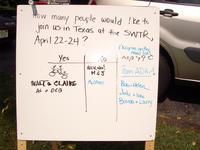 ---
---
Generated automagically on Mon Sep 6 22:40:19 US/Eastern 2004 from 040904.pho dated Mon Sep 6 22:40:18 US/Eastern 2004 by /home/dmk/perl/pho.pl, @(#)pho.pl 1.24.
Copyright © 2004, David M. Kristol (text, photos); Marjorie Brandriss, Walt Willard, Amy Isherwood (photos)