Ride for the Roses
| | |
| --- | --- |
| Date | April 24, 2004 |
| Hosts | Mark Cook and Cheryl Prudhomme |
| Where | Cook/Prudhomme home; Morris County |
| Who (else) | Susan and Greg Adam, Judy Allison and Malcolm Boyd, Marji Brandriss and Dave Kristol, Pam and Alan Bergstrom, Helen and Bob Bird, Barbara and Tracy Cate, Christina Chan and Rich LeGrand, Debbie and Alan Cudworth (after the ride), Michelle Emerson and Dan Dodson, Claire Hamanaka and Walt Willard, Brenda and Larry Isherwood, Jane and Paul Kimmel, Sandy Peck and Jack Borowsky, Teresa Seidler and Joe Rutch, Dave Snope, Linda and George Wells |
Having used superlatives for the last ride, I've left myself little room to be more superlative! But that's all that would serve for an astonishing turn-out, a great ride, super snacks, an awesome barbecue, and spectacular weather. (Bright, sunny sky, pleasantly cool/warm temperatures in the upper 60's.) The crowd was so large, we look the customary group photo without bikes so we would all fit in.
The day got off to a shaky start for Rich and Christina, who locked their helmets in their car and had to wait (an hour, it turned out) for AAA to help them. They subsequently rode the route, and they certainly joined the after-ride festivities.
Meanwhile, the fourteen other teams, and a Sue-less Dave, snaked through Morris County on a reverse of last year's Tour of Gillette. Leaving Mark and Cheryl's house, we headed up into and through the Great Swamp, then headed through Bernardsville. Eventually we wound ourselves to the USGA Golf Museum, where our hosts had pre-positioned snacks.
After we rested and ate and talked and loitered, George blew his whistle to get us going again. It was all downhill from there, except for the uphills on roads with Mountain in the name, of which there were several.
Back at Mark and Cheryl's, we found the grill already stoked (they left the Golf Museum early) and cooking. Once again there was great food aplenty, topped off by an unbelievably rich chocolate cake (from Costco!) that Claire brought to help celebrate Walt's 55th birthday and Jack's (prospective member) unspecified birthday. (That's a 50 plus five single candles on the cake.) Al and Debbie came for the food (are they smarter than the rest of us?); Al hasn't been able to ride because of a medical condition, but expects to be on the road again soon.
Mark outdid himself (and put all the other captains on the spot) by handing out roses (hence, Ride for the Roses) to all the stokers. Hey, Mark, don't captains deserve flowers? No, wait, forget I said that....
Welcome to new members Greg and Sue Adam, who live in Berkeley Heights and who moved to New Jersey from San Diego (oh, behave!) in September. They survived the winter and figure they can handle anything. Welcome, also, to prospective members Sandy Peck and Jack Borowsky, who live in NY state and brought their recumbent tandem along.
Pre-ride mingling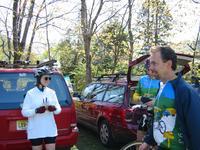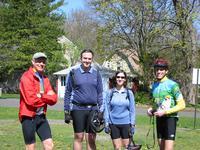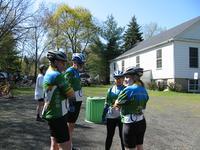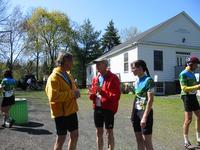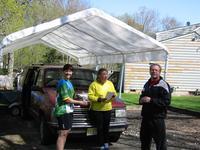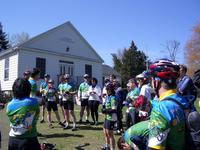 The traditional group photo....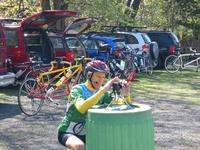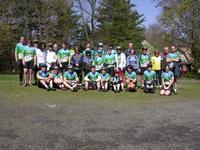 Snacking and resting at the Golf Museum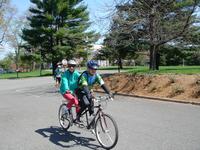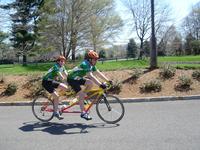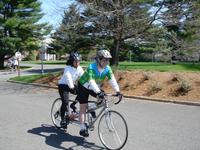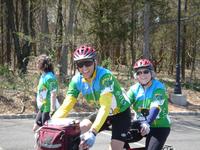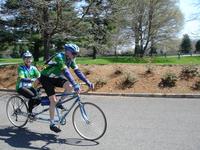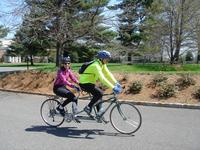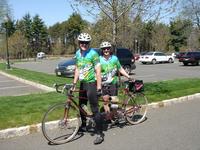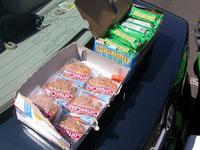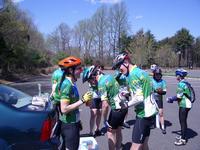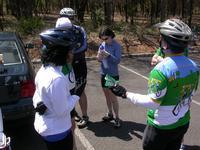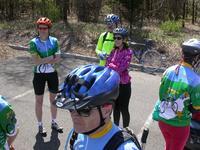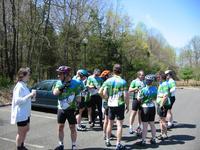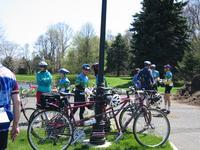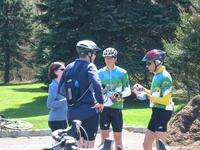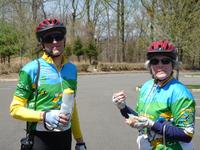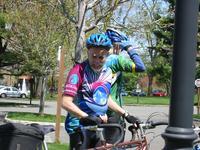 And, they're off!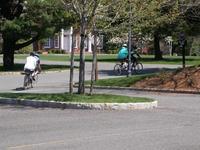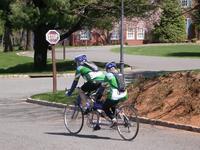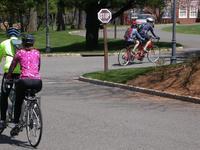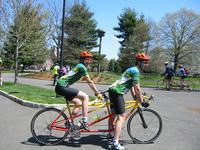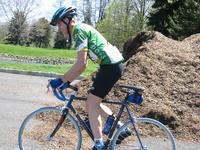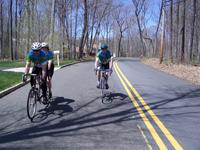 Party!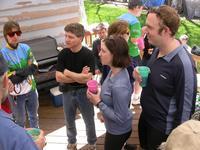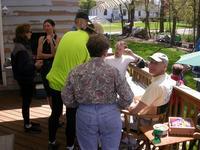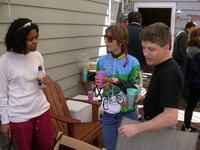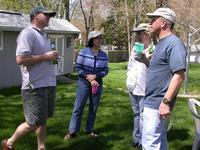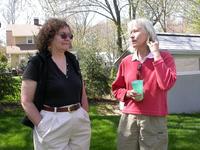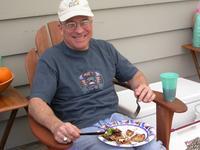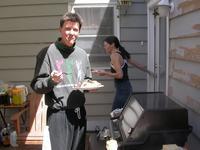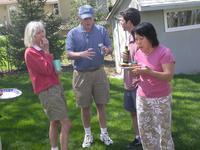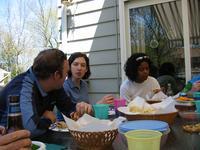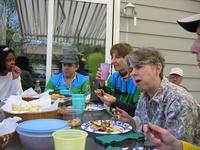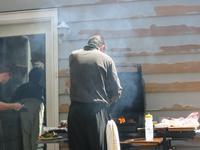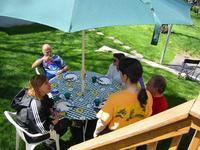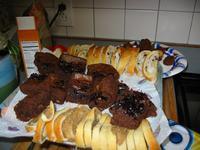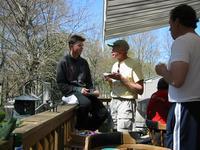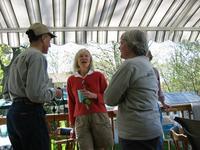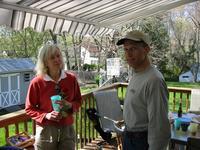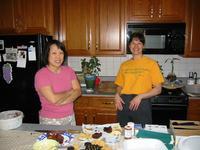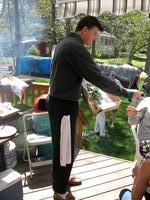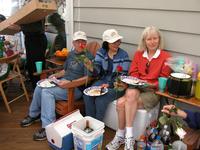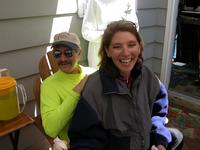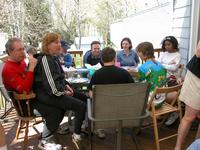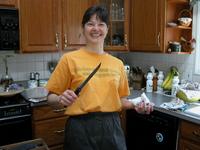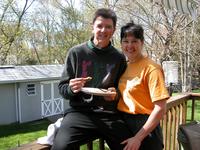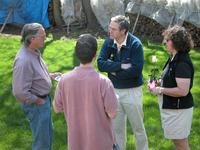 Roses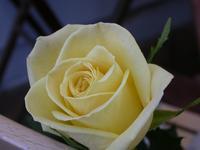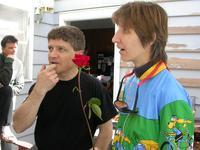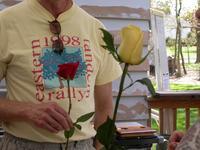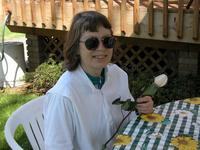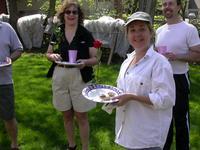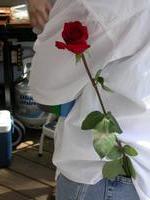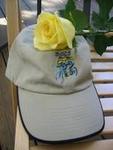 Birthdays!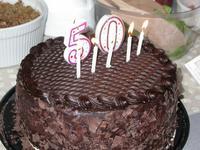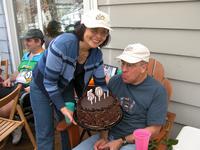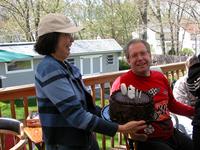 Lonely, deserted bikes....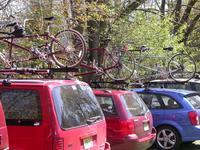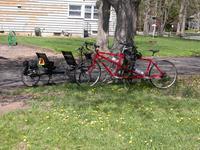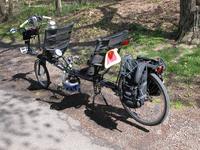 ---
---
Generated automagically on Tue May 11 22:28:39 US/Eastern 2004 from 040424.pho dated Tue May 11 22:25:58 US/Eastern 2004 by /home/dmk/perl/pho.pl, @(#)pho.pl 1.24.
Copyright © 2004, David M. Kristol, Team Wells (text); photos: David M. Kristol, Marjorie Brandriss, Mark Cook, Paul Kimmel, Brenda Isherwood