ETR 2005
| | |
| --- | --- |
| Date | August 5-7, 2005 |
| Hosts | Team Moseman |
| Where | Lewisburg, PA and surrounding area |
| Who (else) | Judy Allison and Malcolm Boyd, Helen and Bob Bird, Marji Brandriss and Dave Kristol, Betsy and Sam Carlson, Marie and Rich Cochrane, Julie and Stu Conway, Al and Debbie Cudworth, Connie and Don Engleke, Lily and Mike Fabricante, Brenda and Larry Isherwood, Barbara and Mel Kornbluh, Julie and Phil Latzgo (joined after ETR), Cheryl Prudhomme and Mark Cook. |
[Dave Kristol write-up]
On a steamy, sweaty summer Friday, Marji and I headed off to Lewisburg, PA, to ETR 2005. As usual, we were pretty well organized, and we backed out of the driveway at 10:30 AM. And then stopped -- when Marji said, "We forgot the bike!" After pulling back in and loading the, ahem, bike, we really got started. After a picnic lunch stop at a rest area on I-80, we arrived at the Country Cupboard Inn at about 1:30, only to discover that, although other people could check in (like Malcolm Boyd and Judy Allison, whom we encountered in the lobby), we would have to wait for "our" room to be cleaned. Sigh. We wanted to get on the bike and take a ride. Meanwhile we took care of registration, and discovered that Mr. Cook had, umm, Marked the territory with the DOGS banner.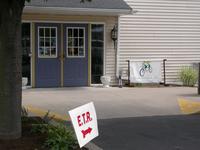 Hotel registration would have been a little quicker, except we discovered the hotel had us listed as "Sam & Betty Kristol" from Larchmont, NY! And when we checked in for our ETR registration, the organizers also had us so-listed. But our information packet contained correct names on our badges, but still the mysterious Larchmont, NY. Anyway, we were able to get a room by 2, schlep all our gear in, change, and get ready to ride by 2:30.
The Venue
This year's ETR was in a terrific location. Lewisburg, PA, home of Bucknell University, is a delightful small college town. The downtown business district has lots of nice shops and restaurants, and attractively maintained Victorian residences are but a block or two off Market St., the main drag.

The Country Cupboard Best Western Inn is a medium-sized, yet cozy hotel two miles outside Lewisburg with nice amenities (that most of us didn't take advantage of), including two swimming pools, fitness center, and free broadband Internet (for the techno-geeks). Next door, there's a small Country Cupboard shopping mall, which specializes in country-style goodies, and a large restaurant. ETR used a large function room that merges with the restaurant, the Capt. John B. Kelly Room, as our eating site, and we cruised the buffet stations close by. Because we shared the facility with the regular restaurant, there was always ample food, even for us bicycling vultures.

The area around Lewisburg is mostly rolling farmland. Probably most of us who attended are heartily sick of seeing fields of corn and soy. (There didn't appear to be much variety.) The roads are in good shape, and few of the ones we rode on had much traffic. The drivers we did encounter were considerate of bicyclists.
Friday
As we were about to begin our ride, "Spruce Run Reservoir," some of the people who arrived earlier and had gone riding rolled in. We stopped (before even starting) to talk to Bob and Helen Bird. We also chatted with Mark Cook and Cheryl Prudhomme and made tentative plans to eat dinner together. While we did so, Stu and Julie Conway emerged from the hotel, ready to ride, and we agreed to ride together. Unfortunately, within maybe 1/2 mile, they developed a tire problem and said we should go ahead without them, which we did.

We enjoyed our ride, about 25 mi. through the farm country, and got back to our room around 4:45. Lucky for us, it stayed cloudy through most of the ride, which kept the temperature down, if not the humidity. We found a phone message from Cheryl that told us they had headed for a distant restaurant around 4:30 (!). We weren't much interested in a long drive, and we were late besides, so, after cleaning up, we headed into Lewisburg proper. Our across-the-street neighbor in Summit had told us we should look up her former best buddy from Summit, Jenny, who now runs a shop there. The Gingerbread House specializes in crafts and country knick-knacks, but Jenny wasn't there. So we left her a note and looked for a place to eat.

We headed to the Bleu Plate Café, just down the block, where, Stu and Julie had told us, they had had a nice lunch. We got a table immediately, and the menu looked inviting. While we waited to order, the Conways walked in, and we invited them to join us, which they did. They told us they did eventually do the ride after repairing their tire, and they had joined up with another team they met on the road. We had a pleasant, delicious, leisurely (too leisurely -- we think our order may have gotten lost somewhere for awhile) meal. As we were finishing, a couple at another table walked over. It was the Barskys, with whom the Conways had ridden, but neither couple had noticed the other until we were done eating!

By the time we finished, it was about 8:30, and the Ice Cream Social, which began at 7:30, was obviously well underway. When we returned to the hotel, we of course had to drop in and sample the ice cream, though neither of us was hungry. We stood around chatting with fellow DOGS and some new recruits. We counted 12 current member teams and successfully recruited another.
Saturday
The plan for today is for there to be several rides, ranging from 30 to 82 miles. All the rides converge on a lunch stop in Mifflinburg Community Park and share a common 15-mile return to Lewisburg. The Mifflinburg Buggy Museum is just a few blocks from the park, and everyone was encouraged to stop there and tour.

Fortunately the weather broke a bit overnight, and the temperatures at breakfast time were actually a little chilly. During the day it warmed up into the mid-80's, much more pleasant than recent days. The sun emerged only toward the end of the ride.

Brenda Isherwood had organized many of the DOGS to meet at 8:45 AM to do the 49-mile Ride Along Penn's Creek together. Marji and I ate breakfast and got to the start point a little late. Mark was setting up a group photo, but we missed out. (As it turned out, Mark had his camera set on "movie mode", thereby losing the photo.)

In any event, we started riding with the group, but fell off the pace after about 5 miles. Mostly we rode by ourselves. At one point we passed Al and Debby Cudworth, who were having mechanical problems that they had just about fixed. While we took a breather further on, they caught up to us, and we rode together to the Limestone Township Public Recreation Area, a small park along Penn's Creek. We found a small gathering of tandemers there, including the DOGS, as there was a real live genuine outhouse that many of us put to use. While there we met the Carlsons, recent additions to the DOGS pack.
Park along Penn's Creek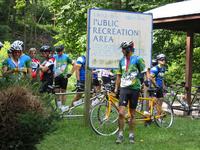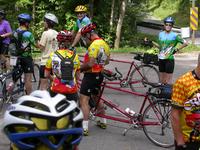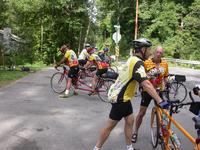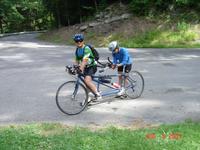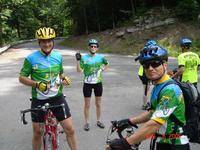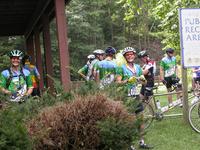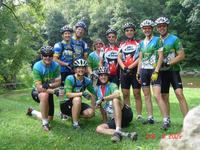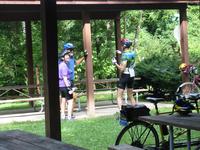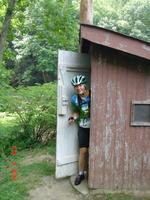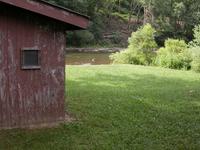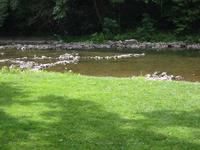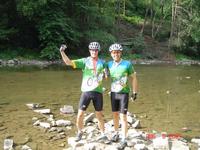 Dueling cameras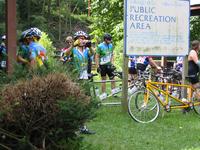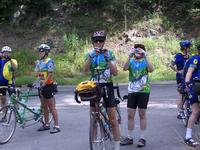 From the park to Mifflinburg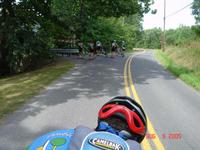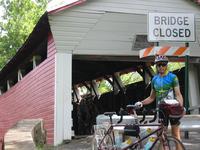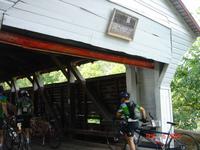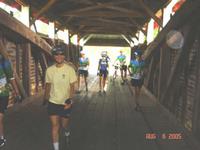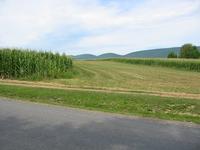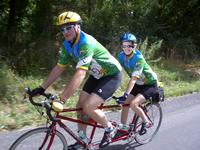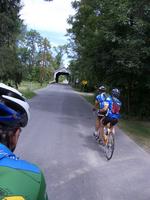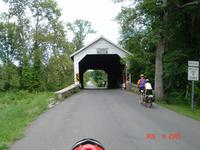 By the time we were ready to ride, almost everyone else had left, and we were on our own again into Mifflinburg. We got to the Buggy Museum around 11:30 and decided to do the tour.
In the early 1900's Mifflinburg became a hotspot of buggy manufacturing, probably because of the rural locale. Unfortunately, the timing was bad, because automobiles soon appeared, and they had several advantages. A buggy required three investments: the buggy, a horse, and harnesses. The auto required just one. And although you have to "feed" an auto occasionally, you do so only as needed. A horse had to be fed whether you used it or not. So, automobiles pretty much killed off the buggy manufacturing business.
In 1978, Norman Heiss, the son of William Heiss, who had run a small buggy manufacturing shop in the 1920's, unlocked his father's workshop for the first time in many years for a group of local citizens. It was a step back in time, for the shop had been untouched for many years and was left more or less the way it had been when manufacture ceased. That shop, and William and Anna Heiss's house, became the core of the Buggy Museum.
After we visited the museum, we headed to the lunch stop in Mifflinburg Community Park around 1. Most riders had come and gone, but there was still ample food available, and we partook. In fact, we were urged to take more cookies -- the caterer had budgeted for six per person, because she had been told that cyclists like cookies. (The extras made their way back to the registration area at the hotel.) And once again we were among the very last people to leave.
The ride planners for ETR must have a sadistic streak. Recall that all the rides end with the same 15-mile segment back to Lewisburg. Well, less than a mile along the return route there was a truly cruelly steep hill to climb. Not real long, although it did curve out of sight and continue upward a bit, but unkind, given our now-cold muscles. To add insult, the uphill is followed by a brief plateau, followed by a steep downhill -- which traverses rough road and ends at a stop sign! After that beginning, the rest of the ride was pretty easy and covered some of the same roads we had ridden on Friday.
We got back to the hotel around 3. After cleaning up, we cruised the swap-meet area, where Mel and Barbara Kornbluh (Tandems East), Larry Black (Mt. Airy Bicycles), and Jack Goertz (Tandems Limited) appeared to coexist amiably (and profitably?). Then we wandered through the Country Cupboard shops, where we ran into Don and Connie Engleke, before heading back to our room for awhile.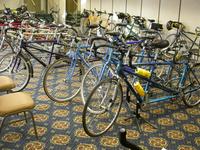 Water DOGS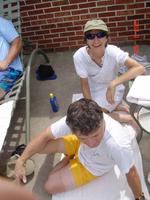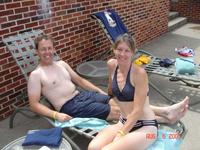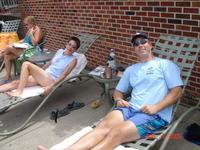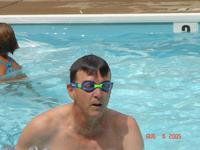 The ETR banquet held to its usual form. Toward the end of dinner (during which Mark, the uber-geek, had his WiFi-equipped laptop out; I discreetly left mine in our room) there were the usual (and, this year, exceptionally well-earned) thank-yous for the organizers and the local staff of the Susquehanna Valley Visitor's Bureau (right next to the hotel), the hotel itself, and the restaurant. There was some ETR business, including a pitch for a site for next year -- so far no one has stepped forward. There were also door prizes. The Birds won a pair of socks; the Isherwoods and we won a pair of Toolpaks, those water-bottle-sized containers for just about anything. Rodney Moseman, this year's co-organizer, informed us that the "TGIF" on the ETR souvenir socks stands for "toes go in first". (So now you know.)
After dinner, a bunch of DOGS hung around outside socializing. It was a beautiful evening, with pleasant temperatures and a spectacular sunset. Finally the group broke up to head to our rooms around 10.
Sunday
Today is a bit of a scheduling challenge. Check-out time is 11:00 AM, but of course we want to do a ride and clean up after. And lunch is available from 11:30 to 1. Fortunately, the hotel was gracious about letting us hold the room for an extra hour, something we arranged last night.

The popular choice for today appears to be a 32-mile Covered Bridge ride, but that felt a little long for us. Moreover, the folks doing that ride (most of the DOGS) got an earlier start than we wanted. We decided to do a hybrid of the Hoffa Mills Loop, which rode through the center of Lewisburg and onto the Bucknell campus, with Jaunt Across the River, a total of about 23 mi.

We awoke for breakfast at around 7 and got on the road around 8:45. The weather was cool again and overcast, but more humid. Again we rode solo through the Susquehanna Valley farm country. At one point early on this lollypop-shaped route, the stem of which crosses the Susquehanna River, we turned right where we saw another team turn left. That gave us some concern, but eventually we confirmed we were headed the right way for the ride we were doing. Much later, as we chugged away on an uphill, we saw a pack of tandems come screaming down the hill and go whizzing by. We did the usual "Hi's" and nods without being able to tell who they were. Only a little later, when Bob and Helen Bird followed behind, did we get an inkling that it was a pack of DOGS, which we confirmed at lunch later.

We completed this fitting concluding ride for ETR 2005, got back to the hotel, cleaned up, packed the car, checked out, and headed to lunch. There we ran into most of the DOGS. As usual, we had a grand time socializing and reviewing the weekend's events. Finally we said our goodbyes and headed home.
---
---
Generated automagically on Sat Aug 13 17:41:44 US/Eastern 2005 from etr2005.pho dated Sat Aug 13 17:41:41 US/Eastern 2005 by /home/dmk/perl/pho.pl, @(#)pho.pl 1.24.
Copyright © 2005, David M. Kristol (text, photos); Marjorie C. Brandriss, Mark Cook, Brenda Isherwood (photos)