BATS 2003 (and DOGS helping BATS)
| | |
| --- | --- |
| Date | September 6, 2003 |
| Hosts | Somerset Hills YMCA |
| Where | Somerset Hills YMCA, Basking Ridge |
| Who (else) | Ann Smith and Gisela Witz, Marji Brandriss and Dave Kristol, Christina Chan and Rich LeGrand, Debbie and Alan Cudworth, Brenda and Larry Isherwood, Tricia Troike, Linda and George Wells, Walt Willard and Claire Hamanaka, Karen and Cam Witt. |
Ann Smith, who organized the 8th annual BATS (Bicycle Around The Somerset Hills), asked for fellow DOGS to help her run the event (and to participate). Eight other teams answered the call. Trish Troike worked registration; Marji, Dave, Claire, and Walt swept the 30 mile route; Karen, Cam, Brenda, and Larry swept the century route; and Linda, George, and Gisela worked rest stops. Debbie, Alan, Christina, and Rich lent their support by just having fun.
The event was well organized, with ample food at the beginning, end, and in between. And there was a nice choice of rides from 10 to 100 miles. The weather for the occasion could not have been better: sunny skies, pleasant temperatures, low humidity.
Marji and I started our sweep run comfortably behind everyone else and thinking we were the lone sweepers. Early in the ride, as we ground our way up the long hill on Somerset Rd., we had our doubts whether we were going the right way: we saw Debbie, Alan, Christina, and Rich come screaming down the hill. Eventually we found out they were on the 50 mile ride (and must have gotten an early start). We enjoyed riding nice roads through farm country and along the Black River to the first rest stop and mile 14, where we met Gisela. We rested and gabbed awhile with Gisela, giving the back of the pack time to get ahead of us.
We continued to mile 21 in Gladstone and the second rest stop (I said there was ample food). To our surprise, Claire and Walt pulled up and said they were sweeping the 30 mile route. Oh well. We enjoyed their company as we tootled along, downhill past Ravine Lake, then uphill again back toward Basking Ridge before arriving back at the YMCA.
DOGS milling around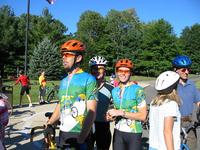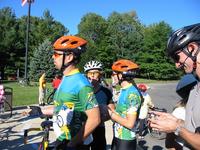 Ann instructs the assembled masses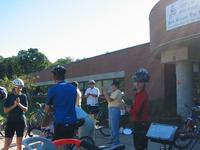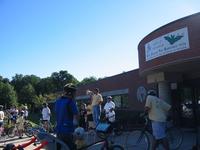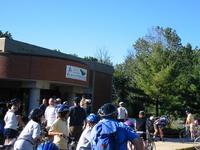 The vaunted "patriotic rhino", in case you missed it. Rhino? Patriotic?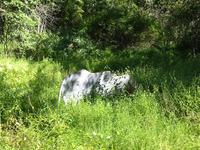 ---
---
Generated automagically on Thu Sep 18 14:08:17 US/Eastern 2003 from bats2003.pho dated Thu Sep 18 14:08:15 US/Eastern 2003 by /home/dmk/perl/pho.pl, @(#)pho.pl 1.23.
Copyright © 2003, David M. Kristol (text), Marjorie C. Brandriss (photos)