Spring Ride (2016)
| | |
| --- | --- |
| Date | June 16, 2016 |
| Hosts | Diana and Percy Uribe |
| Where | Uribe home, Pompton Lakes |
| Who (else) | Mike and Caren Bianco, Bill and Dale Fischer, Mark Cook and Cheryl Prudhomme, Nancy Robart and Howie Southall, Robert and Susan Schmitt, David Snope and Susan Nicolich, Richard Brookler and Debbie Ungerleider, Robert and Harriet Voysey, George and Linda Wells (festivities only) |
There was some beginner's luck that played out on Saturday for our first hosted ride since we were treated to what I believe was the best cycling weather day so far this year. We had 9 teams begin the ride with 1 team (Robert and Susan Schmitt) breaking away as previously scheduled to reminisce and ride on old routes for when they lived in the area. Although a very hilly ride, the most challenging climbing was over within the first 6 miles. The group was strong for so early in the season but it didn't necessarily mean that it was a fast-paced ride.
There was plenty of socializing during the ride and catching up on what we've been keeping ourselves busy with over the winter. Although the trees are not yet in bloom, it was still a picturesque ride. I love seeing the lakes in the Fayson Area of Kinnelon and my favorite break stop at Four corners in Boonton Township, where we were treated to a herd of Llamas and Ponies.
The group stayed together throughout the ride until 3 miles from the end, where there is an unexpected left turn-off after an almost 45 mph descent. Here 2 teams missed the turn-off and continued straight. We sent a team to circle back and get them, but they were nowhere to be found. They later called us and were put on the right direction back to the house. Once at the house, everyone stripped off their riding gear, slipped into some comfortable clothing, and the festivities started. We were also joined by George and Linda Wells at the home.
Thank you all who attended and for contributing the very tasty food and brew. Di and I had a great time and enjoyed the good company.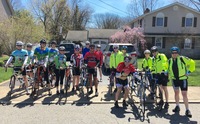 ---
---
Generated automagically on Mon Apr 18 16:53:28 2016 from 160416.pho dated Mon Apr 18 16:53:25 2016 by /home/dmk/bin/pho.pl, $Id: pho.pl,v 1.8 2015/09/08 01:54:57 dmk Exp $.
Copyright © 2016, Percy Uribe (text), Mike Bianco (photo)