Harriet and Robert at the Beach
| | |
| --- | --- |
| Date | September 19, 2015 |
| Hosts | Harriet and Robert Voysey |
| Where | Bradley Beach, NJ |
| Who (else) | Mike and Caren Bianco, Larry and Brenda Isherwood, Ed and Trish Troike, Bob and Susan Schmitt, Bruce and Wendy Rubin, Mark Cook and Cheryl Prudhomme, Jeff Winick and Wendy Samuelson, Tracy and Barbara Cate, George and Linda Wells; DOGS alumni: Don Engleke and Connie Mertens; Non-members: Dennis and Cathy Wombough, and Rob Persuto and Rebecca Cronin (who subsequently joined). |
The participants in the first-ever DOGS Annual-Autumnal Equinox Ride and Picnic were – DOGS Teams – Robert and Harriet Voysey (our hosts for this spectacular day), Mike and Caren Bianco, Larry and Brenda Isherwood, Ed and Trish Troike, Bob and Susan Schmitt, Bruce and Wendy Rubin, Mark Cook and Cheryl Prudhomme, Jeff Winick and Wendy Samuelson, George and Linda Wells (your faithful DOGS Leaders) and non-DOGS Teams – Dennis and Cathy Wombough, and Rob Persuto and Rebecca Cronin. (As you know, since last Saturday's ride, Rob and Rebecca are our newest DOGS).
It was dark when George got up to start preparations to participate in the first ever Autumnal Equinox DOGS Day Out. NOAA was predicting overcast skies with a slight chance of showers and temperatures peaking in the low to mid 70's. What to wear? The Jersey Shore temperatures can be a bit confusing, with the on-shore winds. Temperatures in the low 70's aren't exactly warm so we opted for long-sleeves and short bibs. A quick breakfast along with the daily rituals and we were off on our way towards the Jersey Shore. NOAA was right, the skies were indeed overcast and there were pockets of mist as we got closer to Bradley Beach.
We were the first DOGS to park along the beach and one-by-one the other DOGS teams showed up and began preparing for the ride. Many familiar faces and a few that we did not recognize, along with a surprise or two. We all finally organized for the group photo (taken by a friendly person nearby) and got off on our way with Team Wells (as usual) in sweeper position. All was going well for Team Wells until we deviated from the route programmed into our Garmin. Once off the official route the Garmin kept directing us back to the start point by the shortest route. So, we started following wheels, most notably, Don and Connie, who are locals. So, instead of the short route, we were now following the medium route of around 33 miles.
The day was nice, the winds low, skies clear and roads without a lot of traffic and generally in good condition. We picked up some additional tandemists along the way. The group was surprised to find us at the park rest stop as that isn't on the short route. By now Linda was ignoring the Garmin which was constantly re-calculating the route; so, I turned it off and re-booted the Garmin just to record the remainder of the ride. Thanks to Dennis and Cathy, who live in the area, we had an alternate route home via a paved trail.
The post-ride party/picnic was great with lots-and-lots of food provided by the participants and a lot of burgers and franks provided by our hosts. As usual, lots of conversation, catching up with people we had not seen in a while and new tandem friends on their first DOGS Day Out.
Of course, there are more than a few open days on the club calendar for DOGS Days Out. Mark and Cheryl are hosting one on Sunday, 18 October, but Team Wells will be unable to attend it. Plan to participate in a DOGS Day Out or just invite some of your fellow DOGS to take a ride with you. We've been following the new DOGS Strava page and there are a lot of DOGS members riding their tandems so the opportunity for a ride is also there. As always, stay-upright. (Something that Team Wells didn't do last Saturday and now George has some bruised ribs as a result of a low speed FDGB – for the immediate it hurts too much to ride.)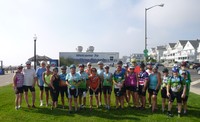 ---
---
Generated automagically on Tue Sep 29 7:32:13 2015 from 150919.pho dated Tue Sep 29 7:32:08 2015 by /home/dmk/bin/pho.pl, $Id: pho.pl,v 1.8 2015/09/08 01:54:57 dmk Exp $.
Copyright © 2015, George Wells (text)