Ed and Tricia's Ride
| | |
| --- | --- |
| Date | August 23, 2014 |
| Hosts | Tricia and Ed Troike |
| Where | Troike home, Atco, NJ |
| Who (else) | Beryl Brodsky and Thomas Fritz, Sophia, Carlos and SydneyBlu Garcia, Debra and John Paulson, Marie Synnestuedt(?) and Stephen Powell, Wendy and Bruce Rubin. |
So Saturday, the original day for this ride, started out iffy and the weather got worse quickly. At 8:00 we decided to postpone the ride till Sunday. At 8:01 it started raining and didn't stop till late afternoon.
Sunday was a much better day. With temps in the mid 70's and a light breeze, we couldn't ask for a nicer day. Getting ready to leave the house, we attracted a group of the neighborhood kids, who hung around for a bit, and one of them took the group picture. I think they were curious about the triplet and SidneyBlu riding with her parents.
Once on the road, everything went smoothly. We split into two groups, and everyone enjoyed a nice ride. We used the same route as the Summer Solstice Ride. This is a looping ride through southern Camden County. There was very little traffic on Sunday morning. Several teams stopped at the Sharrott Winery for a brief rest.
Tricia and I took a little shortcut with Team Paulson and got back to the house first and got the grill started. Everyone else got back shortly afterwards. Everyone enjoyed some very good food and company after the ride.
Thank you to everyone who came it was a most enjoyable day.
Hopefully we will be having more rides in the area.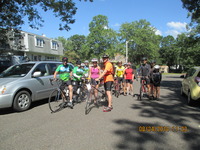 ---
---
Generated automagically on Thu Aug 28 7:34:54 2014 from 140823.pho dated Thu Aug 28 7:34:52 2014 by /home/dmk/bin/pho.pl, $Id: pho.pl,v 1.5 2008/11/15 21:11:45 dmk Exp $.
Copyright © 2014, Ed Troike (text and photo)