Boo! - Take Two
| | |
| --- | --- |
| Date | October 27, 2012 |
| Hosts | Barb Flint and Neil McPhee |
| Where | Flint/McPhee home; Califon area |
| Who (else) | Caren and Mike Bianco, Helen and Bob Bird, Marji Brandriss and Dave Kristol, Deb and Al Cudworth, Dale and Bill Fisher, Cindy Greene and Duncan McPherson, Brenda and Larry Isherwood (and Barkley), Susan Nicolich and Dave Snope, Cheryl Prudhomme and Mark Cook |
It was the calm before the storm. It was the bachelor(ette) party before the wedding, one last fling. The weather forecasts all week were pretty dire: Hurricane Sandy was going to merge with a Nor'easter and a cold front in a couple of days, and the pundits had labeled it "Frankenstorm" and "Stormageddon." So the DOGS got some riding in and partied afterward, before things turned really ugly. The weather was cloudy and comfortable for the ride itself, and the sun peeked out during the party.
A nice crowd turned out, many in Halloween costumes, to attack the hills around Califon. And the hills didn't disappoint, if that's the right way to put it. Much of the group took the shorter, allegedly less hilly route, which seemed to comprise almost continuous climbing for two-thirds of the route. We got a lot of use of our small chainring!
What goes up must come down, and eventually we got our reward in the form of a nice long downhill, followed by the ever-enjoyable ride back to the center of Califon along the Raritan, familiar from the many Pancake Rides of yesteryear (and flat!). Considering the threatening weather, we had to wonder how the homes along this stretch of road would fare in the storm, close as they are to the river.
The short-ride group returned to Neil and Barb's house well in advance of the long-ride group and began to nosh on the goodies that people had brought. But we considerately left some for the later-comers. (Just kidding. As usual there was more than enough food.) After the usual socializing, people began to head home to make storm preparations.
As a footnote, Hurricane Sandy lived up to the predictions -- unfortunately. She caused devastation along the Jersey shore and more than enough damage to inland areas by way of falling trees, downed power lines, and blocked roads. Like the 2011 Halloween storm (which hit on the same date), power was out in much of the state for days. (We were out from Monday night to the following Monday morning.) Gas shortages resulted from supply disruptions and gas stations lacking power to run the pumps. Long lines ensued to buy gas for cars and/or generators. We all hope this Halloween storm things isn't becoming a tradition!
The group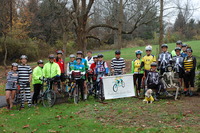 Socializing before the ride, admiring costumes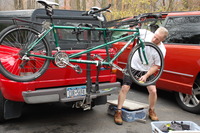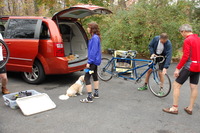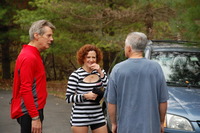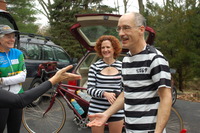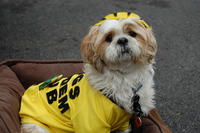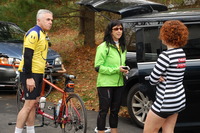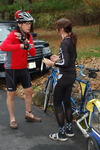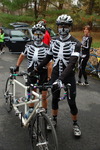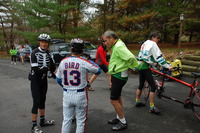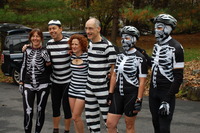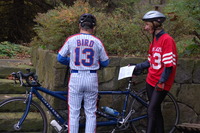 Socializing after the ride, admiring food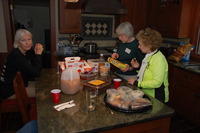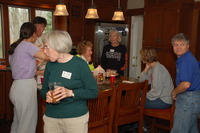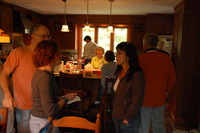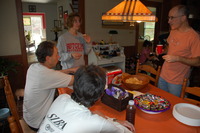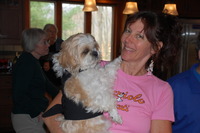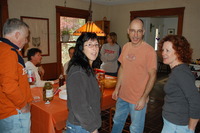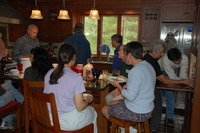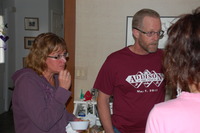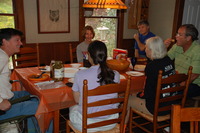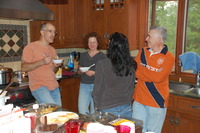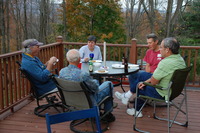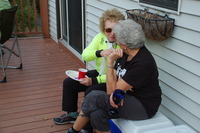 ---
---
Generated automagically on Mon Nov 5 22:26:36 2012 from 121027.pho dated Mon Nov 5 22:25:56 2012 by /home/dmk/bin/pho.pl, $Id: pho.pl,v 1.5 2008/11/15 21:11:45 dmk Exp $.
Copyright © 2012, David M. Kristol (text and photos)