Scenic Lake and State Park Rendezvous
| | |
| --- | --- |
| Date | July 21, 2012 |
| Hosts | Nancy Robart and Howie Southall |
| Where | Southall/Robart home, Hewitt, NJ |
| Who (else) | Bianco (Mike and Caren), Cook/Prudhomme (Mark and Cheryl), Fisher (Bill and Dale), McPhee/Flint (Neil and Barbara), Wells (George and Linda) |
The lakes of Northern New Jersey are not like the lakes of Southern New Jersey. The formation of them started eons ago when the Atlantic and North American plates slammed into each other, folding the earth, raising it up and creating mountains and valleys. Later, a glacier would cover the area, changing the contours even more as the glaciers moved and melted, leaving behind the mountain lakes of Northern New Jersey. This is the playground for a lot of bicyclists and tandemists because there are long stretches of rollers and screaming downhills. But before, and often after, you play you have to pay -- that would be the climbs. Traveling north and south we generally get the valleys which undulate. However, to get to them you have to travel east-west and that means you have to climb. While the surfaces of these lakes are flat, the approaches are not. Welcome to the grades we both love and despise.
Team Southall/Robart created a challenging and enjoyable mix of the roads that go through the area for last Saturday's DOGS ride. Participating were Teams: Cook/Prudhomme (Mark and Cheryl), McFee/Flint (Neil and Barbara), Bianco (Mike and Caren), Wells (George and Linda), Southall/Robart (Howie and Nancy) -- our leaders/hosts for the day and Fisher (Bill and Dale) -- one of our newest DOGS teams who participated in their first ever DOGS ride. The climb up from the Team Southall/Robart Headquarters was a gentle, middle ring, climb up to the ridge above their lakeside home that put us on a sweeping downhill run that led us to the beginning of a long stair-step climb up the range to the other side of Greenwood Lake. Team Wells was experiencing some Garmin problems and stopped on a short flat section to sort it out when Team Southall/Robart circled back to pilot us up the grades. Thanks Howie and Nancy -- that was very kind of you.
This was not an easy climb as we passed Team Flint/McPhee taking a short breather along the climb up to the top of the range. When we finally crested we found the pack waiting atop Clinton Road. Ah, Clinton Road, this is one of those undulating roads of the area that is deceptive -- nine miles of great rollers and fast! We took Team Southall/Robart's lead and followed them down, often flying at speeds in the low 30's, and they were still pulling away. Then, we turned right onto New Jersey Route 23 North. Not exactly a favorite road, but it was the only way to get to the next set of directions. Fortunately, there were wide shoulders and not a lot of motorized traffic. Not overly steep, it did climb the base of the ridge-line until we came to Canistear Road. When you turn right off of Route 23 North on to Canistear Road, it goes up, immediately. Deep in the granny ring, Team Wells was passed by two single bike riders who also struggled, albeit faster than us, up the climbs. There were brief undulations at the top and then we climbed again, and again, and again.... Finally the road tilted downward so that we came upon a white tandem parked in front of a deli -- it was Howie and Nancy, waiting for the pack to show up. Soon after we stopped at the deli for a brief rest and fluid adjustment, the rest of the pack arrived.
We headed out a bit ahead of all other teams because George's legs were getting "cold" and he wanted to get the rhythm back. A brief down and a right turn led us onto Wawayanda Road. (Note: George knows the name from a lot of "B-movies" about summer camps, and was surprised to find that the name isn't a joke). This led us, undulating again, back to where we turned right on to Warwick Turnpike, that became Union Valley Road and, changing names, again, to Greenwood Lake Turnpike -- the day's reward of a reverse run -- all downhill which had been the initial "big" climb in the morning. Modulating the brakes, Team Wells made it safely down the slope in far less time than it took to climb it earlier in the day. Then we turned left onto Awosting Road and realized that we had burned all our matches and barely had the power to climb what was really a moderate grade. We made it back to the start point, tired and happy. George's computer logged 38.6 miles for the day.
There were a lot of DOGS members who missed this ride. The good news is that Howie and Nancy are already thinking up some more rides in their area. And if this terrain isn't your idea of a good DOGS ride then you need to host a ride yourself and show us how beautiful your rides are. There are lots of open weekends for you to schedule a DOGS ride.
Stay Upright!
Linda & George Wells
Leaders - Doubles Of the Garden State (DOGS)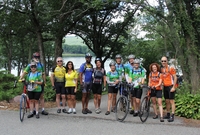 ---
---
Generated automagically on Thu Jul 26 12:25:40 2012 from 120721.pho dated Thu Jul 26 12:25:16 2012 by /home/dmk/bin/pho.pl, $Id: pho.pl,v 1.5 2008/11/15 21:11:45 dmk Exp $.
Copyright © 2012, George Wells (text), Mike Bianco (photo)