Dusty DOGS Peddlin' on the Paulinskill
Date
May 18-20, 2012
Hosts
Larry & Brenda Isherwood and Joe Scheneck & Dawn Casey
Where
Paulinskill Trail, Columbia, NJ
Who (else)
Friday: Beryl Brodsky and Tom Fritz, Cheryl Prudhomme and Mark Cook
Saturday DOGS on Tandems (10 teams): Larry & Brenda Isherwood w/Barkley, Mark Cook & Cheryl Prudhomme, Jeff Winick & Wendy Samuelson, Mike & Caren Bianco, Walt Willard & Claire Hamanaka, Robert & Harriet Voysey, Tom Fritz & Beryl Brodsky, George & Linda Wells, Ed & Trish Troike, Tracy & Barb Cate.
DOGS/Non-DOGS on Singles (5 & 2): Joe Scheneck, Dawn Casey, Neil McPhee, Barb Flint, Susan Nicolich; Judy Casey, Kevin McGatha.
DOG Walking or driving to BBQ (1): Dave Snope. :-)
Sunday Mark Cook & Cheryl Prudhomme, Mike & Caren Bianco, Jeff Winick & Wendy Samuelson, Tom Fritz & Beryl Brodsky
[Team Breeze Report]
We were thrilled with the turnout and the weather for the long weekend DOGS event. It was also very interesting to see the mix of cyclists from the road & off-road mix together for a rail trail ride. We look forward to more fun on DOGS events on any type of surface beneath our rubber tires!
Friday
We had 3 tandem teams (Us, Mark & Cheryl, Tom & Beryl) camp today along with our dog, Barkley. All but Barkley visited the Wolf Preserve in the back of the campgrounds which was very interesting & informative. They even had some fox & bobcats. The one bobcat was given to them by someone who thought it would make a good house pet when it was little!

We all then did a short ride on the campground hiking trails. I was surprised to see that Barkley does quite well in his trailer even though he has no suspension & his wheels catch about 4 to 6 inches of air! Then two teams (Us with Barkley & Mark & Cheryl) braved riding the road from camp DOWN to the winery, even though we knew it was closed, & then back UP Frog Pond Rd. to camp. We had a resident tell us he NEVER saw anyone going up the hill ON their bikes :-) ... and especially not anyone towing their dog besides!

We had a nice peaceful dinner & campfire with the toasting of marshmallows & wine along with friendly conversation before turning into bed.
Saturday
We had a wondrous 27 people ride the rail trail & 28 at the BBQ that was so graciously co-hosted by Barb & Tracy Cate. (THANK YOU BOTH SO MUCH AGAIN!)

DOGS on Tandems (10 teams): Larry & Brenda Isherwood w/Barkley, Mark Cook & Cheryl Prudhomme, Jeff Winick & Wendy Samuelson, Mike & Caren Bianco, Walt Willard & Claire Hamanaka, Robert & Harriet Voysey, Tom Fritz & Beryl Brodsky, George & Linda Wells, Ed & Trish Troike, Tracy & Barb Cate.

DOGS/Non-DOGS on Singles (5 & 2): Joe Scheneck, Dawn Casey, Neil McPhee, Barb Flint, Susan Nicolich; Judy Casey, Kevin McGatha.

DOG Walking or driving to BBQ (1) ....Dave Snope. :-)

We rode the 11 miles from Hainesburg Trailhead to Marksboro Trailhead & then 1 mile UPHILL to the Cates for the delicious & exciting BBQ. The rail trail was double-wide to single-wide in some sections. There was a short section of pavement when riding behind the quaint Blairstown Airport. We even got to see a glider being lifted into the air by a plane. They offer glider rides & it seems quite a few folks think this would be a fun thing to do! The food was delicious & the army mule rides through the woods was exciting! Two hours later we returned downhill to ride back on the rail trail to the ride start. It appeared all had a great time! Someone had so much fun they were a bit giddy, happy that they had attended. We take that as quite a compliment and enjoyed seeing the enjoyment on people's faces... a wonderful reward for hosting.

The 5 teams/couples that camped (Isherwood, Cook/Prudhomme, Scheneck/Casey, Fritz/Brodsky, Bianco) & 1 that B&B'd (Winick/Samuelson) all attended the group camp dinner & campfire in the evening.
Sunday
There were 5 tandems that rode from Marksboro to Paulinskill Lake & back, (Us w/Barkley, Mark & Cheryl, Mike & Caren, Jeff & Wendy, Tom & Beryl). This section of trail had parts that were a bit more rustic than the previous day's ride.

Just before the lake we came upon what must be a long-time missing bridge over the county road, so we walked the bikes down the hillside "trail" to continue on a bit on the lake road that runs parallel with the rail trail just above us on the hill for a bit before returning back to the Marksboro Trailhead. There was then a brief stop at Blairstown Dairy for an ice cream before heading back to break down camp & return home. Barkley even had a baby size frozen yogurt. He gets a custard pup-cup from Rita's every birthday, but today he was dog-tired after three days of camping & trailer riding and deserved this special reward.
---
[Team Wells Report]

Two weeks in a row the Dusty DOGS have hosted off-road, but not mountain bike rides. This past weekend was at almost the opposite end of NJ -- closer to the Delaware than the Hudson. Brenda and Larry, along with Dawn and Joe, organized and hosted a weekend of camping and Dusty DOGS riding. Jeff and Wendy came out from NYC to participate in the weekend but they camped across the Delaware at a B&B in Mount Bethel. (Now, that's Team Wells idea of "Camping"!)

Team Wells participated in the Saturday ride and we're letting you know that if you weren't there you missed a great day and a gorgeous weekend with your fellow DOGS. The Paulinskill Trail is different from the Columbia Trail in that it mixes both some short road sections with some grassy single-track and lots of tree-covered dirt paths. These paths also had some soft sections and even one pretty large puddle (which some decided to ride through while others went around). In keeping with the pattern of the off-road rides, Saturday was a two-part ride featuring a lunch, mid-ride, that was hosted by Barbara and Tracy Cate at "The Farm." Team Cate rode the afternoon segment down to their SUV parked at the start/finish point.

The afternoon/return trip had the added dimension of a tree that had fallen across the same trail we had ridden in the morning. The DOGS managed to walk their bikes under the tree but the equestrians who were also using the same path were going to have some difficulties getting around this obstacle. Jumping the tree was not an option.

It was a great day out with our fellow DOGS and it seems that the Dusty DOGS rides are a big hit. Sorry if you weren't there. We hope you will plan to participate in the next one. There are more in the works, so keep watching your e-mail as well as the website for dates, times and other details.

Next up on the DOGS calendar is the Allegrippis weekend for Dirty DOGS (this is, you mountain biking folks), with the same two teams hosting the event.

During lunch, George had the opportunity to talk to Ed Troike about the upcoming Summer Solstice ride (Sunday, 24 June). Ed noted that their new house is on the route of the "Ride of the Seven WaWa's" (remember that one?) only now it has been reduced to "six" WaWa's and a convenience store (whose name is forgotten by George). It looks as though Ed is planning a set of rides based on "progressive loops" that will allow the faster DOGS to go longer distances and allow the slow-good DOGS to do shorter rides with everyone returning to Team Troike's new HQ at about the same time -- well that's the plan. Keep an eye on the website for more details.

Linda & George Wells
Leaders -- Doubles Of the Garden State (DOGS)
---
Photos
Saturday Group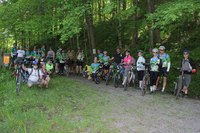 Sunday Group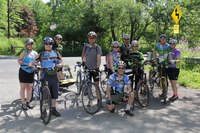 Saturday TeamBreeze Picasa Pics
Mike Bianco's Saturday and Sunday pictures
---
---
Generated automagically on Thu May 24 21:53:23 2012 from 120519.pho dated Wed May 23 23:05:17 2012 by /home/dmk/bin/pho.pl, $Id: pho.pl,v 1.5 2008/11/15 21:11:45 dmk Exp $.
Copyright © 2012, Brenda Isherwood (text, photos); Mike Bianco, Cheryl Prudhomme (photos)