Hey, Honey, Hay Honey Ride and Garden Tour
| | |
| --- | --- |
| Date | April 28, 2012 |
| Hosts | Barb Flint and Neil McPhee |
| Where | Flint/McPhee home, Califon |
| Who (else) | Caren and Mike Bianco, Barb and Tracy Cate, Deb and Al Cudworth, Claire Hamanaka and Walt Willard, Brenda and Larry Isherwood, Wendy Samuelson and Jeff Winick, Harriet and Robert Voysey, Linda and George Wells |
Last Saturday (28 April) nine (9) DOGS teams gathered at the Califon home of Team Flee -- Neil McPhee and Barbara Flint (Neil and Barbara), to explore roads familiar to many of us, but new roads to our newer teams, and, for those so inclined, to visit Hay Honey Farm, in Far Hills, along the way. Team Wells was among the five teams that participated in the remote start, (total -- 25 miles), from/to Whitmore Wildlife Refuge, in Oldwick, albeit still hilly, while the "Fast" DOGS did a 40 mile ride from/to Neil and Barbara's home.
Five of the nine teams who did the remote start (25 miles) were Teams Willard/Hamanaka (Walt and Claire), Winick/Samuelson (Jeff and Wendy), Cate (Tracy and Barbara), Voysey (Robert and Harriet) and Wells (George and Linda). The four of the nine teams (the Fast DOGS) who did the entire 40-mile ride were Teams Flee (Neil and Barbara), Bianco (Mike and Caren), Cudworth (Al and Deb) and Isherwood (Larry and Brenda).
Team Wells followed both the cue sheet and Garmin file provided by Team Flee. The temperatures were cool but not cold, so a bit of layering kept us comfortable for the entire ride. (We did have to stop so that George could adjust falling leg-warmers.) The remote start group had the tendency to split apart and then re-group along the way with all of us reacting to the terrain. For Team Wells, most of the route was a reminder of the 1997 Eastern Tandem Rally (ETR '97) because many of the ETR routes used the same roads as Saturday's ride, albeit in different combinations. We also discovered that, 15 years since that Rally, as well as with a new tandem (our red Co-Motion), we only had to use the granny-ring twice where the grades were very steep. When all other teams turned left on to Branch Road that led them to the Farm, Team Wells continued on Willow Avenue, returned to the Whitmore Wildlife Refuge and back to Neil and Barbara's.
While enjoying all the great food at the post-ride gathering, Team Wells listened to the rest of the group discussions of the farm. The friendships and camaraderie that bind the DOGS together was evident all throughout the day. At about 5 PM, in drove Team Snope/Nicolich (Dave and Susan). For those of you who do not know it, Dave had a hip replacement a couple of weeks ago. Therefore they were unable to participate in Saturday's ride which, by the way was the first DOGS ride for Team Isherwood (Larry and Brenda), because Larry has been unable to ride until recently due to his hernia surgery a couple of months ago.
For those of you who were unable to participate in our ride and picnic last Saturday, you missed another great day with the DOGS. The good news is, that there are more rides to come! The next one is our second "Dusty" DOGS ride on Saturday, 19 May, on the Paulinskill Rail Trail, which should be especially enjoyable for the DOGS members who have expressed the desire for slower rides without vehicular traffic and with lots of time to ride together. Team Wells is planning to be there with The Enterprise (our first tandem--blue-faded to silver Bushnell) that came out of retirement specifically for the Dusty DOGS rides. Please mark your calendar and plan on participating -- particularly those who have asked for these slower off-road rides, as these are tailor made for you.
Thank you, Neil and Barbara for a really great day!
See you all again and Stay Upright!
Linda & George Wells
Leaders -- Doubles Of the Garden State (DOGS)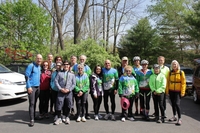 ---
---
Generated automagically on Mon Apr 30 20:47:54 2012 from 120428.pho dated Mon Apr 30 20:47:48 2012 by /home/dmk/bin/pho.pl, $Id: pho.pl,v 1.5 2008/11/15 21:11:45 dmk Exp $.
Copyright © 2012, George Wells (text), Mike Bianco (photo)