Dirty Dogs Pre Superbowl Ride
| | |
| --- | --- |
| Date | February 5, 2012 |
| Hosts | Caren and Mike Bianco |
| Where | Lewis Morris Park, Morristown |
| Who (else) | Mark Cook, Amy Isherwood and Jay Boesner, Brenda and Larry Isherwood, Neil McPhee, Nancy Robart and Howie Southall |
Caren and Mike Bianco had a great turnout today at Lewis Morris Park for our Pre-Superbowl ride. Tandem teams Brenda and Larry Isherwood, Amy Isherwood and JayBresner, Nancy Robart and Howie Southall came along with single riders Neil McPhee and Mark Cook. Ten people for a ride on February 5th is pretty amazing!
Lewis Morris is not super technical, but is a great cardio workout with lots of up and down hills. Lots of slippery mud today, but a great time was had by all.
It was about 36 degrees this morning when we started, but within moments, no one was chilly because of the workout!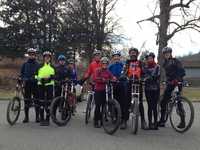 ---
---
Generated automagically on Mon Feb 6 8:23:35 2012 from 120205.pho dated Mon Feb 6 8:23:30 2012 by /home/dmk/bin/pho.pl, $Id: pho.pl,v 1.5 2008/11/15 21:11:45 dmk Exp $.
Copyright © 2012, Caren and Mike Bianco (photo, text)