Winter Solstice Ride and Party
| | |
| --- | --- |
| Date | December 10, 2011 |
| Hosts | Caren and Mike Bianco |
| Where | Bianco House, Montville |
| Who (else) | Beryl Brodsky and Tom Fritz, Jane and Paul Fialcowitz, Brenda and Larry Isherwood, Mary and Ron Lessard, Karla and Rich Tranfield (new) |
Ride
Mike and Caren Bianco hosted a very hilly winter ride from their house in Montville. Six teams attended the ride -- Beryl Brodsky and Tom Fritz, Jane and Paul Fialcowitz, Brenda and Larry Isherwood, Mary and Ron Lessard, a new team Karla and Rich Tranfield and, of course, the hosts.

The weather was a sunny, but brisk 40 degrees. While there were some technical difficulties, including the Lessards losing their belt drive twice, Tom and Beryl breaking a cable, and the Tranfield's flat tire, the ride was fun and very scenic. We all enjoyed the roughly 200 feet of flat terrain in Fayson Lakes. The rest was either steep, sweat-inducing climbs or steep, fast descents. We all stopped for donuts and hot cider at an Alpaca/cut your own Christmas tree farm and then, given the technical delays, we decided to take out 7 miles of the ride so that we would not get home in the dark. Tom and Beryl, riding ahead, though, did the full 27.5 mile course.

We all came back to the house, showered, and then most attended the Winter Solstice party at Barbara and Tracy Cate's.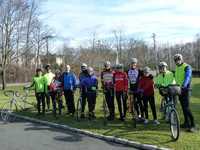 ---
Party
| | |
| --- | --- |
| Hosts | Barb and Tracy Cate |
| Where | Chez Cate, Maplewood |
| Who (else) | Caren and Mike Bianco, Helen and Bob Bird, Marji Brandriss and Dave Kristol, Beryl Brodsky and Tom Fritz, Michelle and Rich Dittmar, Jane and Paul Fialcowitz, Barb Flint and Neil McPhee, Pat and Ed Gifford, Mary and Ron Lessard, Renee Mayeux and Bud MacIlvain, Laura Nesbitt and Pete Sklarow, Susan Nicolich and Dave Snope, Cheryl Prudhomme and Mark Cook, Tricia and Ed Troike, Harriet and Robert Voysey (new members), Ronna and Bob Weiner, Linda and George Wells |
As usual, the annual Solstice Party was well attended and well supplied with wonderful food. The Cates once again provided a spacious and eclectic venue for gabbing, guzzling, and gluttonizing. Mark Cook presented awards (pairs of DOGS drink glasses) to teams that hosted rides during the season. (Collect a complete set! Host a ride!) The smiles in the photos attest to the group's easy camaradrie.
---
---
Generated automagically on Thu Dec 15 20:40:23 2011 from 111210.pho dated Thu Dec 15 20:40:19 2011 by /home/dmk/bin/pho.pl, $Id: pho.pl,v 1.5 2008/11/15 21:11:45 dmk Exp $.
Copyright © 2011, Mike Bianco (text, photos), Dave Kristol (text, photos)