Impromptu Dirty DOGS Allaire Ride
| | |
| --- | --- |
| Date | October 23, 2011 |
| Hosts | Pat and Ed Gifford |
| Where | Allaire State Park, Allenwood, NJ |
| Who (else) | Caren and Mike Bianco, Barbara Flint and Neil McPhee |
Six Dirty DOGS set out on a beautiful, sunny fall day to explore the trails of Allaire State Park. Allaire is truly a MTB park with something for everyone. There are no rock gardens but it does offer double-track easy crusin' trails to tight twisty single track with short, steep, rooty climbs and log overs.
We kept the first 9-mile loop fairly tame and the pace comfortable, hitting mostly marked low-key trails. Then, stopping to tailgate for the usual DOG feeding at the parking lot, we caught up with our friends about their and our recent activities.
Upon finishing, we started our second, 11 1/2 mile loop, which consisted of the more challenging trails in the park. The pace increased some, but everyone took it in stride and even smiled on occasion. The most challenging section in the second loop is by a golf course and is named Tiger Woods. Everyone rose to the challenge of their bike handling skills and jaws dropped in disbelief when single riders see a tandem riding this section. We all returned safe and sound, goodbyes were exchanged and we all went on our way.
Pat and I would like to thank our fellow dogs for making our Sunday at Allaire a special and memorable day! Here's a link to a video of the day's riding: http://vimeo.com/31082834.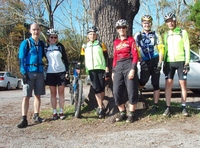 ---
---
Generated automagically on Tue Oct 25 20:07:05 2011 from 111023.pho dated Tue Oct 25 20:07:01 2011 by /home/dmk/bin/pho.pl, $Id: pho.pl,v 1.5 2008/11/15 21:11:45 dmk Exp $.
Copyright © 2011, Ed Gifford