Meet the Swiss DOGS!
| | |
| --- | --- |
| Date | September 17-18, 2011 |
| Hosts | Cheryl Prudhomme and Mark Cook |
| Where | Prudhomme/Cook home, Annandale, NJ |
| Who (else) | Saturday:; Sunday: Marji Brandriss and Dave Kristol, Beryl Brodsky and Tom Fritz, Barb Flint and Neil McPhee, Mary and Ron Lessard, Susan Nicolich and Dave Snope (dropping in after volunteering at the Gran Fondo), Chris and Marc Schneider (guests of honor), Linda and George Wells. |
Beryl Brodsky and Tom Fritz met Chris and Marc Schneider on a Santana riverboat bike tour on the Mississippi a couple of years ago. They had such a good time together, they quickly became friends and decided to meet up together for other Santana tours. Oh, did I mention that the Schneiders are from Lucerne, Switzerland? They've been spending time along the East Coast with Beryl and Tom this summer, and Cheryl and Mark offered to host the four of them at their house for two days of rides in Hunterdon County.
We can speak only of Sunday's ride, which took place on a gloriously sunny, if chilly day. The ride, which was billed as flatter than Saturday's, was challenging enough for Marji and me, because we haven't been riding much this year. We got to watch the rest of the group recede in the distance a couple of times, but we all met up to take in the view at the Round Valley Reservoir boat launch. Mark and Cheryl kept us company for part of the second half of the ride, so we got to catch up on each others' lives. Riding alone was enjoyable enough, though, because the scenery was nice and the roads were generally in good shape (despite the ravages of Hurricane Irene a few weeks back!).
Once back at Cheryl and Mark's house, the group engaged in an activity that we all seem to be able to keep up with: eat and gab. There were leftovers from Saturday's ride, sandwiches from a local shop, and some dishes brought for today. As usual, there was much conversation and good times, especially enjoying the Schneiders' company.
There was talk of possible future DOGS events in Virginia, Switzerland, and Maine. Stay tuned. We may have to change our club's name to Doubles of the Garden State... and the rest of the world. (Hmmm, DOGSATROTW. I'm not sure about that....)
Marc's an expert mechanic!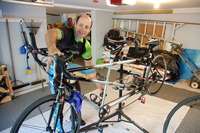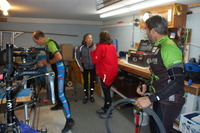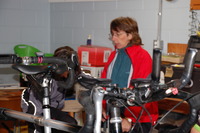 Pre-ride chit-chat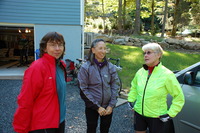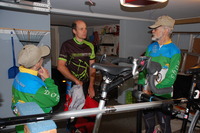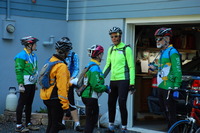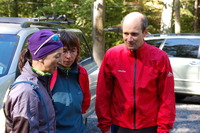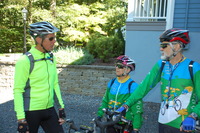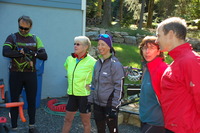 The inevitable group photo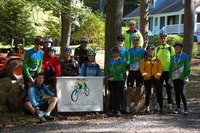 Stopping at the Round Valley boat launch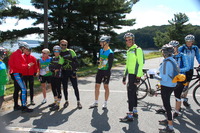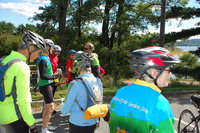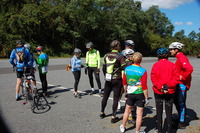 And then, there's food!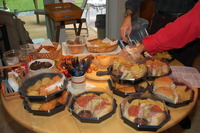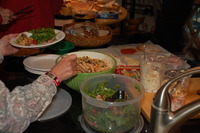 And socializing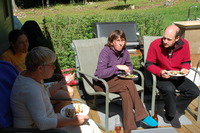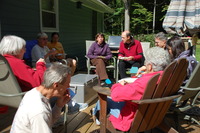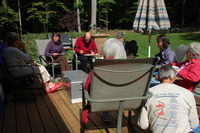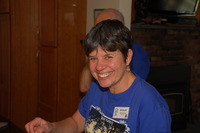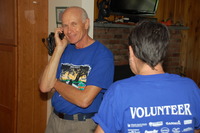 ---
---
Generated automagically on Mon Sep 19 9:13:04 2011 from 110917.pho dated Mon Sep 19 9:12:59 2011 by /home/dmk/bin/pho.pl, $Id: pho.pl,v 1.5 2008/11/15 21:11:45 dmk Exp $.
Copyright © 2011, Dave Kristol (photos, text)