Stony Brook and D&R
| | |
| --- | --- |
| Date | June 11-12, 2011 |
| Hosts | Beryl Brodsky and Tom Fritz, Mary and Ron Lessard |
| Where | Lessard home, Princeton |
| Who (else) | Saturday: Barbara and Ron Anderson, Brenda and Larry Isherwood, Zoe Lessard, Max Lessard, Susan Nicolich and Dave Snope, Victor Ramirez, Wendy Samuelson and Jeff Winick. Sunday: Caren and Mike Bianco, Brenda and Larry Isherwood, Susan Nicolich and Dave Snope, Wendy Samuelson and Jeff Winick. |
Our Princeton Ride Event was Saturday and Sunday. Both rides started from our co-host's home on Birch Avenue.
Saturday we had 6 teams conquer the rolling Stony Brook Ride. The Weather was 65 to 75 degrees and included a sprinkling, which kept us cool during the climbs - no sunburn here. The ride first wound its way through local neighborhoods and then headed west out of town. With a nod to the Stony Brook, this picturesque route led us up and over the Sourland Mountains to Ringoes and the West Amwell School. As observed on radar images (by our host captains who watched diligently before our departure), we endured only about 30 minutes of rain along the way.
At the rest stop it was time to warm up and refuel with our consummate Lessard family support team of Max, Zoe, Victor, and, of course, Teddy the dog. The fuel was luscious chocolate chip cookies and lemon squares freshly baked by Captain Ron and juicy oranges. All lemon squares were consumed.
Our return trip started with a slow cool downhill but we warmed up with the first uphill and then kept the fires stoked while rolling up and over the Sourlands, around Hopewell and back to Birch Avenue for companionship and more calories to replenish from the day's 35 mile ride. Our co-hosts prepared a repast of a grilled variety of kabobs, fresh fruit (brought by teams), wild rice salad (Susan), and other goodies brought by teams while everyone relaxed around the table under the gazebo (photos below). One host even provided a shirt (not quite off his back).
The attending DOGS were then regaled with stories that left stokers with new insight as to what keeps that look of adventure in their captain's lilting eyes.
Sunday we had 5 teams enjoy the Delaware and Raritan Canal Ride, with 2 teams returning from Saturday. There was no rain!!! And the temperature remained comfortable. The route headed north, at first twisting through Princeton neighborhoods, and then on to explore areas along the Millstone River.
The rest stop was hosted at Colonial Park just beyond Millstone, with more chocolate chip cookies and oranges and even sports drink and fresh water. This again thanks to Max and Zoe, accompanied by friend Patty, who sagged their way to provide the tailgate. We DOGS were then observed enjoying a stroll through the rose garden with an amazing variety of colorful blooms where our host took great group photos (below). Our group then departed south. With views along the Delaware and Raritan Canal, the road led back to Birch Avenue, but from a direction opposite the previous day's ride.
Calories were once again consumed and companionship relished. There was salad, kabobs, and fresh-baked banana bread (Mike)... but fortunately no more harrowing stories from bygone days :-) Rather, conversation turned to planning future rides - look to the web site to know more about what we were looking forward to!!! (Hint: out of country DOGS to visit in September).
The result from the first annual Princeton DOGS event as acclaimed by the participants: great fun, great routes, great food, 385 miles of tandem team smiles, and plans for 1000s more. Everyone is looking forward to next time.
Post Ride Saturday Dinner
Veggie Kabobs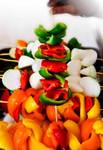 Saturday Dinner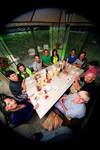 Rest Stop with Cookies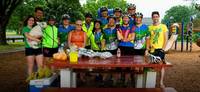 Riding away from Rest Cookies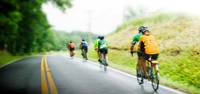 Kabob Makers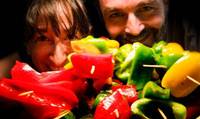 Colonial Park Rest Stop on Sunday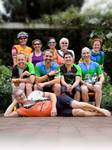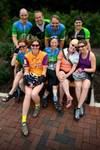 Colonial Park Rose Garden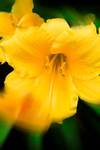 ---
---
Generated automagically on Sun Jun 19 21:01:06 2011 from 110611.pho dated Sun Jun 19 21:01:03 2011 by /home/dmk/bin/pho.pl, $Id: pho.pl,v 1.5 2008/11/15 21:11:45 dmk Exp $.
Copyright © 2011, Beryl Brodsky and Tom Fritz, Mary and Ron Lessard (text), Ron Lessard (photos)