Dirty DOGS Ad-hoc April Allaire Adventure
| | |
| --- | --- |
| Date | April 10, 2011 |
| Hosts | Larry & Brenda Isherwood and Ed & Pat Gifford |
| Where | Allaire State Park, Farmingdale |
| Who (else) | Jay Boesner and Amy Isherwood. On singles: Neil McPhee and Barbara Flint |
Eight Dirty DOGS attended the Allaire ride today. Three teams on their tandems: Larry & Brenda Isherwood, Ed & Pat Gifford (trail ride leaders!), Jay Boesner & Amy Isherwood; and one team together on their single bikes: Neil McPhee & Barbara Flint. We had a couple of other teams that unfortunately had to cancel due to work getting in the way.
The weather and the trails were splendid for an early spring ride. The trails are mostly tame with just a few spots of excitement if you choose. We rode 8 miles in the morning, returned and had a light lunch in the parking lot and headed back out for another 8 miles of trails. We did some trails in reverse, but it was really hard to tell. :-) Barb tried her hand and the rest of her body on the back of the Slimecycle with Larry.... Unbeknownst to them, this would a section of trail that was a bit more challenging in that it was a bit tighter and twistier than what we had been doing, but they both handled it well and kept the shiny side up! Brenda rode Barb's bike thru this same section as well and survived also!
We look forward to seeing you on the road and maybe try a hand at some easier off road with us too! We encourage you to use your single bikes as Neil and Barb did today. We enjoy being out in the woods and do wait-ups with chatting at intersections.
Larry & Brenda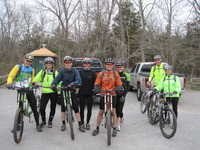 ---
---
Generated automagically on Mon Apr 11 21:02:50 2011 from 110410.pho dated Mon Apr 11 21:02:32 2011 by /home/dmk/bin/pho.pl, $Id: pho.pl,v 1.5 2008/11/15 21:11:45 dmk Exp $.
Copyright © 2011, Brenda Isherwood (text, photo)