Dirty DOGS Ride & Play at White Clay
| | |
| --- | --- |
| Date | October 8-11, 2010 |
| Hosts | Larry & Brenda Isherwood |
| Where | White Clay State Park, Newark, DE |
| Who (else) | Mike & Caren Bianco, Tom Fritz & Beryl Brodsky, Ed & Pat Gifford, Jeff Winnick & Wendy Samuelson; non-DOGS: Amy Isherwood & Jay Boesner, Joe Scheneck & Dawn Casey (the one couple on single bikes). |
We took advantage of the long Holiday Weekend and added a day to make this event run Friday through Monday for four days of off-road fun at White Clay State Park in Newark, DE riding their tandem-friendly trail system. Four couples camped at Lums Pond a few miles away in Bear, DE while the other three couples lodged at hotels in town. We encouraged teams to custom fit this event to their liking, and they did, with teams arriving and departing on different days during the four-day weekend. One team rode all four days: Larry & Brenda. Four teams rode three days: Amy & Jay, Jeff & Wendy, Joe & Dawn and Tom & Beryl. Two teams rode two days: Ed & Pat, Mike & Caren.
Friday: The three riding teams for the day decided ahead of time to change our ride location to another nearby trail system, one new to us all, Fair Hill, in Elkton, MD. There are 80+ miles of trails there. This park is a preferred park for equestrians, but we found it to have enough room for horses, bikers & hikers. We rode the main trails and, when available, veered off onto the trails that were more narrow and a little more technical and for bikers & hikers only. We rode 11 miles and then headed off for camp in the mid afternoon. There seemed to be quite a few stink bugs flying around, but in the cool evening they "went away". We enjoyed a roaring campfire and the arrival of Tom & Beryl after dark.
Saturday: We drove to the White Clay Office Parking overflow lot and 6 teams enjoyed riding 15 miles of their 35+ miles of trails for the day. We stopped mid-point and had lunch at the river. We met the President of the DE Trail Spinners, Jim, and he took us to the "cork-screw" in the skills section. Jay & Amy and Larry & Brenda navigated the cork-screw, with Larry having to dab once at an apex between two trees. The others took the by-pass trail. Jay & Amy also rode down a low-lying log ride in Bryan's Field and managed it well. After riding some more, we headed back in the late afternoon to our homes away from home. The campsite was sunny & warm, which to our dismay had the stink bugs out in full force. The lone tenters were fine with their zipped up tent, but the two pop-ups had small areas that were not sealed for those pesky bugs to enter. We spent a few hours vacuuming them up and then decided to depart for one of the local hotels that had a room available so that we did not need to "clean house" tomorrow also.
Most couples at this point did dinner on their own. When we (Larry & Brenda and Jay & Amy) got our room, it was after 7pm. We then had dinner at the nearby Friendly's and when we returned we discovered what we think were bed bugs. We then had to move to another room at 11 pm and immediately tore the room apart and verified it "clean" and sleepable. We all were a little bugged out and decided to have some wine before "turning in".
Sunday: All 7 teams were in attendance and we rode 13 miles at White Clay from a different parking lot start location. We had lunch/snacks on the trails and at one point we did re-venture into the cork-screw skills section. The same two teams as Saturday rode the cork-screw with an extra team, Tom & Beryl, completing it with just one dab. Larry would like to say that today we did it today with NO dabs! Today Jay & Amy decided to ride another log ride, but this one was about 5 foot high off the trail. With lots of skill and some luck they thankfully managed this one also.... Now I hope they got that out of their system and won't try that again! With some teams departing and others still camping, dinner was an on-your-own affair. We went with Ed & Pat and walked Main Street in this college town and had dinner at the Iron Hill Brewery and saw Jeff & Wendy there.
Monday: Three teams rode 11 miles from yet another parking lot start location, enabling us to enjoy yet more unchartered trails. We arrived back by 11am from the ride allowing us to get back to our hotel, shower and pack for the mere 2 1/2 hour drive home.
All in all, the weekend was a huge success in that we had 7 teams from 3 different states drive to another state to ride off-road at our event. We enjoy both road and off-road riding and will continue to promote both. We all escaped this weekend with no real injuries, just a couple of us with very minor surface scrapes. This is a great feat since we had a tandem couple that is brand new to off-roading and a couple that had a rigid off-road bike with minimal ground clearance.... We do hear that they are looking into getting a "real" full-fledged full-suspension mountain tandem now! :-). Many thanks to Joe & Dawn for helping lead & sweep the group when we were out on the trails. It's very hard for two people to be in two places when they are on one bike. LOL :-)
Thank you to all for attending and making this event a wonderful time for us!
Larry & Brenda (TeamBreeze - Your DIRTY DOGS Hosts)
Friday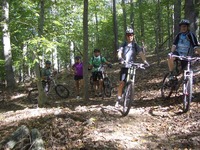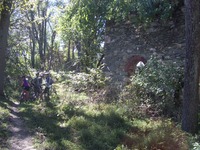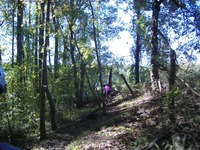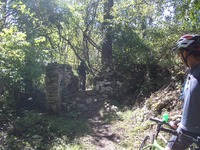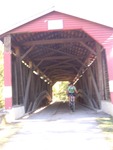 Saturday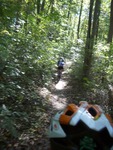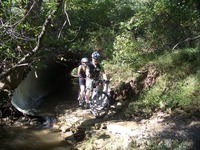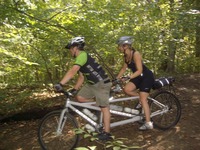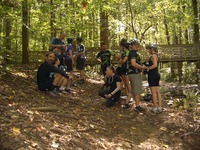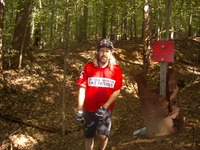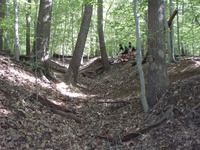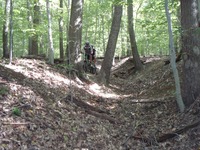 Sunday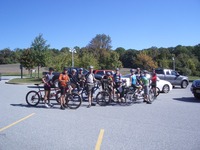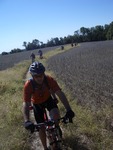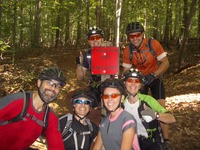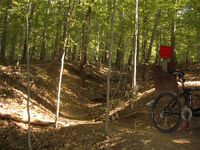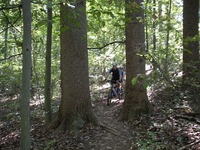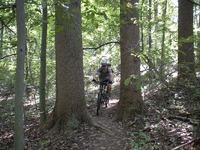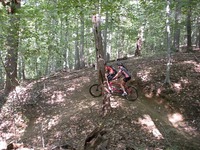 Monday
---
---
Generated automagically on Sat Oct 23 22:21:21 2010 from 101008.pho dated Sat Oct 23 22:21:18 2010 by /home/dmk/bin/pho.pl, $Id: pho.pl,v 1.5 2008/11/15 21:11:45 dmk Exp $.
Copyright © 2010, Brenda Isherwood (text, photos); Joe Scheneck (photos)