The First and Only Sugarbarb 152
| | |
| --- | --- |
| Date | August 28, 2010 |
| Hosts | Barb and Tracy Cate |
| Where | Sugarbarb Farm, Blairstown, NJ |
| Who (else) | Helen and Bob Bird, Marji Brandriss and Dave Kristol, Deb and Al Cudworth, Barbara Flint and Neil McPhee, Pat and Ed Gifford, Claire Hamanaka and Walt Willard (non-riding), Brenda and Larry Isherwood, Jane and Paul Kimmel, Deb and Al Kirsch, Renee Mayeux and Bud MacIlvain, Susan Nicolich and Dave Snope, Imogene and Steve Treble, Linda and George Wells |
Yesterday, 28 August, was a picture-perfect day and one made for tandeming. Twelve DOGS teams assembled at the "Cabin" of Team Cate. Participating were Teams: Flint/McPhee (Barbara & Neil), Wells (George & Linda), Bird (Bob & Helen), Cudworth (Al & Deb #1), Gifford (Ed & Pat), Kimmel (Paul & Jane), Mayeux/MacIlvain (Bud & Renee), Kirsch (Al & Deb #2 - our newest DOGS members), Isherwood (Larry & Brenda), Nicolich/Snope (Susan & Dave), Treble (Steve & Imogene), Brandriss/Kristol (Marji & Dave) and not riding were our Hosts Team Cate (Barbara was injured with various bumps and bruises from a fall) and a cameo appearance at the post ride picnic by Team Hamanaka/Willard (Claire & Walt).
There were two routes prepared by Team Flint/McPhee a 36 mile and 23 mile loop through the lovely, albeit hilly, roads of Sussex and Warren Counties. We have to wonder about the sense of humor of the first settlers of this area who named the roads, often with strange, foreboding and misleading names. (We'll get back to the implications of one particular road later in the report.)
The opening miles of both rides were the same for the initial 13 miles; then the 23 separated from the 36. Team Wells had a technical glitch with their Garmin (which held all the directions) at the beginning of the ride so we had to stop briefly and fix that so that Linda could provide the needed directions. Then we had to "chase" the pack. Actually I (George) had to remind Linda that we had 36 hilly miles ahead and probably would not catch the pack and she needed to measure her effort. Ever so gradually we did pick up the other riders, the first being Team Kirsch who were off-the-back. We passed them, then slowed to give them some company, but they encouraged us to ride on because they were going to be slow-and-steady and were okay alone. (Unfortunately, they did not complete the route, nor did they stay for the picnic - that made us rather sad that we had not stuck with them*.) Most of the roads chosen by Team Flint/McPhee were really off-the-beaten path secondary roads with little-to-no automotive traffic, and there was one section of hard pack and light gravel that had a short-steep granny-gear kick at the end as we made our way across Route 94. (That was the first of many short, sharp climbs that would be with us throughout the ride.
Shortly after crossing Route 94 we picked up part of the pack that had stopped to assist Team Treble with a mechanical problem. As we went by we commented to those who had stopped that they would catch us very soon. We rode on, eventually passing the lead tandems that stopped at the boathouse on the lake. We picked up, and passed, a pair of single bike riders on the same road. I (George) was tempted to tell them that they were being passed by a pair of senior citizens on a tandem, but I kept shoving the banana in my mouth instead. (I needed those extra calories.) This stretch of West Shore Drive had a series of great "Tandem Rollers" that allowed us to build up sufficient speed to crest the next roller at speeds in excess of 20mph! The singles were still lagging behind. Eventually, the rollers ran out and the couple on singles passed us as we were about to turn left on Mount Benevolence Road. (Now we're back to the question about the naming of roads.) Ed Gifford has re-named this Mount "Malevolence" Road as it climbs, then levels off, then climbs again-and-again, each time making your legs beg for the crest. Somewhere about the middle of Mount "Malevolence," Team Treble passed us, and we played tag with them for a few miles before they left us far behind. We slogged up more than a few quad-screaming grades, always hoping that this was the last.... (We did finally make it to the top.)
As yet, Team Isherwood and the front group had not passed us. It was then that we began to wonder if there had been a problem. Soon after Team Wells had exchanged that thought, Team Gifford rode past us. We shouted, "Is everything ok with all those teams we passed?" The answer, "Yes," as they pedaled on. The road surfaces changed to George's "favorite" - chip-and-seal--yuck! Then a series of more short, sharp climbs without the kind of momentum that a smooth road affords and we, one-by-one got over them. I commented to Linda that these roads were a lot easier on Friday when we pre-drove the route, checking the Garmin's programming to make sure we had all the directions correct. They were a LOT easier in the car.
We finally came to the final left turn onto Silver Lake Road and the entrance to Sugarbarb Farm. (Linda will tell you, it was really great to see that sign!) Just as George put down his foot on the last part of paved road before the entrance, the Alpha DOGS went past us. Wow! Who would have thought that Team Wells might had stayed out front that long! I think we might be getting stronger or everyone else took it easy. (I think it was the later, not the former.)
The big surprise came when we got back up to the "Cabin" and saw Team Hamanaka/Willard on the deck. It's been too long since we've seen them with or without their tandem. The picnic was great, with excellent foods provided by our hosts and all of the DOGS teams in attendance. Team Kirsch left their delicious salad (and a bowl we will have to get back to them.) We ate and talked; some partook of the Jello-Shots, and talked and ate through the afternoon.
It was another great day with the DOGS. While we don't have a lot of rides, the ones we have are all memorable. If you weren't there, don't despair, there are more DOGS rides yet to come this season. There is already a Dirty-DOGS weekend in October, and we know of an Upstate NY leaf-viewing ride in the planning stages as well. In addition, there might be a late season flat ride around the Barnegat area that Ed Gifford and I discussed -- still in the early planning stages. Of course, there are always opportunities for an "impromptu" ride if any members want to share their planned Saturday or Sunday rides with the rest of the club on a spur-of-the-moment basis.
* We just learned that Deb Kirsch had recent knee surgery and found the hills of Warren/Sussex a bit too much, so they retired from the route early and headed home. We do hope that they join us for a flatter ride, or perhaps host a flat ride of their own down in their part of NJ. Deb, we hope your knee pain subsides rapidly.
Linda & George Wells
Leaders -- Doubles Of the Garden State
Preliminaries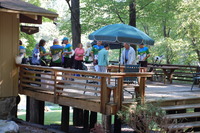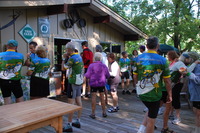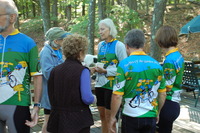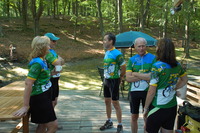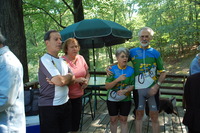 We gather together...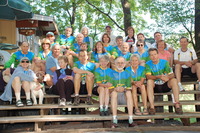 Postliminaries(?)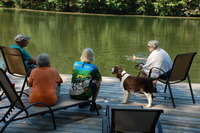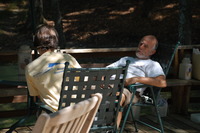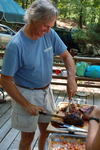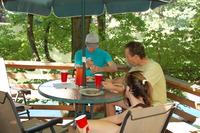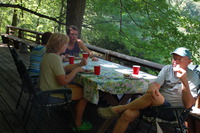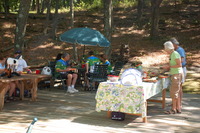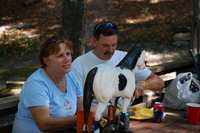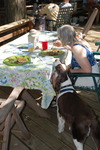 152!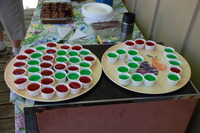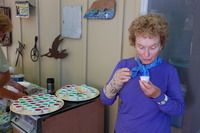 Tracy guides another tour of unsuspecting visitors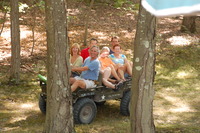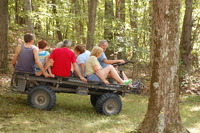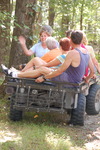 Gabbing into the late afternoon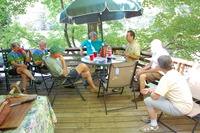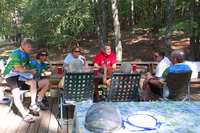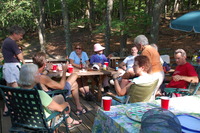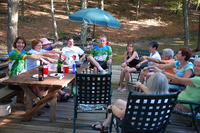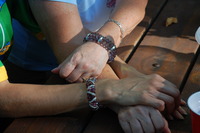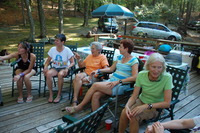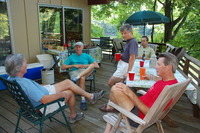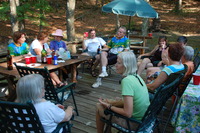 ---
---
Generated automagically on Sat Sep 4 16:46:07 2010 from 100828.pho dated Sat Sep 4 16:46:05 2010 by /home/dmk/bin/pho.pl, $Id: pho.pl,v 1.5 2008/11/15 21:11:45 dmk Exp $.
Copyright © 2010, George Wells (text), Dave Kristol (photos)