2010 Spring Equinox Party
| | |
| --- | --- |
| Date | March 20, 2010 |
| Hosts | Barb and Tracy Cate |
| Where | Cate's House |
| Who (else) | Bird (Bob & Helen), Boyd/Allison (Malcolm & Judy), Cook/Prudhomme (Mark & Cheryl), Cudworth (Al & Deb), Dittmar (Richard & Michelle), Fialkowitz (Paul & Jane), Garland (David & Maribel), Gifford (Ed & Pat), Isherwood (Larry & Brenda), Kristol/Brandriss (Dave & Marji, plus Timo), McPhee/Flint (Neil & Barbara), Snope/Nicolich (Dave & Susan), and Wells (George & Linda). |
On Saturday, 20 March, about three hours after Spring officially started, DOGS members began gathering at the home of Team Cate (Barbara & Tracy) for our annual Rites of Spring - our Equinox Party which actually took place on the actual equinox (the hours of daylight start outnumbering the hours of darkness--1:32 PM).
Bird (Bob & Helen), Boyd/Allison (Malcolm & Judy), Cate (Tracy & Barbara - our hosts), Cook/Prudhomme (Mark & Cheryl), Cudworth (Al & Deb), Dittmar (Richard & Michelle), Fialkowitz (Paul & Jane), Garland (David & Maribel), Gifford (Ed & Pat), Isherwood (Larry & Brenda), Kristol/Brandriss (Dave & Marji), McPhee/Flint (Neil & Barbara), Snope/Nicolich (Dave & Susan), and Wells (George & Linda).
As is always the practice, the gathering included people who had been together earlier in the day (there had been an unofficial ride in the Califon area for those who love climbing in the early season), and friends we haven't seen in months. Barbara took the stokers up to her collection of hats and jewelry so that they could "dress-up" the event. There was lots of laughter, stories, plans for the season, and a few excuses exchanged.
One cannot have a DOGS event without great food. We had it all, soup, salads, main dishes, side dishes, and decadent desserts. We think that more than a few of us have to log some additional miles to compensate for the caloric intake at the party.
As the leaders of the club, Team Wells declares the 2010 tandeming season officially started! We're looking to see the calendar filled with DOGS rides. Particularly, we are looking for you to host your first DOGS ride in addition to the ever-faithful members who host rides every year.
Team Wells is going to attempt to make most of the DOGS rides in 2010, and we're looking forward to seeing you there at least once this season.
Linda & George Wells
Leaders – Doubles Of the Garden State (DOGS)
Hats!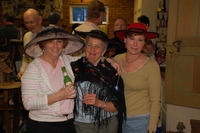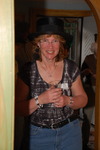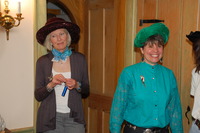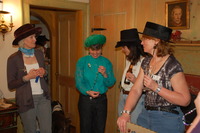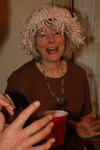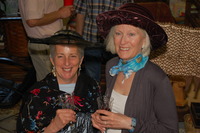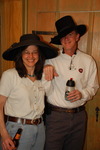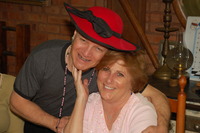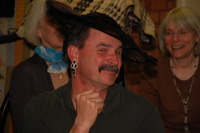 Food!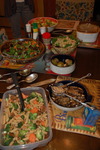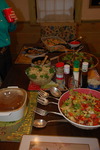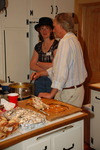 Folks and fun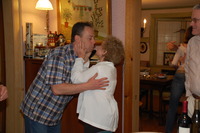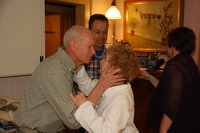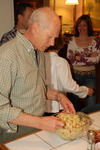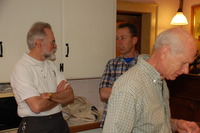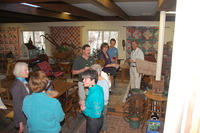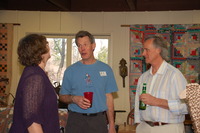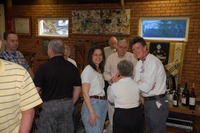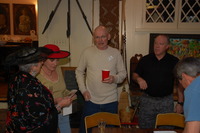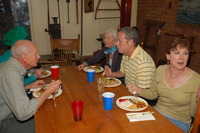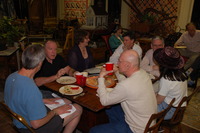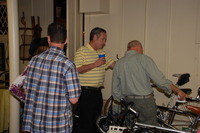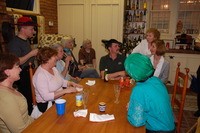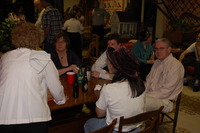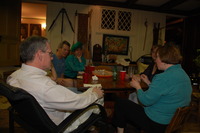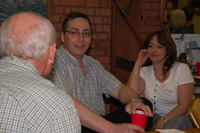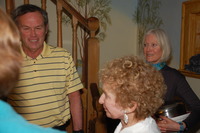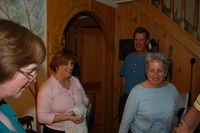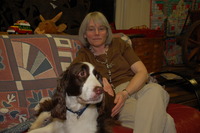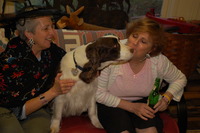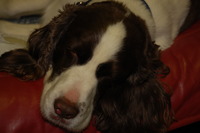 ---
---
Generated automagically on Mon Mar 22 21:55:12 2010 from 100320.pho dated Mon Mar 22 21:51:42 2010 by /home/dmk/bin/pho.pl, $Id: pho.pl,v 1.5 2008/11/15 21:11:45 dmk Exp $.
Copyright © 2010, George Wells (text); David M. Kristol (photos)