Warwick Winery Wide
| | |
| --- | --- |
| Date | May 30, 2009 |
| Hosts | Barb Flint & Neil McPhee, Al & Deb Cudworth |
| Where | Warwick Winery, Warwick, NY |
| Who (else) | Helen & Bob Bird, Michelle & Richard Dittmar (all the way from L.I.), Brenda & Larry Isherwood, Imogene & Steve Treble, Susan Nicolich & Dave Snope |
Arriving at the winery about 9:30 a.m., we scoped out picnic tables and chatted it up a bit and found the perfect background for our group photo. We then set off for the 37 mile or (alternative) 30 mile ride. Other than Al's nagging back troubles, Brenda's ailing sinuses, and a few arrhythmias here and there, we were good to go.
The weather could not have been better and the clear blue skies afforded wonderful views of farmlands and rolling hills of Orange County. All was going well until (about half-way through) a few teams missed one of the right turn cues (okay, so it wasn't totally clear); back on route, everyone re-grouped at the (surprise) bridge-out-port-a-potty stop. That out of the way, off we went again until some of us encountered another "little" missed turn incident; all turned out fine in the end, however, with everyone arriving back at around 1 p.m. to enjoy our after-ride socializing. We grabbed a couple of tables in the shade, shared food, Warwick wine, and other good treats generously provided by the group.
Bob & Helen also provided some extra fun for everyone by bringing along their recently purchased "Triike" which some of us tried out. They both make it look so easy but it is anything but (especially after a little imbibing); it's a great workout and I'm sure they would be happy to bring it along for anyone else willing to give it a try.
Looking forward to our next D.O.G.S. ride!
It took two tries to get everyone's picture taken.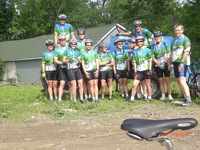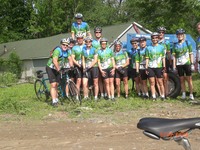 ---
---
Generated automagically on Thu Jun 11 20:26:55 2009 from ../template.pho dated Thu Jun 11 20:26:54 2009 by /home/dmk/bin/pho.pl, $Id: pho.pl,v 1.5 2008/11/15 21:11:45 dmk Exp $.
Copyright © 2009, Barb Flint (text), Al Cudworth (photos)