Halloween Bark and Bike Ride
| | |
| --- | --- |
| Date | November 1, 2008 |
| Hosts | DBLS DOGS (Dave Snope, Brenda and Larry Isherwood, Susan Nicolich |
| Where | Kittatinny State Park, Andover |
| Who (else) | Barb and Tracy Cate, Deb and Al Cudworth, Barbara Flint and Neil McPhee, Pat and Ed Gifford, Linda and George Wells |
[Susan Nicolich report]
Steady sunshine on Saturday morning provided pleasantly warm temperatures, much to the delight of the seven couples (and one actual doggie dressed as a cyclist) readying for departure from Kittatiny State Park. Since we were all busy donning our costumes and engaging in our customary greeting and catching-up rituals, we were really not bothered by George and Linda's slightly late arrival. When everyone was ready, we set out on a route that we had borrowed from Walt & Claire, who, in turn, had borrowed from Al and Deb (who claimed that they had borrowed it from the Freewheelers). Traveling on roads with very light vehicular traffic, the group rolled its way through the bucolic countryside of Sussex and Warren counties. Beautiful foliage, sparkling waterways and clear blue skies made us all happy to be outdoors, and thankful to live in such a lovely area. After 28 miles, a witch, a mouse, a devildog, and puppies, lions and tigers, along with a swarm of bees, arrived back at the park where we enjoyed a picnic of cider, sandwiches and homemade goodies. Another great day of fitness and fellowship! Hope to see you out there on the next DOGS ride.
[Team Wells report]
It's been quite some time since Team Wells got to ride with our fellow DOGS members. Perhaps that is why George, thinking that he knew the way to the start point, launched off in the wrong direction yesterday and wound up miles away from the Andover start point. Of course he didn't listen to Linda (big mistake). Therefore, he caused a half-hour delay in the start of the ride that the DBLS-DOGS planned and organized. Many apologies to all who were there waiting patiently.
Participating were Teams: Isherwood (Brenda & Larry with Barkley in tow), Nicolich/Snope (Dave & Susan), Gifford (Ed & Pat), Flint/McPhee (Barbara & Neil), Cudworth (Al & Deb), Cate (Barbara & Tracy), as well as the late arrivals, Wells (George,-the-lost & Linda).
This was a familiar ride that took us through some of the more rural areas of Sussex County. The route was only 27.5 miles and Al Cudworth informed us, the flatter part of a 40 mile ride that includes Shades of Death Road with the climbs - thanks for the shorter route.
Some areas had recently been resurfaced making the ride a lot nicer. George even commented on this to Linda while they were riding, only to turn a corner and be back on chip-and-seal roads. There was still evidence of the snows earlier in the week in the form of salt still on the roadways. We passed fields filled with brown corn stalks and in one open field a group of people riding to the hounds (Technically a "Fox Hunt" but more likely the hounds were tracking a slightly leaking can of sardines) some of the riders resplendent in their "Hunter's Pink" jackets. It was a glorious day for being outside for any reason, but particularly for tandeming.
While the route is punctuated with some short-steep-climbs there are no long hard climbs on the entire route. We managed to maintain a nice pace along the route while enjoying the scenery.
Team Wells was a bit overdressed in our Navigator's winter team kit during the ride, not realizing that it was going to turn out to be a glorious day with temperatures in the low 60's that allowed for an al fresco post ride gathering in the picnic area of the park. We're sad that so many DOGS missed this ride. Of course, the season is far from over and there will be more DOGS rides to come. The next rides are both on and off road events - please visit the web-site for details. Team Wells will be trying to get back into the swing of things with the team driver paying attention to directions. Also, start preparations for the Winter Solstice Party (and ride?) in December.
Linda & George Wells
Leaders - Doubles Of the Garden State (DOGS)
Is that a woodland fairy?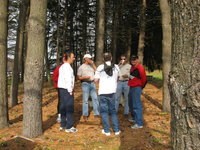 Tired and sleepy... The End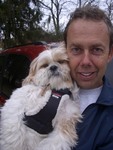 ---
---
Generated automagically on Mon Nov 3 20:23:02 2008 from 081101.pho dated Mon Nov 3 20:23:00 2008 by /home/dmk/bin/pho.pl, $Id: pho.pl,v 1.4 2008/07/30 01:45:04 dmk Exp $.
Copyright © 2008, George Wells (text), Brenda Isherwood and Susan Nicolich (photos)