TeamsJetBreezeStream's SuccaGilletteSunna Metric Century
| | |
| --- | --- |
| Date | September 7, 2008 |
| Hosts | Cheryl Prudhomme and Mark Cook (Team Jetstream) and Brenda and Larry Isherwood (Team Breeze) |
| Where | Prudhomme/Cook and Isherwood homes |
| Who (else) | Marji Brandriss and Dave Kristol, Pat and Ed Gifford, Jane and Paul Kimmel, (with late appearances by Barb Flint, Neil McPhee, and Dave Snope) |
The soggy remnants of Tropical Storm Hanna moved up the East Coast on the 6th, the originally scheduled ride date. The hosts wisely postponed the ride to Sunday the 7th after seeing Friday's forecast. And Sunday was as spectacularly beautiful as Saturday was awful: blue skies, cool temperatures, light breezes.
The ride was originally listed as a metric century, but the hosts added a 42 mile option for the less ambitious of us. The plan was to ride from Cheryl and Mark's house to the Isherwoods' house for a rest and snack stop, then back, for a DOGS-standard food fest. Both rides shared the 21-mile return trip. The 42 mile ride was an out-and-back. Both rides promised to be quite hilly, with the shorter ride's hills slightly tougher. In the end, only the hosts did the longer ride, and they took a shortcut on the outbound leg that made it about 30 miles, rather than 44, so they would meet up with the rest of us at the Isherwoods' house without a long lag.
The ride was hilly, as advertised, with mostly climbs outbound and mostly nice downhills returning. Several of the hills went on and on, the one on Golf Course Road being particularly memorable -- and painful. At the end of the climb was Pleasant Hill Rd. Whoever named it wasn't considering bicyclists. (Is "pleasant hill" an oxymoron, at least in the uphill direction?) On the return leg, the downhills were welcome indeed (we had earned them), but where did those uphills come from? I didn't remember that many downhills outbound. Oh well.
Before the ride began, Sue and Greg Adam dropped by with Emily to say "Hello." They were not inclined (so to speak) to attempt this hilly ride while towing Emily in their trailer.
At the Isherwoods' we met up with Barb, Neil, and Dave. Considering his accident two weeks earlier, Neil looked pretty good. Although he still has pains, he and Barb, as well as Dave, rode the return leg with the rest of us, but on their half-tandems. (Neil didn't feel up to captaining just yet.) It was great to see them.
Back at Cheryl and Mark's, we sat under the awning on the deck enjoying the wonderful weather, the wonderful food, and the wonderful company. Linda and George dropped by to join in the fun while we were there.
Greetings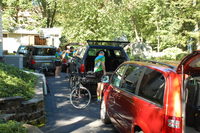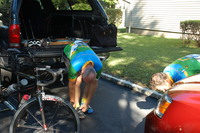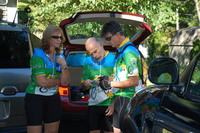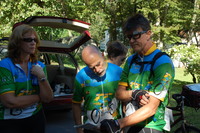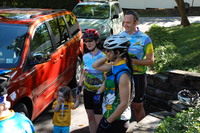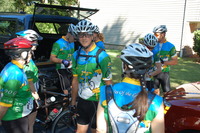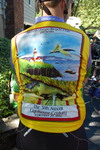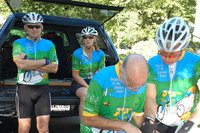 The group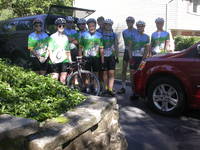 Midway: Admiring Neil's half-tandem... and Barkley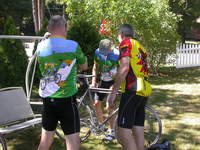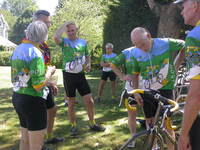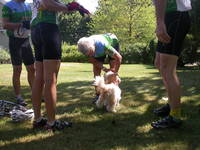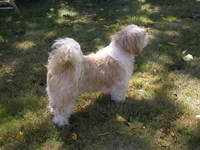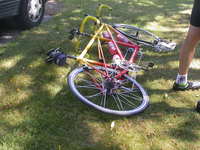 All hands to the food!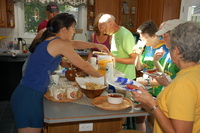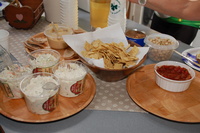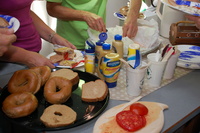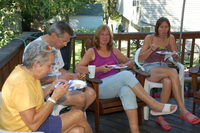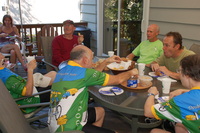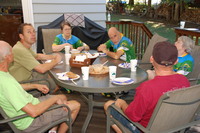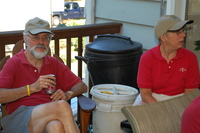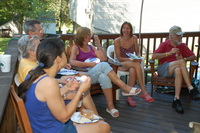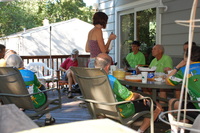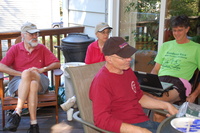 ---
---
Generated automagically on Mon Sep 15 8:23:16 2008 from 080907.pho dated Mon Sep 15 8:23:15 2008 by /home/dmk/bin/pho.pl, $Id: pho.pl,v 1.4 2008/07/30 01:45:04 dmk Exp $.
Copyright © 2008, David M. Kristol (text,photos)