Go Dogs Go
| | |
| --- | --- |
| Date | August 23, 2008 |
| Hosts | Susan and Greg Adam |
| Where | Adam house, Berkeley Heights |
| Who (else) | Marji Brandriss and Dave Kristol, Deb and Al Cudworth, Michelle Emerson and Dan Dodson, Barb Flint (non-riding) and Neil McPhee, Brenda and Larry Isherwood, Cheryl Prudhomme and Mark Cook, Linda and George Wells (non-riding) |
Susan and Greg welcomed a small group of DOGS to their home for a selection of rides: a family-friendly 10-miler, and 25 and 42 miles. We started out with the unusual sight of two tandems pulling trailers with young children: Susan and Greg, with Emily; and Michelle and Dan, with Alex. They did the 10-mile ride, and Marji and I were the only ones to do the 25-mile ride. The longer routes headed west as far as Liberty Corner (for us) or Mendham, before returning to Berkeley Heights via Martinsville, Stirling, and Gilette. The weather was wonderful, and the roads were mostly in good shape.
As the three tandems plus Neil were headed down Roxiticus Rd. in Mendham, they encountered a landscape worker who was using a blower on a steep, rocky slope beside the road. His walking dislodged many fist-sized rocks, which rolled onto the roadway and created a serious hazard. Brenda and Larry, in the lead, shouted out a warning, and the tandems managed to navigate through them.
Neil, in the rear, was less fortunate. His front wheel hit one of the rocks, and he fell and skidded. As you would expect of our club members, the tandem teams immediately returned to help. They stayed with him until medical help arrived. Neil was taken to Morristown Memorial Hospital for treatment. Barb, who had just barely arrived at the Adams' house, got the phone call and headed to the hospital. The good news is that, miraculously, Neil didn't break any bones and suffered mostly "road rash" and abrasions. We're all rooting for a quick recovery. [Update: Neil is indeed doing well and may even ride on 9/7, weather permitting.]
Once they saw Neil off, the tandems continued back to the Adams' house, where, shaken, they told the whole story. The customary picnic was understandably subdued, though, it has to be said, the food met the usual DOGS standards.
Our DOGS rides have been mostly accident-free. This one reminds us, if we needed to be, that helmets are vital. Neil is okay, but his helmet isn't. That's the way it's supposed to work. Moreover, the accident on this ride reminds us to heed the (for "Hill St. Blues" fans, Sgt. Phil Esterhouse's) admonition, "Be Careful Out There!"
Getting ready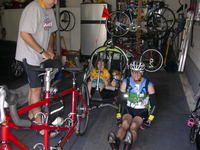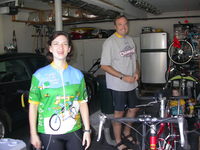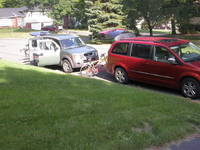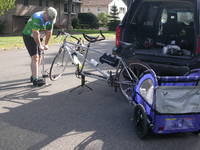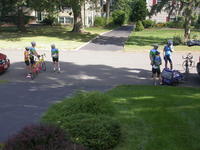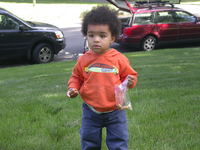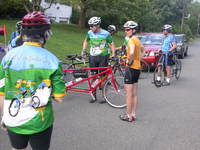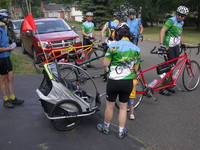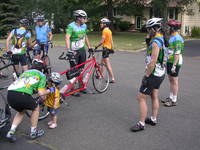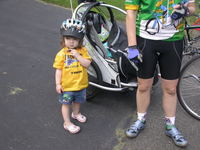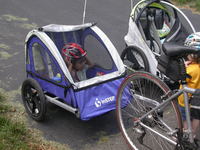 The Group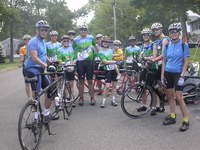 Back at the Adams's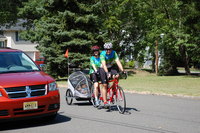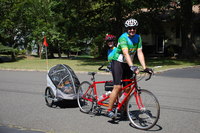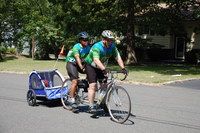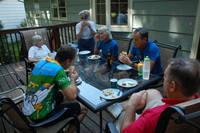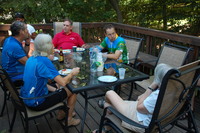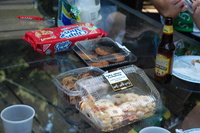 ---
---
Generated automagically on Fri Sep 5 21:26:42 2008 from 080823.pho dated Fri Sep 5 21:26:41 2008 by /home/dmk/bin/pho.pl, $Id: pho.pl,v 1.4 2008/07/30 01:45:04 dmk Exp $.
Copyright © 2008, David M. Kristol (text, photos)