Dave's Annual HOT Ride and COOL Pool Party
| | |
| --- | --- |
| Date | August 9, 2008 |
| Hosts | Dave Snope and Susan Nicolich |
| Where | Dave Snope's house |
| Who (else) | Barbara and Ron Anderson, Julie and Stu Conway, Deb and Al Cudworth, Jane and Paul Falcowitz, Barbara Flint and Neil McPhee, Pat and Ed Gifford, Brenda and Larry Isherwood, Laura Nesbitt and Pete Sklarow, Cheryl Prudhomme and Mark Cook, Imogene and Steve Treble, Linda and George Wells. Plus two non-riding teams: Marji Brandriss and Dave Kristol, Claire Hamanaka and Walt Willard. |
We're in the DOGS days of August and Team Nicolich/Snope (Susan and Dave) today, Saturday, 9 August, added their now-annual ride, eat, and swim fest to the 2008 calendar with three rides of 20, 32, and 41 miles through the hills surrounding Califon.
A total of 12 Teams participated: Isherwood (Larry and Brenda), Gifford (Ed and Pat), Nicolich/Snope (Susan and Dave - our hosts), Conway (Stu and Julie), Nesbitt/Sklarow (Laura and Pete), Anderson (Ron and Barbara), Wells (George and Linda), Flint/McPhee (Barbara and Neil), Treble (Steve and Imogene -- our newest team), Cook/Prudhomme (Mark and Cheryl), Cudworth (Al and Deb), and Falcowitz (Paul and Jane). In addition, two teams came for the post ride festivities -- Hamanaka/Willard (Claire and Walt), and Brandriss/Kristol (Marji and Dave ).
As usual, the day started early for Team Wells with a casual breakfast and all of those pre-ride chores that include making sure that the cats are fed and that Muggles is given all medications before we leave the house. With all chores completed, the tandem racked on top of our Saturn, off we went to Califon, shortly after 8 AM, for a challenging day that we knew was going to include more than a few climbs. Following the pre-ride picture in Dave's driveway (thank you, Susan), and last minute instructions, we all headed out for the day's ride. There were teams riding all three options. All of the rides started on the same route and diverged at points along the ride. The weather was perfect for riding with the temperatures in the mid 70's at the start and only climbing into the low 80's. Most of the roads were well-shaded so the heat of the day did not make riding difficult.
We headed from Dave's house into Califon and onto Philhower, which is a route familiar to all who have ridden the Winter Pancake Rides from/to Califon Island Park. There was one change: We were not going to attack the short, steep climb at the end of Frog Hollow. Instead we turned right onto Summer Lane. (This was something new, suggested by Neil McPhee.) The thoughts of reprieve were short-lived when we turned right onto Summer Lane and discovered that it was a long, steep climb that sent us all shifting into our granny gears. A mere three miles into the route, this climb got the leg muscles warm really fast. Summer Lane is a quiet road with minimal traffic, but it is a tough climb. That led us to the left on to Big Spring and a relief from climbing - we made it! Some nice twisting downhill runs and we were out onto Fairmont/Route 512, then Farmersville, then CR-517 (Old Turnpike) heading into Oldwick - another nice downhill run that led us to the Oldwick General Store, where a few teams stopped, and where we learned that Team Nesbitt/Sklarow was having troubles shifting into their granny-ring -- not good on a day with lots of climbing -- but they made it! (Seems like this turned out to be good preparation for Pete for the day in the very near future that he will be completing an 81-mile bike ride that will have 4500 feet of climbing.)
A quick left (once traffic stopped) onto Church (just past the Oldwick General Store) led us out through the country into the Lamington area on moderately rolling roads with the occasional stiff climb. This is "Horse Country" and was the haunt of the late Jackie Kennedy/Onassis, where she used to ride with her friends and as a kid. Also, the same area the Secret Service would regularly block whenever Jackie was in the area much to the chagrin of the local horse riders and hikers. We passed some farms and some upscale developments. In this area, Team Conway caught up with us and rode more-or-less with us, often following our lead. Surprisingly, Team Wells never got to sit in Stu and Julie's draft for very long as we had done during the Seagull Century in 2004. Guess we've gotten a bit stronger, not to mention lighter, but then, you guys haven't gained an ounce!
We wended our way on familiar roads but often in a different direction than other rides on which we had used these same roads in the past. Long, slow, familiar climbs became long, fast, familiar downhills, and the downhills became hard climbs as we turned to head back towards Califon, having passed the halfway point in total planned miles (32 for Team Wells).
Back into the Oldwick area and we started more country roads with a gradual up-grade. Linda and I had a good rhythm going for awhile and despite the general upward slope of the roads, we were moving along at a good pace -- at least until we hit Rockaway Road. Then the climbing got a bit stiffer and the pace slowed down as the miles ridden increased. We lost Team Conway in this area as they took a needed break in the pedaling and told us to continue without them. Getting close to Califon, we started the ascent of Guinea Hollow, which, at the beginning, is a steadily increasing grade that eventually sent us into the granny ring but not yet in the lowest cog. Then we hit the last section where Guinea Hollow gets distinctly steeper. A single bicyclist on a Calfee passed us with a casual "Hello" as he passed, but even he was slowed by the final ascent of Guinea Hollow. The good news is that for every up, there is often a "screaming" down and that down was CR-512 (Academy), which took us on a 40+mph descent into Califon. (FWIW: Posted speed is 35 and lower as you get into the center of Califon.) Then over the bridge, climb Main Street, turn right on School Street and back to Dave's place for the post ride festivities.
As usual, the DOGS culinary talents were on display with an array of sandwiches and salads, not to forget a host of really decadent desserts. Today is Al's 57th birthday. One of those decadent desserts was a chocolate cake that we enjoyed, following the singing of Happy Birthday to Al and blowing out two candles. (That second candle turned out to be rather tricky.) Of course, conversation accompanied all of the post ride with discussions of upcoming rides, previous rides, who did what today, how we liked the route that Dave and Sue had chosen for us, and even non-DOGS/tandem conversations were heard. We were all happy to have Walt and Claire and Dave and Marji join us for our after-ride festivities. We've missed seeing you, so we were glad you came and hope you get back on your tandems soon -- with and without the DOGS.
For those who were unable to join us today, you missed another great ride and day out with your fellow DOGS. However, there are more rides on the calendar, so check the website and plan to participate in a future event. We hope to see more of our members participating in these rides.
Linda & George Wells
Leaders -- Doubles Of the Garden State
Prelude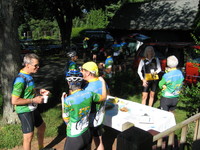 Group Photo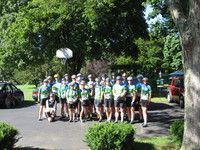 Along the route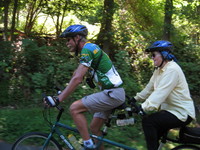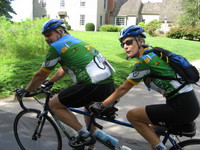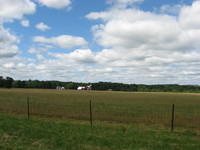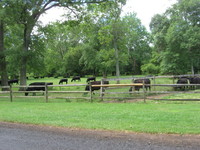 Relaxing with good food and good company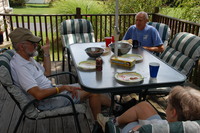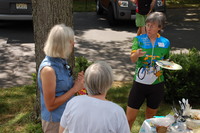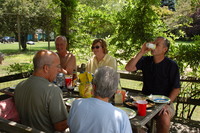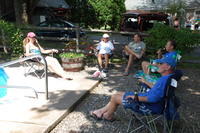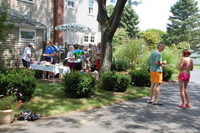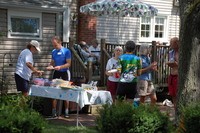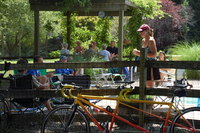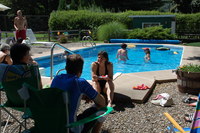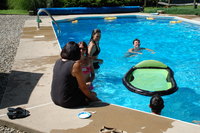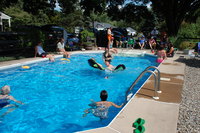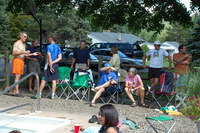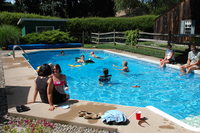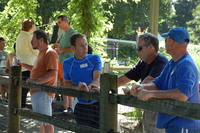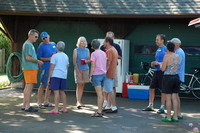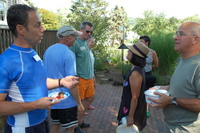 The Chorus of Happy Birthday, Al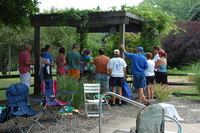 Aftermouth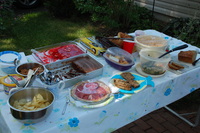 Definitely Not one of the DOGS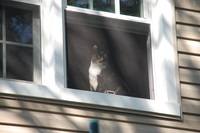 ---
---
Generated automagically on Wed Aug 13 20:36:57 2008 from 080809.pho dated Wed Aug 13 20:36:54 2008 by /home/dmk/bin/pho.pl, $Id: pho.pl,v 1.4 2008/07/30 01:45:04 dmk Exp $.
Copyright © 2008, George Wells (text), David M. Kristol, Dave Snope (photos)