2008 Spring Equinox Party
| | |
| --- | --- |
| Date | March 15, 2008 |
| Hosts | Neil McPhee and Barbara Flint |
| Where | McPhee/Flint home |
| Who (else) | Marji Brandriss and Dave Kristol, Barb and Tracy Cate, Michelle and Rich Dittmar, Pat and Ed Gifford, Brenda and Larry Isherwood, Jane and Paul Kimmel, Renee Mayeux and Bud MacIlvain, Laura Nesbitt and Pete Sklarow, Susan Nicolich and Dave Snope, Cheryl Prudhomme and Mark Cook, Pat and Paul Rock, Linda and George Wells |
Neil McPhee and Barb Flint generously hosted this year's Spring Equinox Party. The accompanying ride traversed mostly unfamiliar roads in a somewhat familiar area. In a first, they added a treasure hunt to the ride: We were given things to look for at various points in the ride. Although we were riding out of Califon and even rode past the ever-popular Califon Island Park, most of the 22-mile ride traveled new roads. The views and roads were great, two hills were nasty (at least for us -- we had to walk part of them), and we all enjoyed the ride.
Back at Neil and Barbara's lovely house, the DOGS settled in for their other favorite activity. There was the customary varied array of delicious foods and the usual loud and lively banter. One group gathered in the living room to watch a DVD of a trek from Salt Lake City to San Francisco.
As a follow-up to the treasure hunt, Neil added up the number of correct answers for each team. The winner was Team Breeze, Larry and Brenda Isherwood, who received a nice gift pack from the hosts. (It was noted that they may have had an unfair advantage, being already familiar with the area.)
Food...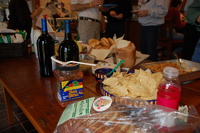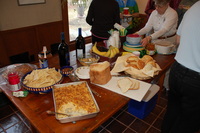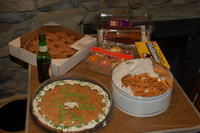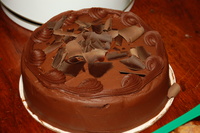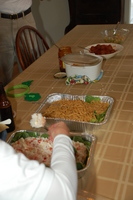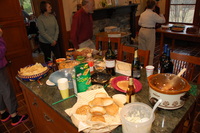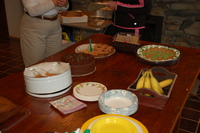 and eating...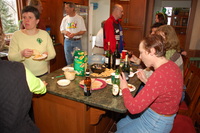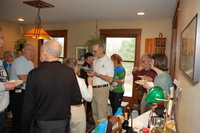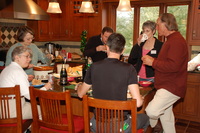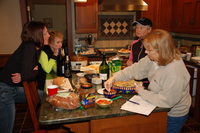 and fellowship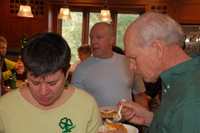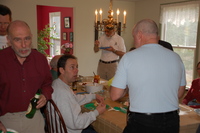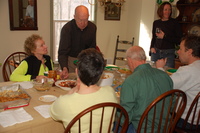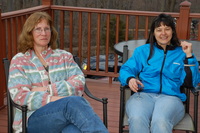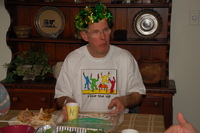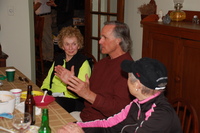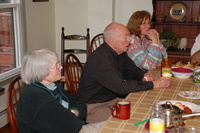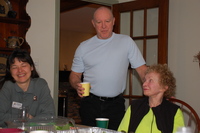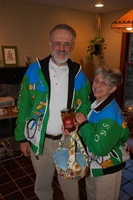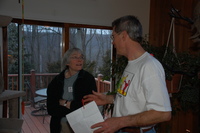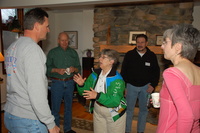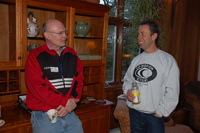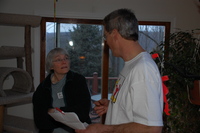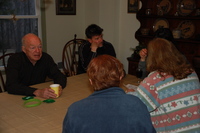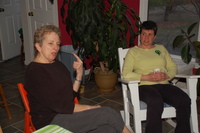 Watching the biking DVD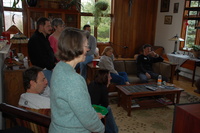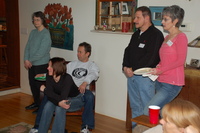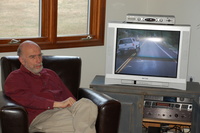 Who won the treasure hunt?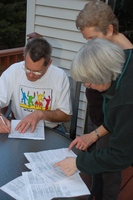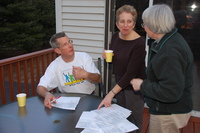 Awaiting the announcement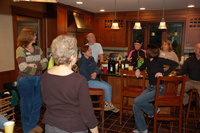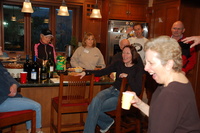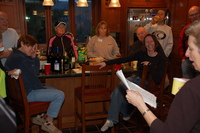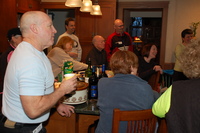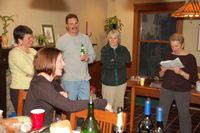 The winners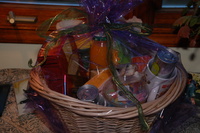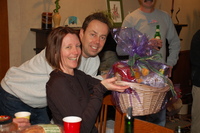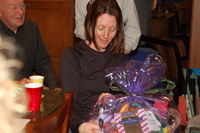 ---
---
Generated automagically on Sun Mar 23 11:29:30 US/Eastern 2008 from 080315.pho dated Sun Mar 23 11:22:27 US/Eastern 2008 by /home/dmk/perl/pho.pl, @(#)pho.pl 1.30.
Copyright © 2008, David M. Kristol (text, photos)