EOS/EST (End of DST) Ride
| | |
| --- | --- |
| Date | November 4, 2007 |
| Hosts | DBLS DOGS: Larry and Brenda Isherwood and Dave Snope and Susan Nicolich |
| Where | Califon Island Park, Califon |
| Who (else) | Marji Brandriss and Dave Kristol, Barbara and Tracy Cate, Barbara Flint and Neil McPhee, Sheryl and Bruce Kuo, Linda and George Wells |
Sunday morning, 4 November 2007, launched the latest season of the Fall-Winter Pancake Rides from Califon Island Park. Today's ride was well attended. Participating were Teams: Isherwood (Larry and Brenda), Snope/Nicolich (Dave and Susan), Kristol/Brandriss ( Dave and Marji), Wells (George and Linda), Cate (Tracy and Barbara),), McPhee/Flint (Neil and Barbara) and Kuo (Bruce and Sheryl -- our brand new DOGS members).
The DBLS DOGS dusted off the "Flip-Flop Flapjack Frolic" with a few pleasant changes to the return half of the route. The first half took the usual route up Philhower/Frog Hollow which, at just past the three mile mark, tests your mettle with a short steep climb up to Valley Brook Road that really gets the blood flowing. On today's trip, we did get a sighting of a great blue heron working the river which Larry noted was a rather large bird flying through brush. Then out through Washington Township on to Hacklebarney State Park which, of course, required another short steep climb (just what the thighs need on a Fall-Winter ride).
The changes to the route happened when the route left the park. Instead of going up Route 24 West, which required two left hand turns onto and off of the busy road, the new route went left up Parker Road. This is a rolling to climbing road which finally led to a right hand turn onto East Fox Hill Road . This route made a loop back to Beacon Hill Road with a screaming downhill run where a tandem can go very fast indeed. (I watched our speed to make sure I wasn't beyond my ability to react to changes ahead.) Rumor has it that some teams passed 50 mph on this stretch of road. We swung back into Califon on the smooth and fast surface of Route 513. There were a few opportunities to shorten the route as we screamed down 513, but we took the entire route to make sure we got all the miles logged.
We finished the route in good time, racked the tandem, chatted a bit and headed out for pizza and other foods at the Casola's. A few hours later, we started saying our goodbyes and drifted off to our non-tandem lives.
The weather was near perfect for a Fall ride, the leaf-peeping was excellent, and the good news is that there are more opportunities for the DOGS to ride together coming up really soon. Keep an eye on the Events Calendar on the DOGS website for new rides and upcoming events.
Linda & George Wells
Leaders -- Doubles Of the Garden State (DOGS)
Social Warm-up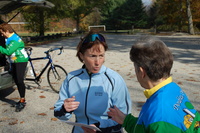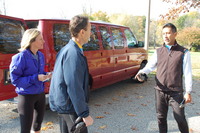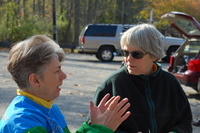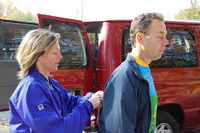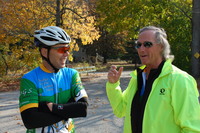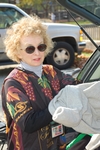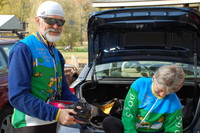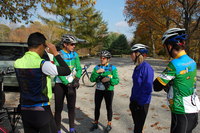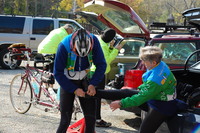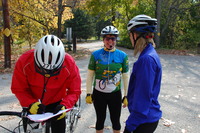 The Group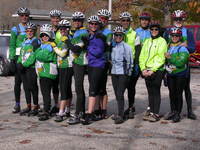 Enroute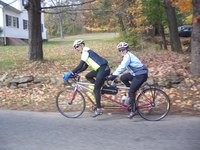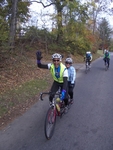 Hacklebarney Cider Mill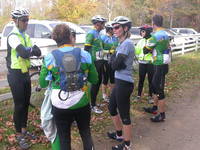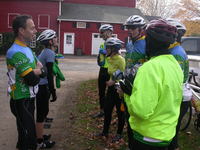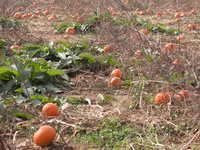 After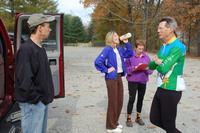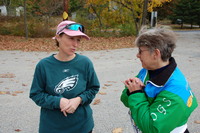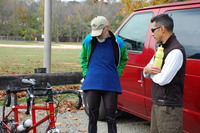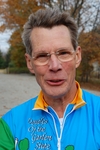 At Casola's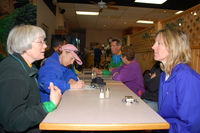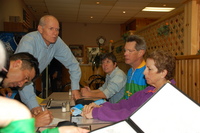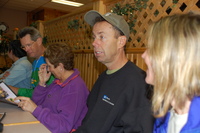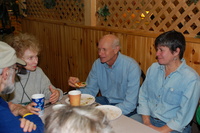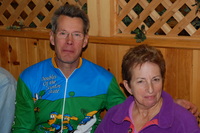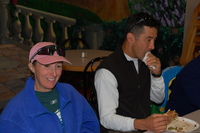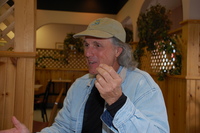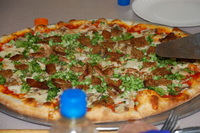 ---
---
Generated automagically on Tue Nov 6 22:31:30 US/Eastern 2007 from 071104.pho dated Tue Nov 6 22:31:29 US/Eastern 2007 by /home/dmk/perl/pho.pl, @(#)pho.pl 1.29.
Copyright © 2007, George Wells (text); Brenda Isherwood, David M. Kristol (photos)