Halloween Ride
| | |
| --- | --- |
| Date | October 28, 2007 |
| Hosts | Deb and Al Cudworth |
| Where | Loantaka Park, Morristown; Morris and Somerset Counties |
| Who (else) | Marji Brandriss and Dave Kristol, Barbara and Tracy Cate, Barbara Flint and Neil McPhee, Pat and Ed Gifford, Claire Hamanaka and Walt Willard, Brenda and Larry Isherwood (and Barkley), Reneé Mayeux and Bud MacIlvain, Cheryl Prudhomme and Mark Cook, Linda and George Wells |
[Team Wells report]
This ride report has been a bit daunting because there was a difference between the rides planned by Team Cudworth and what actually happened on the roads of Morris and Somerset Counties last Sunday. Al and Deb planned to use Team Kristol/Brandriss (Dave and Marji's) 39 mile "Hills and Mills" ride and also offered an alternative 24 mile ride. What transpired wound up in more options than planned. (More about that later.)
In attendance were Teams: Cudworth (Al and Deb--our hosts), Isherwood (Larry and Brenda with Barkley in his trailer), Willard/Hamanaka (Walt and Claire), Cook/Prudhomme (Mark and Cheryl), Wells (George and Linda), McPhee/Flint (Neil and Barbara), Gifford (Ed and Pat), MacIlvain/Mayeux (Bud and Reneé), Kristol/Brandriss (Dave and Marji) and Cate (Tracy and Barbara).
As we all know, last Friday was rainy, so Team Wells called the local police in Harding Township (New Vernon) to be sure that on Saturday, Long Hill Road (the one that goes through the Swamp and is a principal part of the ride), was still above water, as it often floods. The good news was that the road was open! So, Sunday morning, Team Wells racked The Voyager and headed for Loantaka Park in Morristown. When we arrived, we found that the men's facilities were locked, so our faithful female DOGS stood guard duty at the women's facilities while their men took care of necessaries.
Linda and I studied the route sheets and found that the routes diverged in under two miles, so we made a command decision to go on our own personal route, which covers most of the same roads, figuring that we would encounter some of the DOGS along the way (which we did), covering 23 miles, while the other DOGS who rode Al and Deb's planned (short) ride did a 24 mile ride. We were going down Lee's Hill Road in New Vernon, just as three DOGS were coming up that same road, so we got a chance to yell hi to each other! We can report that Team Isherwood was working hard while bringing Barkley along for his club ride (even decked out in his own "DOGS" Jersey and "helmet.") If Timo knew he would be jealous, and Dave and Marji would have a trailer as well.
It was a beautiful day, albeit a bit chilly. Team Wells introduced the DOGS wind vests on this ride and they worked very well at keeping our core temperatures warm while allowing excess heat to escape out the back.
Ours was a 23 mile ride, so we were back first, followed, shortly thereafter, by Walt and Claire. We all worked together to get all the snacks out on the table. Walt lit the camp stove that heated up the delicious soup that Debbie had prepared for us all, along with all her other delicious goodies. The next team to arrive back was Mark and Cheryl, and the real story of the day began to unfold. Shortly after Mark and Cheryl arrived, Cheryl was off in their van.
Then we found out that Neil and Barbara had a chain break and they were stuck at the Raptor Trust and that is why Cheryl took off with their van -- to rescue Neil and Barbara. While Cheryl was out, and Walt busy heating the soup, more teams began to arrive. That is when we learned that yet another mechanical happened along the roads -- Dave and Marji's rear derailleur cable broke while they were on Linsley Road. Larry and Brenda stopped, and Larry assisted Dave in making a field repair that got them three low gears for the trip back to the start point. This must have happened shortly after we saw the other DOGS going up Lees Hill Road.
This is something important about who the DOGS are. In all the years of riding together, we have always assisted one another on the roads when somebody has a problem. Team Wells has been the recipient of that assistance as well as many others. Even though the DOGS were spread out all over the Great Swamp last Sunday, everyone got back to the start point, some, as the old Beatles Song put it: "with a little bit of help from our friends." This is one of the things that makes our club great!
Next Sunday there is another DOGS ride with the revival of the Fall-Winter Pancake Rides on the first Sundays of the month in Califon. These are shorter rides but still filled with the camaraderie that makes our Club a bit unique in the world of bicycling clubs. Keep an eye on the web-site for all upcoming activities, including an already filling schedule for 2008!
Linda & George Wells
Leaders -- Doubles Of the Garden State (DOGS)
Pre-ride socializing and snacking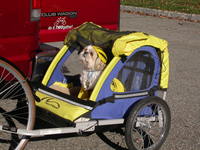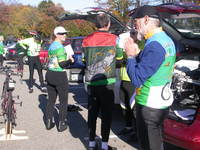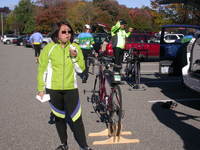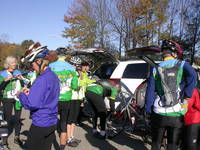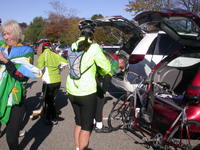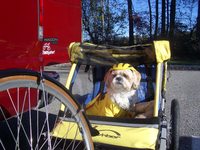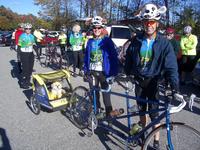 The Group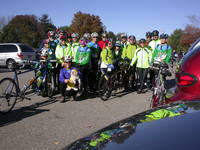 On the road with DOGS and dog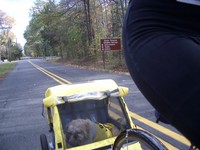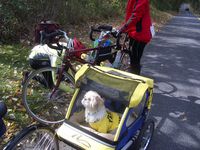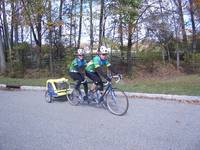 Food Frolic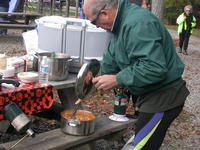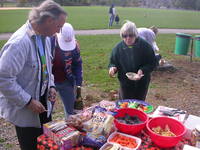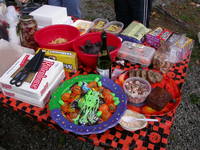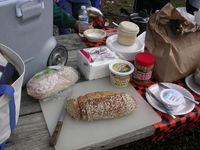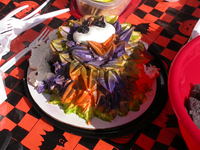 The authentic dog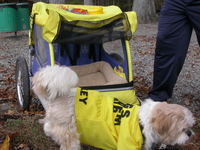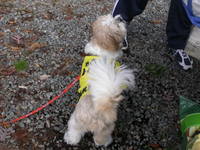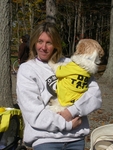 ---
---
Generated automagically on Sun Nov 4 8:14:14 US/Eastern 2007 from 071028.pho dated Sun Nov 4 8:14:09 US/Eastern 2007 by /home/dmk/perl/pho.pl, @(#)pho.pl 1.29.
Copyright © George Wells (text); David M. Kristol, Brenda Isherwood (photos)