DOGS 10th Anniversary Ride and Party
Date
September 10, 2007
Hosts
Karen and Cam Witt
Where
Witt home
Who (else)
Susan and Greg Adam (and Emily)*, Judy Allison and Malcolm Boyd, Marji Brandriss and Dave Kristol, Barbara and Tracy Cate*, Deb and Al Cudworth, Michelle and Richard Dittmar, Magdalena and Patrick Dyberg (guests), Lily and Mike Fabricante*, Barbara Flint and Neil McPhee, Claire Hamanaka and Walt Willard, Paul Hammerschmidt, Brenda and Larry Isherwood, Jane and Paul Kimmel and Maria Ramos, Greta and John Mast, Laura Nesbitt and Pete Sklarow, Susan Nicholich and Dave Snope, Lisa and Jim Osborne, Cheryl Prudhomme and Mark Cook, Pat and Bill Rock, Ann Smith and Gisela Witz, Tricia and Ed Troike, Linda and George Wells
* non-riding
[Team Wells report]
Dai sy, Dai sy, give me your an swer, do.
I'm half cra zy, all for the love of you.
It won't be a sty lish mar riage, I can't af ford a car riage,
But you'll look sweet, upon the seat,
Of a Bi cycle Built For Two.
This report is a review for all of you who were able to participate in last Saturday's DOGS 10th Anniversary Ride and/or Picnic/Party and all kinds of information for you DOGS who were unable to join us for any part of our great day.
Let's begin with the weather--it was a warm, sunny day--perfect for riding our tandems, our triple and our single bike and for everybody who was able to attend the picnic/party. Our feeling is that a great time was had by all.
As per usual, Team Wells was the first team at the home of our hosts-- Cam and Karen Witt, our hosts for the day who live at Ten Blackburn Road, in Basking Ridge. As early as we were, Team Witt was ready for us/everybody, beginning with coffee, bagels and cheese. Many of us gathered around their kitchen, noshing and kibitzing, before the day really began.
As each team arrived, we played the role of "outside hosts and parking lot attendant" and pointed them to the house so they could say hello, chat, and enjoy the morning goodies.
Next paragraph--statistics:--1 triple, 18 tandems and 1 single participated in the 29.03 and 47 mile rides planned by Cam and Karen.
The DOGS teams who rode their tandems included Team Sklarow/Nesbit (Pete and Laura, respectively), Boyd/Allison (Malcolm and Judy, respectively), Cook/Prudhomme (Mark and Cheryl, respectively), McPhee/Flint (Neil and Barbara, respectively), Willard/Hamanaka (Walt and Claire, respectively), Kristol/Brandriss (Dave and Marji, respectively), Snope/Nicolich (Dave and Susan, respectively), Isherwood (Larry and Brenda), Troike (Ed and Trish), Cudworth (Al and Deb), Cate (Tracy and Barbara), Mast (John and Greta), Osborne (Jim and Lisa), Rock (Bill and Pat), Dittmar (Richard and Michelle), Wells (Linda and George) and Witt (Cam and Karen).
Team Dyberg, Patrick and Magdalena (known to everybody as Magda), are friends of Cam and Karen's, who are not DOGS, yet, but could be in the future--if/when they buy their very own tandem. They rode one of Cam and Karen's tandems and participated in our picnic/party.
The triple we mentioned was ridden by DOGS Team Kimmel (Paul and Jane) and their friend/non DOGS member--Maria Ramos, who was the third person/second stoker on their great stead.
The single bicyclist was one of our newest DOGS, Paul Hammerschmidt (from Long Island). Susan (his wife), and Mark and Mara (their twin son and daughter, respectively) were unable to participate in the DOGS 10th Anniversary Ride and Picnic due to a soccer game. So, Soccer Mom stayed home with the kids while Paul rode his single bike and enjoyed the DOGS festivities. (Did you know, we now have three DOGS teams from Long Island?) We sure are spreading out--north, south, east and west! Isn't that wonderful?
Three Teams who were able to attend the picnic/party only consisted of Team Smith/Witz (Ann and Gisela, respectively), Fabricante (Mike and Lily), and Adam (Greg and Susan and their daughter, Emily, who is now walking, and is one of our youngest puppies).
We waited for everybody to arrive and get their sleek machines set up before going anywhere. The traditional group photo was taken in Cam and Karen's driveway and off we went on our various adventures.
We will be able to tell you about our 29.03 mile ride and the picnic/party, but sure would love to hear from you guys--your take on what happened at the DOGS 10th Anniversary Ride and Picnic/Party.
We had something happen during our ride, something that has never happened in the 12 years we have been riding a tandem. We had passed the Great Swamp (New Vernon Road) and turned on to Pleasantville Road when a young lady on her single came up behind us and started asking us all kinds of questions about tandems/tandeming. She followed us to the parking lot at the Green Village Deli on Spring Valley Road where we could talk some more, and George could give her a Tandems East Business Card and also a DOGS Business Card. When I got off of "The Voyager" (our tandem's name), and was standing next to the young lady, George noticed that she and I are about the same height. The next thing she knew, she was being stoker to George while I held her bike, and they rode around the parking lot and then down Pleasantville Road a short distance, turned around and came back to the parking lot. She looked at me and said, "My legs are shaking." I said, "Yup! That's how it was for me, in the beginning, too!" After we got on our respective two-wheeled vehicles to continue on down Spring Valley Road, George told me she screamed the entire ride--up and down Pleasantville Road. He thought she was scared. She said the screaming was for pleasure. He said to me, "If that screaming was from delight, what must her scream be like when it is a scream of fear?!"
It was a wonderful experience for all three of us. The young lady was thinking that a tandem would be a nice anniversary gift for her and her husband since he is 5'10" and she is 5' tall, and she is unable to keep up with him when they are riding their single bikes together. (This sounds all too familiar to many of you, we are sure.) She never knew that when she went out for her single bike ride Saturday morning, that she would find herself on a tandem! And for us to be able to pass on the joy of tandeming, well, it was just super nice for us. (And I'm sure George was proud as a peacock--escorting somebody else on The Voyager.)
Because all those roads are familiar to us, we took a shorter route and returned to the house before anybody so that, once again, we could greet the teams as they returned from their adventures. We also had the chance to give a howdy-do and a hug to welcome Teams Adam, Fabricante and Smith/Witz, when they arrived for the picnic.
By the time all of the teams returned, Magda, who is a professional yoga instructor, had a group of people out on Cam and Karen's front lawn, doing yoga stretches while most of us watched them from Cam and Karen's dining room window, nibbling on some of the appetizers and socializing with those who felt that they had had enough exercise for the day.
The tables and chairs on the patio were occupied with DOGS enjoying all the goodies while many of us remained within Cam and Karen's lovely, air conditioned house. As usual, there was lots of delicious food. I think I had a little bit of everything and probably would have been satiated even if I hadn't had a cheeseburger, as well!
Around 2 PM, George gathered some people around the piano while Paul Kimmel played the verses to "Daisy Bell." Singing the verses included Karen, Lisa, George and Paul. While everybody in the house at that time sang the very familiar refrain--Daisy, Daisy give me your answer do, I'm half crazy all for the love of you." (This turned out to be a rehearsal.) When the rest of us on the patio heard about the singing of Daisy, we all came into the house.
(Did you know that song had verses to it and what most of us know is the refrain? Until we bought the sheet music, several years ago, we didn't.)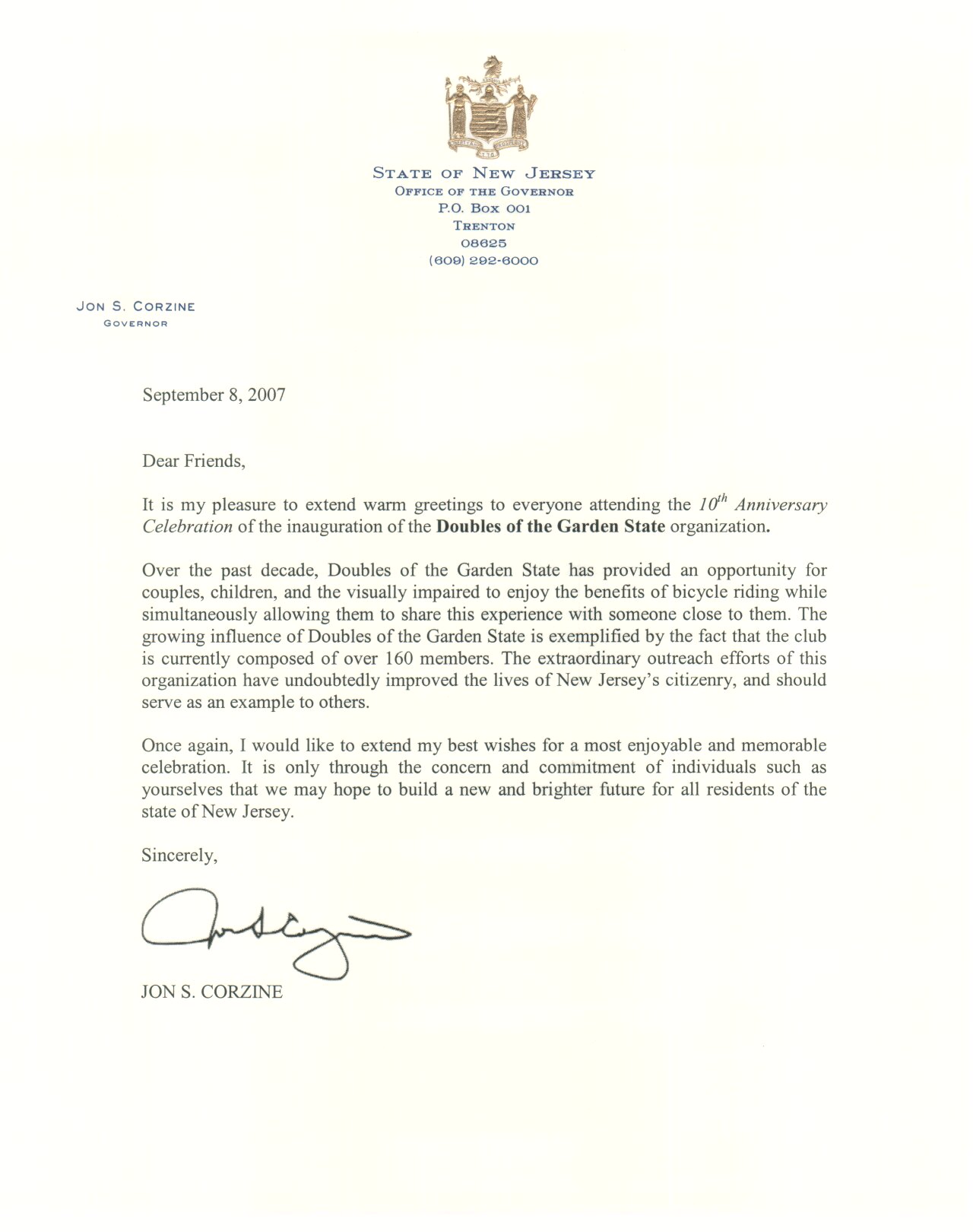 Once we all gathered in the house, George began by reading a letter to us from our Governor, John Corzine, congratulating us for our tenth anniversary. (Hope you all get a chance to read the letter because George gave it to Dave Kristol to scan into the DOGS Website.)

He then invited all "original" DOGS up front, with him--Larry and Brenda Isherwood, Cam and Karen Witt, Ann Smith and Geisla Witz, and George and me. It was at this time, that he explained each team's project for Eastern Tandem Rally 1997--from which the New Jersey Tandem Club was formed and then the name was changed to Doubles of the Garden State (DOGS).
With thanks for what we have done/do for the club, Cam and Karen gave little awards to Larry and Brenda, Mark and Cheryl, Dave and Marji and George and me. Along with each award, Cam and Karen had written a little note to the awardees for the part they have been playing that helps keep the DOGS club so successful.
The next part of the program was the "official" singing of "Daisy Bell," with Paul once again playing the piano, and Karen, Lisa, George and Paul singing the three verses and everybody joining in on the refrain.
Paul Hammerschmidt, the single bicyclist today and one of our newest members, whom we mentioned in a previous paragraph, had gorgeous DOGS paperweights made for all DOGS Teams who attended the DOGS 10th Anniversary Ride and Picnic. (Hope you all took one home. If you didn't, please send us an e-mail and we will mail one to you.)
We then cut the delicious DOGS cake (a yellow cake with chocolate mousse filling, white icing, and, of course, one of our DOGS pictures (edible)) in the center of the cake, which was made by the local baker at the Gourmet Bake Shop in Liberty Corner (on the borderline of Basking Ridge). Sure hope everybody enjoyed it. (Some high powered photographic equipment was used for the picture-taking at the DOGS 10th Anniversary Ride and Picnic/Party. Hope you all enjoy looking at them.)
About 3:30-4 PM many of the DOGS teams realized they had to return to their other life. So, the DOGS started saying their adieu's and returning home, taking with them wonderful memories of this special day that we all had shared together.
Since tandeming is something we all love, we hope the club will continue to enjoy riding together and all those other things that make up our wonderful, little organization.
Thank you, all of you, for being able to participate in our/your special day. This is your club, you make it what it is and we are pleased to do what we can to be of assistance to you all.
Looking forward to continuing to ride with you--even though we still remain the "tail-end" at times. Hope you will be able to participate in Rich and Pam Toft's ride next Saturday, 15 September, from/to their home in Trenton. We're planning to be there.
Peace, Blessing and Love,
LINDA AND GEORGE
Linda & George Wells
Leaders - Doubles Of the Garden State (DOGS)
rides (got lost) food/ cake awards/recognition 10 things stokers don't like Dittmar's song(s) Hammerschmidt's paperweights
The Scene...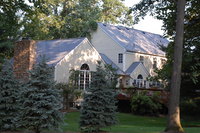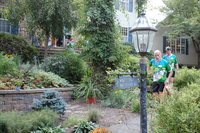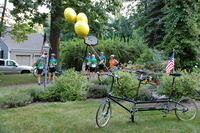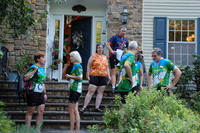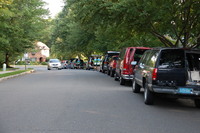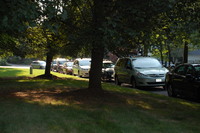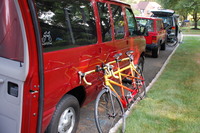 Pre-ride socializing...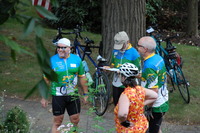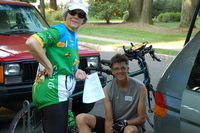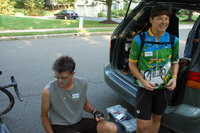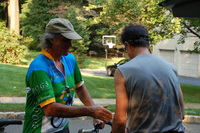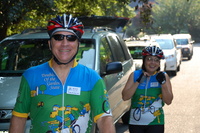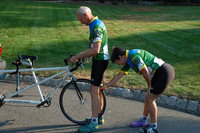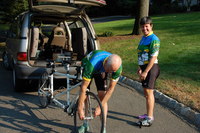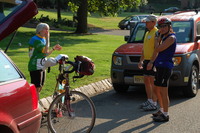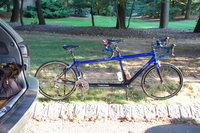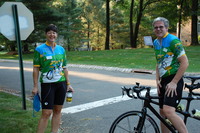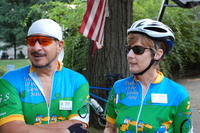 ... and eating.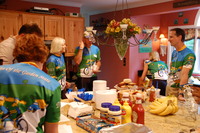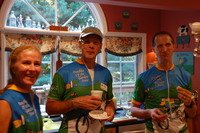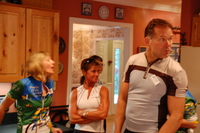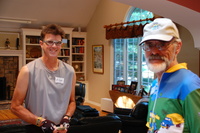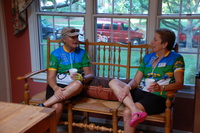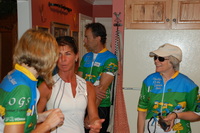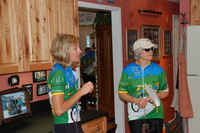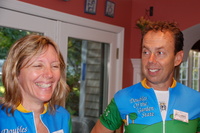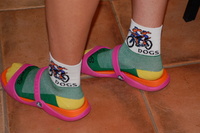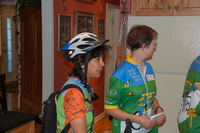 Pre-ride instructions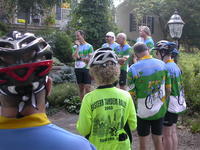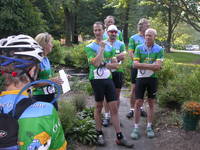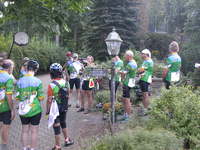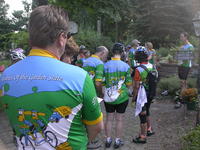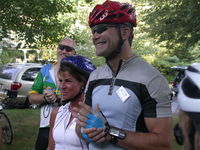 The (Big!) Group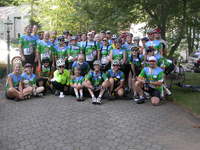 9/11 Memorial at Shrine of Saint Joseph's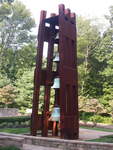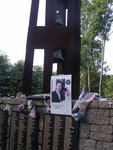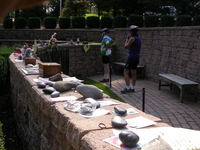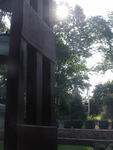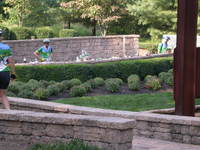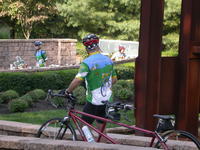 On the road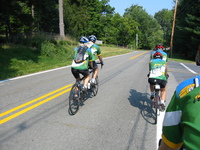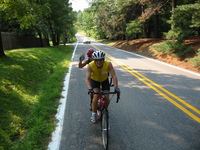 Party!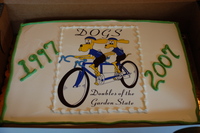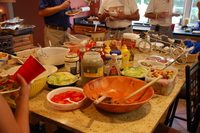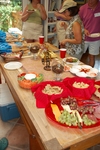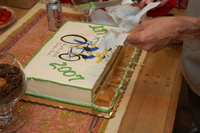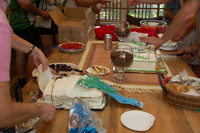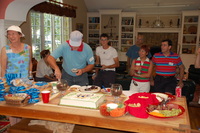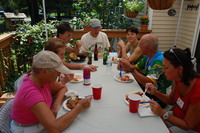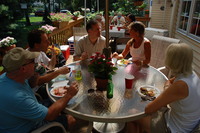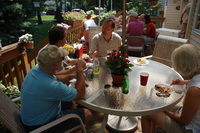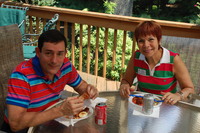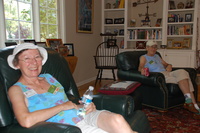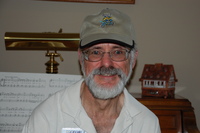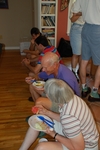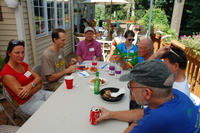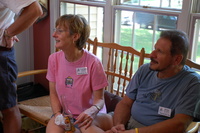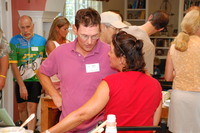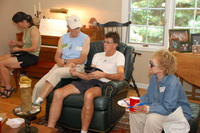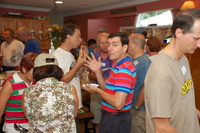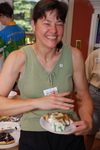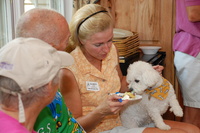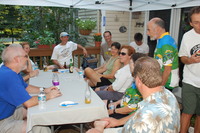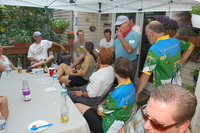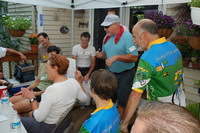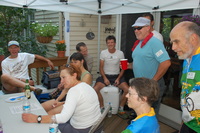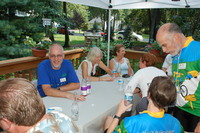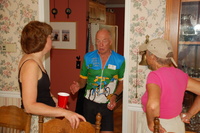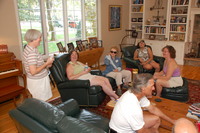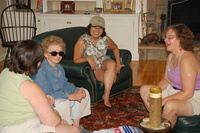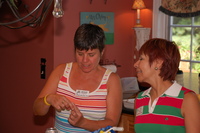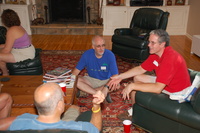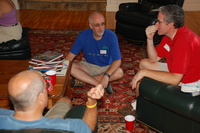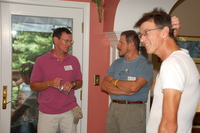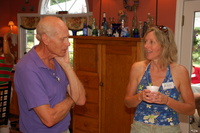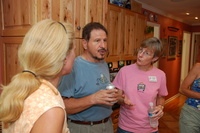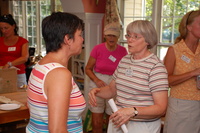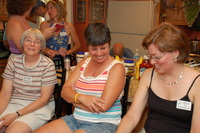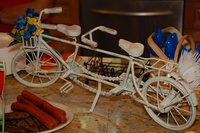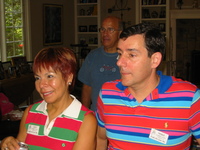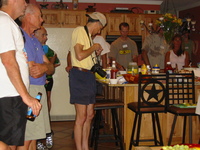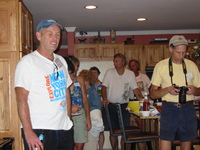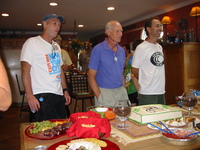 Presentations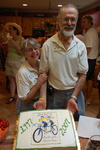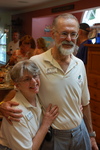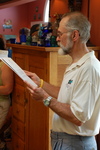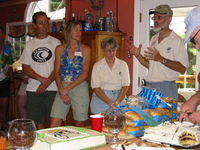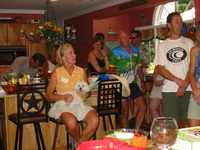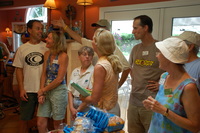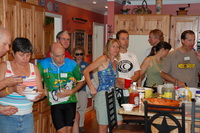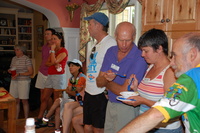 Rich sings... what was it?... and recites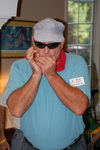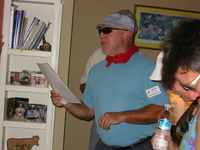 Dai-sy, Dai-sy...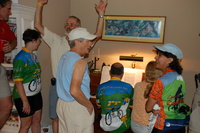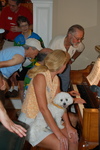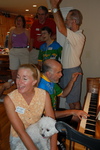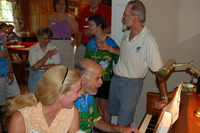 Paul Hammerschmidt's paperweights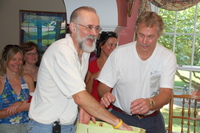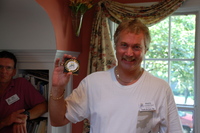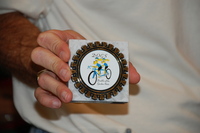 Dogs and cats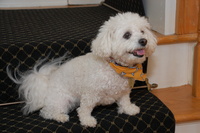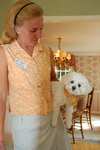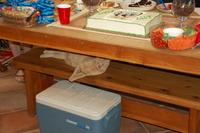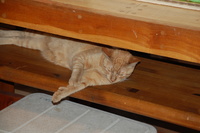 ---
---
Generated automagically on Sun Sep 16 20:00:26 US/Eastern 2007 from 070908.pho dated Sun Sep 16 20:00:17 US/Eastern 2007 by /home/dmk/perl/pho.pl, @(#)pho.pl 1.29.
Copyright © copyright