Revised Rolling Riparian Ramble
| | |
| --- | --- |
| Date | August 5, 2007 |
| Hosts | Dave Snope and Susan Nicolich |
| Where | Dave's house; Morris County |
| Who (else) | Barbara and Ron Anderson, Helen and Bob Bird, Deb and Al Cudworth, Brenda and Larry Isherwood, Barbara Flint and Neil McPhee, Linda and George Wells |
Last week saw increasing temperatures, rising humidity, and thunderstorms; but today, (Sunday, 5 August), greeted us with lower temperatures, low humidity and no threat of rain. Dave & Susan's Revised Rolling Riparian Ramble had perfect weather and this year offered two versions -- a 33 mile and a 49 mile (for those who like longer rides). The Teams that participated were: Wells (George and Linda), Anderson (Ron & Barbara), Cudworth (Al and Deb), Isherwood (Larry and Brenda), Flint/McPhee (Barbara and Neil), Bird (Bob and Helen), and our hosts for the day Nicolich/Snope (Susan and Dave).
Teams Bird, Nicolich/Snope, and Wells chose the 33 mile route so that will be the topic of this report, although much of the longer ride was on the same roads. Following our "picture taking" prior to the ride, we left Dave's house at 10:05 AM, (as usual, Linda looked at her watch). We headed to "downtown" Califon and proceeded up Philhower Avenue and Frog Hollow Road (following the beginning of the Winter Pancake Rides). This revision eliminated a particularly nasty climb that was a feature of last year'ôs version of this ride. Most of the roads were shaded, which kept the tandem teams much cooler. However, it did make it a bit more difficult for the captains to navigate some of the road surfaces which, following a winter of many freeze-thaw cycles had lots of cracks and patches to avoid. In the dappled shade, more than a few stokers got an unwelcome bump that the Captain was unable to see quickly enough. While not heavily trafficked, there were some motor vehicles sharing the roads with us, but all were respectful of the Tandem teams.
The theme of the day was basically climb and descend while following the path of various rivers in the area. Many of these climbs were short and steep with a few long sustained climbs that led to long downhill runs. It was a great day for bicycling and we shared the roadways with many single bicyclists, some of whom passed us on the uphill sections only to be passed by the tandems on the downhill runs. This was a challenging route but doable by everyone who participated in this ride. The views were of the rivers and the surrounding countryside filled with trees and the occasional sound of running water. By the end of the ride, many of the climbs left our quads hurting, but the route was well worth the added effort.
Of the three teams who completed the 33 mile ride, Team Wells pulled in Dave's driveway at 12:16 PM -- a 2 hour, 11 minute ride for Team Wells. (They took a shortcut back to Dave's house). Soon after their arrival, Team Bird showed up. Then we awaited the arrival of the other teams who completed the 49 mile ride. Since Team Flint/McPhee live in the area, they had ridden their tandem to Dave's house and participated in the 49 mile ride. The completion of their ride was at their house, after which, they hopped in their car and returned to Dave's for the picnic. Soon after their arrival, in drove Team Hamanaka/Willard (Claire and Walt) in their SUV, which is when the traditional DOGS post-ride buffet of foods really began.
As usual all of the foods were excellent and there was much discussion of the day's ride and talk about other rides, including detailed descriptions of Team Isherwood's time at the Co-Motion Classic. Also, during the post-ride picnic, we learned why Walt and Claire had been unable to participate in today's ride -- Walt had fallen off his ladder and sprained his left ankle. He is now on the injured-reserve list until it heals. We are all thankful that Walt was not more seriously injured. He's hoping to recover in time for the Covered Bridge Weekend -- Friday thru Sunday, 17-19 August.
Once we had eaten the delicious items shared by the participants, many of the teams decided to take advantage of Dave's pool, as well as lots of conversation around the pool and at the table and chairs under his gazebo. The afternoon finally drew to a close and we all packed up our vehicles and headed to our homes. Many thanks to Dave & Susan for another excellent and successful DOGS ride. Of course, this isn't the end of the season. There are still six planned DOGS rides, one of which is our Tenth Anniversary Ride and Picnic on Saturday, 8 September. Hope you'll all be able to set aside that very special day for the DOGS. And there are possibly rides that some of you are thinking about leading but haven't sent an e-mail to Dave Kristol ( newevent@d-o-g-s.org ) with the information.
Looking forward to riding with you all!
Linda & George Wells
Leaders -- Doubles Of the Garden State (DOGS)
The hosts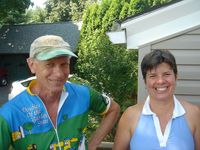 Pre-ride preparation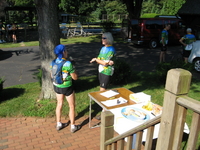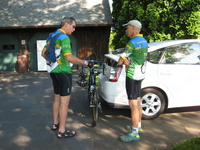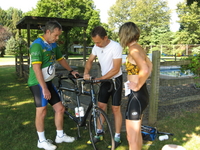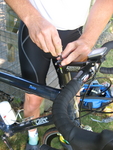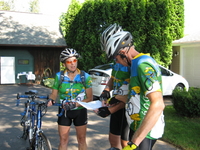 Group photo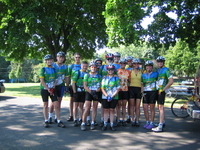 Enroute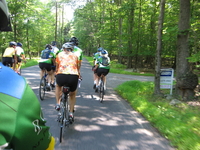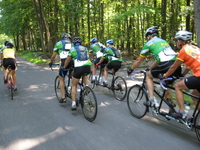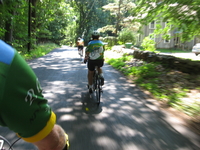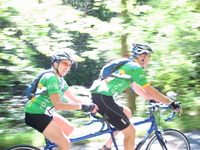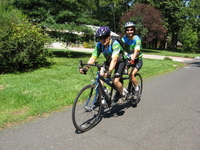 Riparian scenes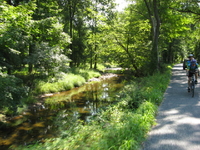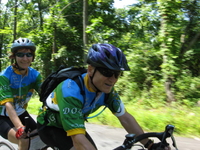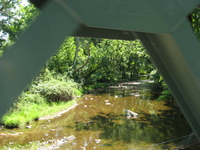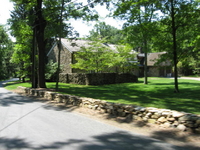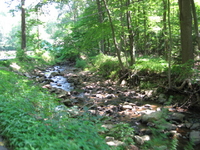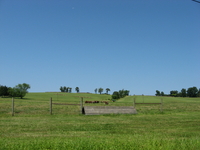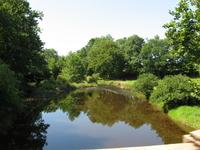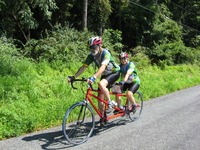 Post-ride fun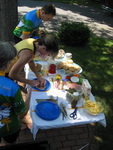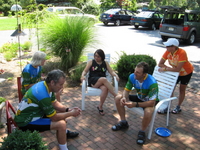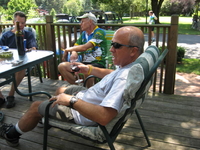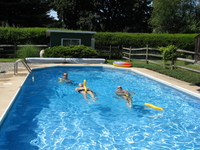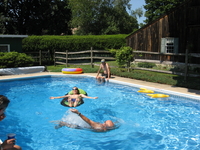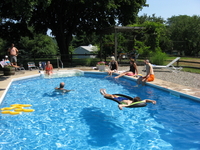 ---
---
Generated automagically on Thu Aug 9 20:56:16 US/Eastern 2007 from 070805.pho dated Thu Aug 9 20:53:42 US/Eastern 2007 by /home/dmk/perl/pho.pl, %W%.
Copyright © 2007, George Wells