Allamuch Ramble
| | |
| --- | --- |
| Date | June 17, 2007 |
| Hosts | Deb and Al Cudworth |
| Where | Kittatinny Valley State Park; Sussex and Warren Counties |
| Who (else) | Helen and Bob Bird, Marji Brandriss and Dave Kristol, Jane and Paul Fialcowitz, Barbara Flint and Neil McPhee, Pat and Ed Gifford, Claire Hamanaka and Walt Willard, Brenda and Larry Isherwood, Renee Mayeux and Bud MacIlvain, Cheryl Prudhomme and Mark Cook, Linda and George Wells; Tiffany Snow-Smith and Scott Smith, prospective members |
[Dave Kristol report]
Today's ride comprised the perfect combination of weather, big turn-out, low-traffic roads (as advertised), and the traditional DOGS after-ride food fest. Twelve teams assembled under sunny skies and pleasant temperatures in the parking lot at Kittatinny Valley State Park. The Smiths, prospective members, rode with us to check us out. I think we showed them a great time.
Following the traditional group photo, everyone headed out through the quiet roads of Sussex and Warren Counties. The terrain comprised mostly undulating roads with a few more challenging hills. Shades of Death Road was doubly aptly named, for today the killer hill (well, okay, it could be worse) was nicely shaded. In fact, the shade throughout the route, plus water evaporating from the roads from storms last night, helped to keep the temperatures comfortable.
We stopped at a store around mile 27 (of 40), where we met up with Al and Deb, Bud and Renee, and Walt and Claire. I had noticed that our route slip seemed to be missing some directions that would ultimately lead us back to the park, so we mentioned that to Al. In a minor panic, Al was able to reach the rabbits of the DOGS by cellphone to fill them in. Then he chased down George and Linda and Bob and Helen, who were riding together, to let them know, as well.
In the end, fortunately, no one got lost. Once back at the park, the group settled down to some serious eating at the picnic tables under the trees. As usual, everyone brought forth excellent goodies that were happily consumed amidst the usual banter and chatter. Today was truly a noteworthy and memorable DOGS event.
---
[Team Wells report]

While it isn't "officially summer" (that comes on Thursday), Sunday was hot with the temperatures rising into the 90's as the DOGS gathered at Kittatinny State Park in preparation for Team Cudworth's hosting of the Allamuchy Ramble. A total of 11 DOGS teams and one visiting team participated. They were: Teams: Wells, Isherwood, Cudworth (our hosts), Mayeux/MacIlvain, Bird, Cook/Prudhomme, Hamanaka/Willard, Gifford, Brandriss/Kristol, Flint/McPhee, Fialcowitz, and our visiting guests, Snow-Smith (Scott and Tiffany).

Like most of Northern NJ, this area is not flat, and we spent the day either going up or down, with very little being "flat." After going through some initial traffic for the first few miles, we soon found ourselves on lightly traveled roads. As we climbed, we were rewarded with both great downhill runs as well as some beautiful scenery overlooking the towns of Sussex and Warren Counties.

Many of the roads were shaded, which made the ride a bit nicer on a hot day, and the humidity was low, allowing our bio-engines to remain cool and not overheat. As the ride progressed Linda informed me that we were headed for that infamous -- "Shades of Death Road" which is a mainstay in many of the Hamanaka/Willard rides. However, we were approaching it from the opposite direction. The climb up to Shades of Death was a bit steeper than I estimated and I failed to shift down into the granny-ring so we were stuck in the 39-34, slowly grinding up to the turn onto Shades of Death, probably the only time I was happy to get to this road.

Riding Shades of Death from the opposite direction was interesting; the long climbs were now long downhill runs and the short downhills were now short steep climbs that bit into our legs. The views, now on our right, were just as magnificent, and somewhere along this run we maxed out at 41 mph, (probably coasting, no less). Fortunately, this was the worst of all the climbs as we headed back towards Sussex County and our start/finish point.

As we were pealing along, Team Cudworth came up from behind and, a bit chagrinned, told us that the 40 mile cue sheets were missing the last three cues. While Al related the turns to us verbally, we tried to keep it all in mind, but when we finally got to the end of the sheet, we had forgotten the three turns that Al gave us verbally. Fortunately, there was a florist shop, and we stopped for the rest of the directions to get us back to Kittatinny State Park. Linda went into the store (of course, air conditioned), and spoke to Glenn who told her that we should turn right onto Lake Iliff Road, at the light/intersection on the corner, right on to Limecrest Road where there is a firehouse (also on the right), and our last turn would be a right turn, back into the parking lot. (Linda wrote these directions on the back of the cue sheet.) (Many thanks to Glenn). Even though those final miles were fine for riding, we approached the park with those little rises in the terrain biting us in our thighs.

Of course, following the ride, there was another great DOGS picnic with all kinds of goodies, many familiar, and a few new ones -- George's curried chicken salad seemed to be a hit, and we cannot forget the stock of desserts too numerous to mention in detail, but there was a white and dark chocolate fudge that was decadent.

If you were unable to be there, you missed another great DOGS ride. The good news is that there are many more DOGS rides to come -- just check out the web-site. There was even talk of a 50 mile moderately flat ride next weekend being planned. So, pump up those tires, lube your chain, and plan to bring your tandem to the next DOGS ride. (We know you cannot make all of them, but you should make at least one.) And because there are still open dates on the DOGS calendar, you can also host a ride.

Linda & George Wells
Leaders - Doubles of the Garden State (DOGS)
Pre-ride socializing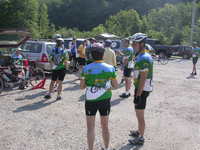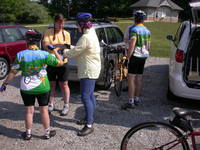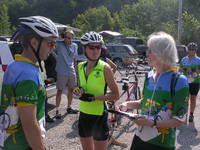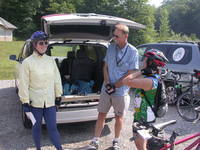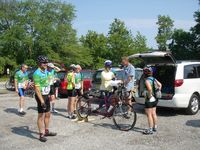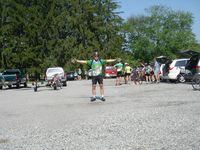 The group!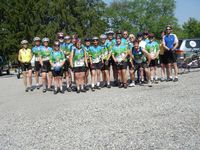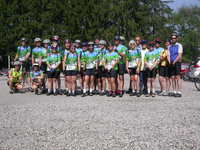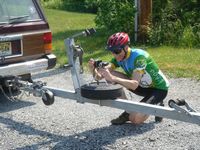 Uh-oh, we missed some directions!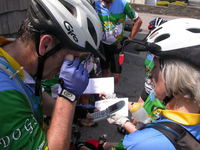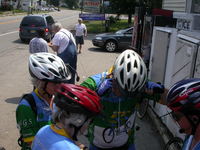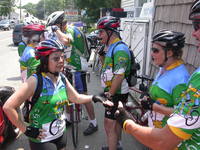 The Eating Club, assembled and busy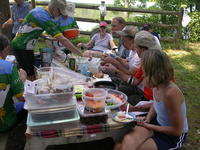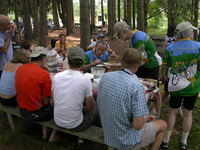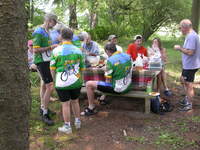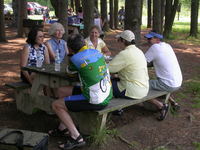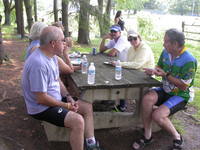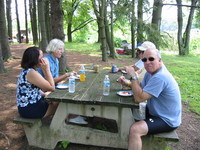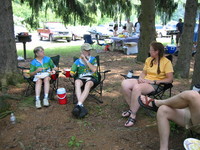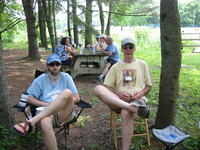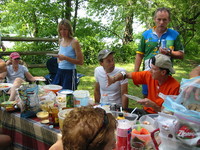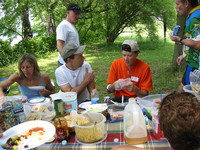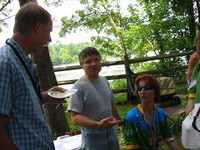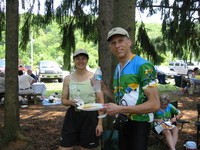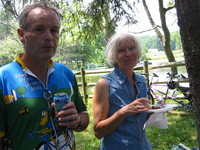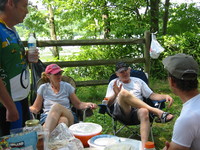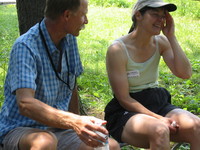 The objects of their desires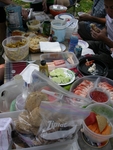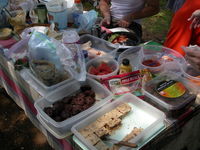 Working out the details of the upcoming DOGS camping trip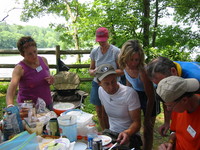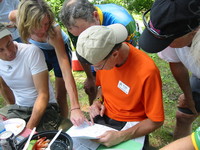 ---
---
Generated automagically on Wed Jun 20 20:17:36 US/Eastern 2007 from 070617.pho dated Wed Jun 20 20:17:35 US/Eastern 2007 by /home/dmk/perl/pho.pl, @(#)pho.pl 1.27.
Copyright © 2007, David M. Kristol (text, photos); George Wells (text); Marjorie Brandriss, Walt Willard (photos)