Rural New Jersey
| | |
| --- | --- |
| Date | May 12, 2007 |
| Hosts | Claire Hamanaka and Walt Willard |
| Where | White Township Recreation Area; Warren County |
| Who (else) | Deb and Al Cudworth, Barbara Flint and Neil McPhee, Brenda and Larry Isherwood, Susan Nicolich and Dave Snope, Cheryl Prudhomme and Mark Cook, Linda and George Wells |
It was Saturday, 12 May, and the weather finally smiled on the efforts of Team Hamanaka/Willard. The sun shone brightly, with a smattering of cheery, puffy, clouds, punctuating an azure sky. Temperatures were in the mid 70's and the wind (when it blew at all) was gentle. As parents and children assembled to start up their Saturday baseball games, seven lycra-clad DOGS teams (that's 10% of our membership and, therefore, a complete success) gathered at the White Township Recreation Center, setup our tandems, exchanged greetings and news, signed in, and took off on a familiar adventure through the hills of Warren County. Signing in were teams: Hamanaka/Willard (our hosts), Wells, Cudworth, Isherwood, Flint/McPhee, Cook/Prudhomme, and Nicolich/Snope.
The route was a variation of the familiar Fish, Flowers, and Fowl ride that Claire and Walt have hosted many times. The beginning of the route is basically rolling and the pack pretty much stayed together for the first miles with Claire and Walt in the lead, at least until they decided to drop back and take some pictures of us and suddenly Team Wells was in an unfamiliar position--leading the pack, but not for long, but staying with the leaders, even when Larry and Brenda, who are getting into shape for the Co-Motion Classic in July, took the leadership. Team Wells cannot say that they held their wheel, but we did stay in sight of the leaders through the first ten miles. Then the roads pitched up and "the cream rose to the top." Team Wells would lag a bit behind, then crest a hill to see the leaders, just ahead, and then another climb, and a bit further ahead until we hit one crest and could no longer see the leaders. We did know that Teams Cudworth and Hamanaka/Willard were still behind us. Fifteen miles into the ride, George noticed in his rearview mirror, a tandem bridging up--it was Team Cudworth who came alongside and powered onward.
As we were getting closer to the rest stop, we were reminded that it was these last few miles, towards the rest stop, that have always been vexing for Team Wells, and it wasn't until this ride that we realized why. I (George) looked in my rearview mirror as we crested a slight grade alongside a railroad track and noted that what lay behind us had been a fairly long "false-flat" that turned out to be a pretty good grade that only appears to be flat with a gently grade at the end. Knowing this, now we don't feel quite so bad that we tend to bog down in this spot. By the time we got to the rest stop, everyone, with the exception of our hosts, was standing around comparing notes on the first portion of today's ride. I checked our computer and noted that for Team Wells, we were doing extremely well with an average of 15.4 mph, so far.
Our hosts soon arrived and, within a few minutes, we started on our way to complete the 38 mile course. (We knew, from experience, that there would be more difficult climbs ahead.) Flying down the street from the general store (on Route 612 towards Johnsonburg) onto the flats, I was surprised to see, in the shade, an area of broken pavement. Try as I would to avoid the largest holes, we managed to pinch flat the rear tire--drat, a brand new tire and tube to boot--on that brand new wheel that we had just brought home yesterday! Team Flint/McPhee were among the six lucky teams that avoided a flat, but they doubled back anyway and vowed to stay with us for the duration of today's ride. (Thank you Barbara and Neil.) That was a bonus, and even though they refuse to admit it, they could have easily dropped us like a bad habit, if they had wanted to.
Together, we both chatted and challenged the various climbs that Claire and Walt included in the final miles of the ride. Of course, our old nemesis, Shades of Death Road, was included and managed to inflict lots of aches in our quads as well as offer us rapid descents, only to cause us to climb, once again, until we finally left it behind for the next challenge--Marble Hill Road and then that screaming downhill back into the lake area near Claire and Walt's neighborhood. Team Flint/McPhee were either with us, or just slightly ahead, as we went over North Lakeshore Drive. We, eventually, turned left on to Route 519--the main road back to the recreation center where the faster riders had already set up the post-ride foods that included Team Wells' contribution--a green salad, that we had wisely stored inside Walt's van, prior to the beginning of the ride, knowing that we would be later than everybody else.
The rest of the afternoon was spent enjoying the delicious goodies and discussing all other things about our lives which included rides we have done or are planning to do, the training for Team Isherwood for the Co-Motion Classic in July, as well as the wedding plans that will keep them off their tandem next Saturday, etc. Slowly, we began to clean up, pack up and head for home.
Walt informed me that this ride was not their "Swan Song" and that they are, indeed, planning to host at least one more ride this season while they prepare their house in New Jersey for sale and their next adventure in Texas. And, there are more DOGS rides on the calendar so, check them out; we don't want you to miss another day without your fellow DOGS.
Linda & George Wells
Leaders - Doubles Of the Garden State (DOGS)
Group photo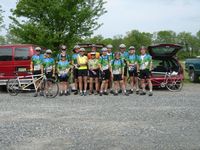 Nice team photos!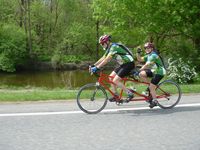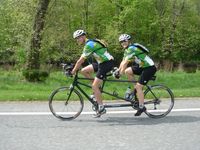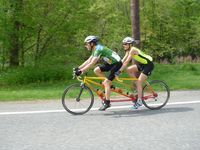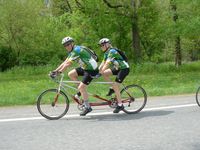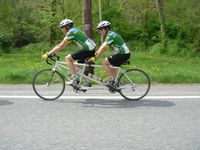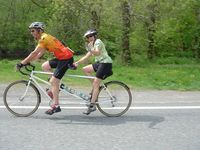 Rest stop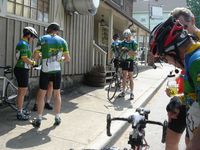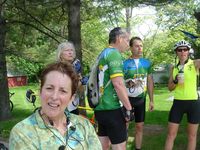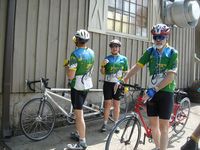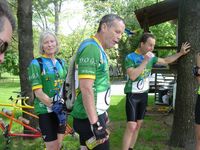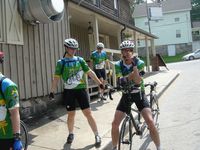 Lots of gab and goodies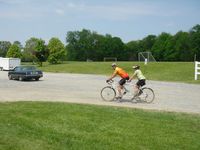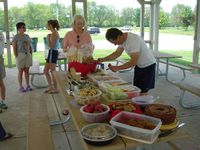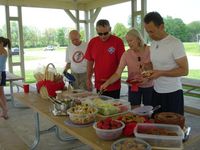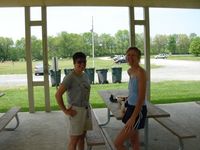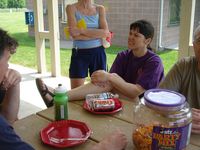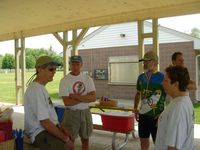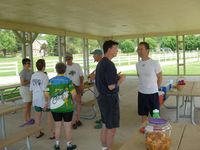 ---
---
Generated automagically on Fri May 18 20:15:26 US/Eastern 2007 from 070512.pho dated Fri May 18 20:15:24 US/Eastern 2007 by /home/dmk/perl/pho.pl, @(#)pho.pl 1.24.
Copyright © 2007, George Wells (text), Walt Willard (photos)