SOS/DST Ride
| | |
| --- | --- |
| Date | April 1, 2007 |
| Hosts | DBLS DOGS: Larry and Brenda Isherwood and Dave Snope and Susan Nicolich |
| Where | Califon Island Park, Califon; Hunterdon/Morris Counties |
| Who (else) | Barbara and Ron Anderson, Marji Brandriss and Dave Kristol, Neil McPhee, Cheryl Prudhomme and Mark Cook; Barbara and Tracy Cate (breakfast only) |
[Dave Snope report]
April Fools Day SOS Ride
All was well with the weather until DBLS DOGS started making preparations for today's ride. Around 9 AM, the rain started and the temperature was 40 degrees - conditions not very good for riding but excellent for a case of hypothermia. Several teams came up with the opinion that it was time to cancel; however, we discovered that three teams were already enroute. So, we decided to go to the start point and see who showed up. As it turned out, all three teams plus one single bike rider were at the park and ready to ride. Now we had 5 1/2 teams and the weather actually looked rideable. Although the temperature was still in the low 40s, at least it had stopped raining. The intrepid group posed for the photograph to document the start of this uncertain adventure and off we went up Frog Hollow Rd. As it turned out, we didn't have any problems with the weather (other than a brief, light shower near the end of the ride) and after the usual two-mile climb at the start, we were all warm and ready to ride on.
The 24 mile ride turned out to be a good one in spite of the uncertain start; afterwards we enjoyed our other pastime, eating and socializing at Nicola's Pizza in Califon. Many stories about the "good old" and future racing days were told (some of them true), and the peals of laughter and length of our stay seemed to indicate that we all had a grand time. It's always nice to be in a nice warm place, with full bellies, talking about the collective hardships so recently endured on the bikes. We discussed the possibility of organizing the next ride for Easter weekend, hoping that Spring weather would be back again.
---
[Dave Kristol report]
The DOGS rode today -- no (April) fooling! It was the annual Start of Season, Daylight Savings Time ride, though DST began weeks ago this year. You probably looked out your window and saw a dreary, uninviting morning. You may even have noticed a drizzle, as we did as we loaded our bike on the car. But it looked from the radar map like there would be a gap between two waves of showers. At 9:00 we called Brenda, who said they were headed for Califon and it was raining lightly. She would call us if the ride was cancelled, so we started on our way.

It rained lightly as we made our way out I-78, but then the rain stopped. When we reached Califon, we found a group of hearty DOGS milling around and ready to go. And, although the clouds seemed threatening and the weather was raw, we were able to get in a ride with only a little rain. (We encountered Tracy and Barbara as we reached the Park. They had come for breakfast, then decided the weather was going to be a bit cold for their tastes and headed home.)

The ride route was one of the familiar variants of the Pancake Rides, so it contained no unexpected surprises. Just the regular dreads, like Frog Hollow, Beacon Hill, and Hacklebarney Rd. We hadn't been on our tandem since January, so we fell away from the group even before we reached the Frog Hollow hill. Neil graciously stayed back with us as a most congenial companion. On Vernoy, just after Neil pointed out his house to us, we saw Mark and Cheryl headed the "wrong" way. We later found out why. They had busted a rear rim (see photo) and were detouring back to the start point.

Light rain returned just before we reached the shopping centers on Rt. 513, and Marji was tired anyway, so we took the School St. shortcut back to the park. Right on cue, the rain stopped when we got there. Mark and Cheryl were there already, and the others soon arrived.

After the ride, all but Mark and Cheryl headed for Nicola's for pizza and socializing.
The usual socializing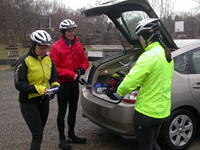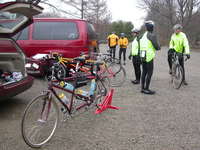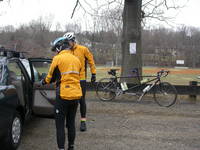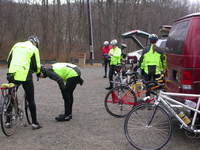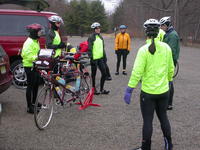 The intrepid, warmly dressed group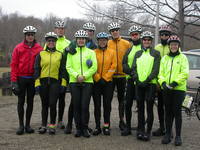 Mark/Cheryl's rim failure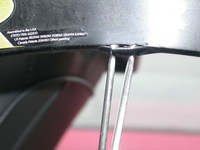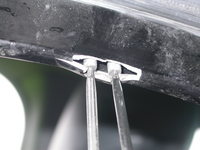 ---
---
Generated automagically on Mon Apr 2 21:29:29 US/Eastern 2007 from 070401.pho dated Mon Apr 2 21:29:22 US/Eastern 2007 by /home/dmk/perl/pho.pl, @(#)pho.pl 1.24.
Copyright © 2007, David M. Kristol (text, photos)