Seeking Spirited Cyclists for Shivery Scenic Sashay (Pancake Ride)
| | |
| --- | --- |
| Date | January 7, 2007 |
| Hosts | DBLS DOGS (Dave Snope, Brenda and Larry Isherwood, Susan Nicolich) |
| Where | Califon Island Park, Califon |
| Who (else) | Barbara and Ron Anderson, Marji Brandriss and Dave Kristol |
Hey, you! Yes, you! Where were you on Sunday? The DOGS turn-out was so disappointing, and it was a perfectly lovely day for a bike ride. Cooler than the unreal 70-degree day before, but, hey, January days with temperatures near 50 are not to be wasted. Especially indoors on lost-cause football games (Mark!).
The routes were familiar ones: 24 (NAFAA... The Pancake Ride) and 35 miles (Old Farmer's Frog and Fox Frolic). DS and we did the shorter ride, while BL and Barbara and Ron did the longer one. Obviously Larry and Brenda stuck to "taking it easy" this time (not!), because they sailed down the hill past the Cider Mill just after we pulled in there. (Last month we had actually been at the Mill for a few minutes before that happened.)
On the return leg of the trip, Dave led us on a deviation from the "official" route, turning right onto Beacon Hill Rd. for a truly screaming downhill. Marji's cyclometer read a maximum speed of 50.3 MPH, which is probably more trustworthy than the 69.6 that mine alleged.
The long-route riders reached the starting point before we short-route riders did. We all went to Nicola's again afterward for a reprise of last month's delicious veggie pizza.
Nice day, good time. Where were you, again?
Hangin' out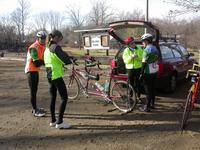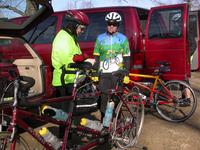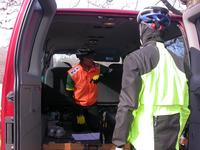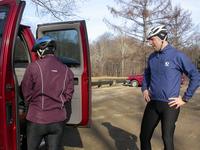 The customary evidentiary picture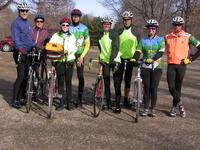 Which do you believe?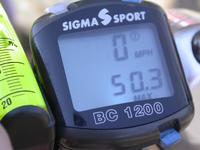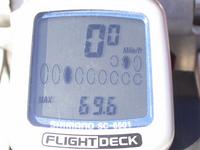 ---
---
Generated automagically on Sat Jan 13 19:54:21 US/Eastern 2007 from 070107.pho dated Sat Jan 13 19:54:18 US/Eastern 2007 by /home/dmk/perl/pho.pl, @(#)pho.pl 1.24.
Copyright © 2007, David M. Kristol (text, photos)