Winter Solstice Party 2006
| | |
| --- | --- |
| Date | December 16, 2006 |
| Hosts | Team Meixner (Nora, Paul, Amanda, Silvija) |
| Where | Meixner House |
| Who (else) | Helen and Bob Bird, Barbara and Tracy Cate, Jane and Paul Fialcowitz, Brenda and Larry Isherwood, Renee Mayeux and Bud MacIlvain, Laura Nesbitt and Pete Sklarow, Susan Nicolich and Dave Snope, Debra and John Paulson, Cheryl Prudhomme and Mark Cook, Linda and George Wells |
19-mi. Route Slip [PDF] and Map [PDF]
[Nora Meixner report]
This past Saturday we hosted the annual Doubles of the Garden State (DOGS) winter solstice party. Weather in NJ in December can be cold and rainy or even snowy. Not this past Saturday - partly cloudy with a high in the low 50s.
A total of 8 teams participated in one of three different loops - 19, 30, and 41 miles. Four teams did the 19, two the 30, and two the 41. The 30 and 41 mile loops were repeats from the May 20 ride and shared the first 20 miles. We hear some pace-lining fun was had on the longer rides. We all experienced some of South Jersey's virtual hills - headwinds!
Our youngest daughter was at basketball practice, but our 9YO was eager to ride with us old folks. No pushing on our part - she insisted. So we put away the tandem and took down the triplet. On the 19-mile loop, she enjoyed blasting down (at 30+ mph) and suffering up (at 3 mph) the steepest hill in all of Gloucester County - all 90 feet of elevation. I think her favorite part might have been trying the new Jelly Belly Sports Beans - she claimed they gave her plenty of energy.
Back at the house, those who wanted showers took them - hope there was hot water for all! Before too long, several additional couples joined us for the festivities. Everyone brought some tasty food to share, and there was plenty of spirited conversation. No one went hungry.
Between the meal and dessert (a meal unto itself!), George Wells served as the emcee for the awards ceremony. He held everyone's attention as he summed up the 2006 riding season and recognized a number of teams. It sure is nice to recognize others for their efforts.
2006 Superlative DOGS Awards
Award
For...
To...
Power Puppy Awards
Youngest Members
Amanda/Silvija Meixner
Hospitality Award
Most Rides - Hosted
Brenda/Larry Isherwood
Faithful Award
Most Rides - Attended
Brenda/Larry Isherwood
Incredible Journey Award
Longest Distance Traveled
Christina Chan/Rich LeGrand
Old Dogs/New Tricks
Oldest Dogs on Any Ride
Barb/Tracy Cate
Playful Dogs
Most Fun
Helen/Bob Bird
George also spoke about a planned DOGS clothing order for 2007. The current DOGS logo will continue, but a wider range of items is planned. George will provide details and cost separately.
The DOGS will be celebrating our 10th anniversary in 2007. Many tandem clubs have come and gone since then - it is a real testament to our spirit that the DOGS are going stronger than ever. Ride hosts do try to offer something for everyone (shorter flat loops and longer hilly loops). With a large number of teams officially signed up, a 10% participation rate yields a really good turnout.
Prepare to ride...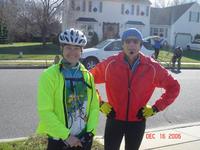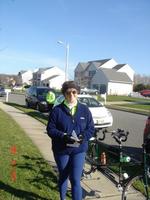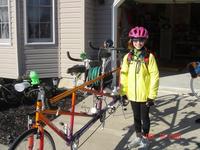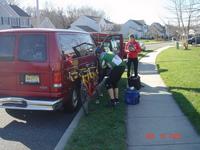 Group photo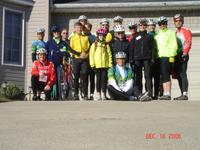 Christmas at the Meixners'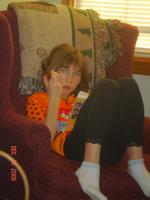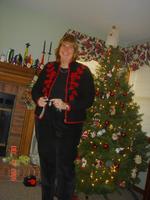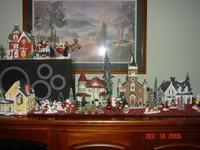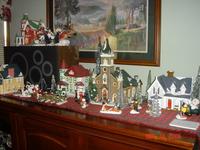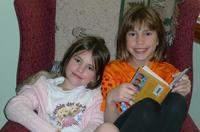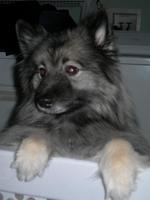 The DOGS gather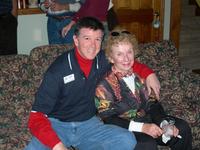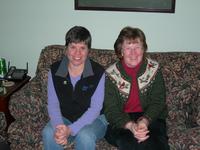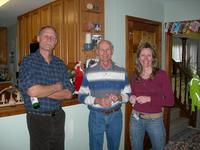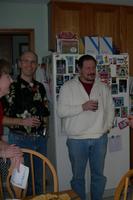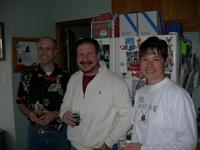 Awards galore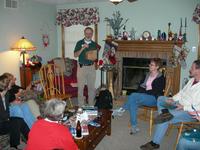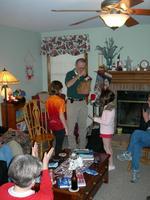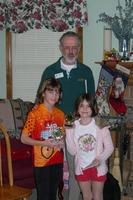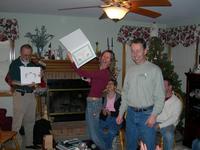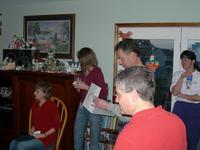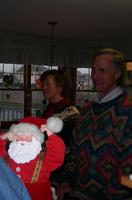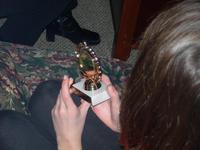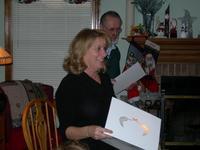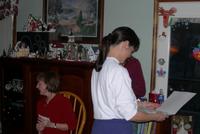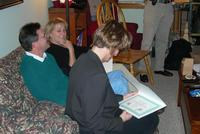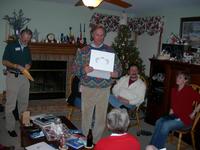 ---
---
Generated automagically on Sun Dec 24 12:00:45 US/Eastern 2006 from 061216.pho dated Sun Dec 24 11:58:45 US/Eastern 2006 by /home/dmk/perl/pho.pl, @(#)pho.pl 1.24.
Copyright © 2006, Nora Meixner (text, photos), Mark Cook (photos)