Find a Frolic that Fits Your Fancy (Pancake Ride)
| | |
| --- | --- |
| Date | December 3, 2006 |
| Hosts | DBLS Dogs, minus Susan (Brenda and Larry Isherwood, Dave Snope) |
| Where | Califon Island Park, Califon |
| Who (else) | Marji Brandriss and Dave Kristol, Cheryl Prudhomme and Mark Cook |
A small but spirited group turned out for another edition of the Pancake Ride series. Although the work week had been unseasonably warm, more typical December weather arrived in time for the ride, with starting temperatures in the 30's. Indeed, we found puddles covered by an icy skin on the familiar warm-up climb on Philhower/Frog Hollow. And although the sun was bright, it cast long shadows, even in mid-afternoon.
The ride offered a choice of distance: 24 miles (Flip Flop Flapjack Frolic) or 35 miles (Old Farmer's Frog and Fox Frolic). We chose the shorter ride and were joined by Dave, while Brenda, Larry, Cheryl, and Mark did the longer route. (Figures, doesn't it?) At Beacon Hill Rd., the two factions diverged and ended up travelling in opposite directions around a similar loop. As Dave, Marji, and I took a breather at Hacklebarney Farm Cider Mill, the other group came zooming down the hill without stopping.
Our threesome returned to Califon Island Park first, but the other two teams appeared not long after, having taken a shortcut that chopped 4 mi. off the route. Then Brenda, Larry, Dave, and we headed to Nicola's for pizza, our first visit there since a fire closed it some time ago. We were favorably impressed.
Getting ready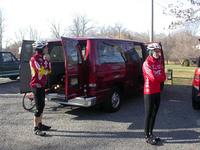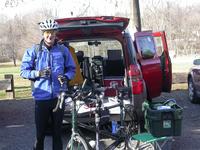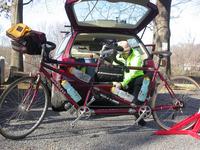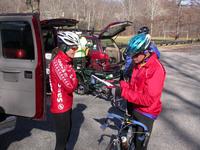 The (bundled-up) group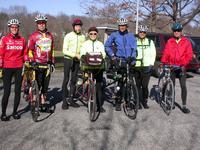 ---
---
Generated automagically on Sun Dec 10 21:24:00 US/Eastern 2006 from 061203.pho dated Sun Dec 10 21:23:40 US/Eastern 2006 by /home/dmk/perl/pho.pl, @(#)pho.pl 1.24.
Copyright © 2006, David M. Kristol (text, photos)