Not as Flat as a ... The Pancake Ride
| | |
| --- | --- |
| Date | November 5, 2006 |
| Hosts | DBLS DOGS (Brenda and Larry Isherwood, Susan Nicolich, Dave Snope) |
| Where | Califon Island State Park; Hunterdon and Morris Counties |
| Who (else) | Barbara and Ron Anderson, Helen and Bob Bird, Marji Brandriss and Dave Kristol, Barbara and Tracy Cate, Julie and Stu Conway, Cheryl Prudhomme and Mark Cook |
It's been over a year and a half since the DBLS DOGS were able to run the Pancake Ride successfully in its original route. Weather was certainly not an obstacle today, as a warmly dressed pack of eight teams (including recently joined Team Anderson) gathered on a crisp autumn morning for this ride that was familiar to many of us. Although morning temperatures were in the 30's, as usual everyone warmed up quickly on the Philhower/Frog Hollow incline, and warm-up was complete by the top of the granny-worthy hill. After the hill, we had mostly rolling tandem cruising for about 9 miles, until we reached the popular Hacklebarney Farm Cider Mill, where we all took a break.
Following the break, we cycled more ups-and-downs back toward Califon. A sustained climb on Beacon Light Rd. (on newly paved road, at least) led to a sensational downhill (49.1 mph for us) that brought us to Rt. 513. After the familiar U that took us to the Califon Business Center and then back to Rt. 513, we spun past the shopping centers (and our lunch spot), crossed over the South Branch of the Raritan River, and followed the river back to Califon and Califon Island Park. Most of us then regrouped at Casola's for pizza and, as Tracy would put it, swapping lies.
It was a great outing on a picture-perfect autumn day.
Pre-ride preparations and socializing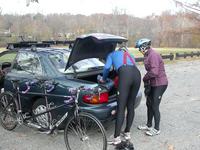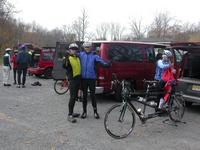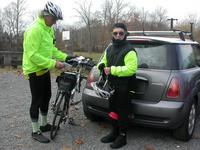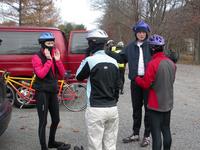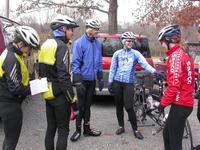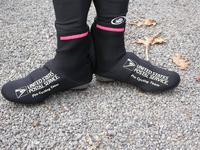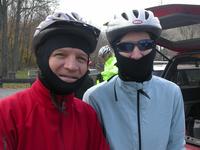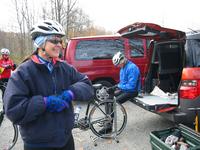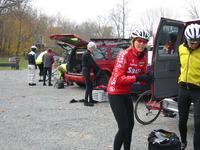 The Group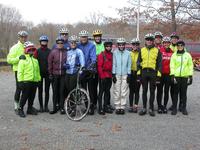 At the Cider Mill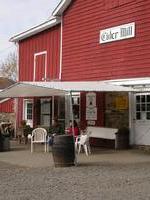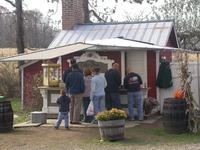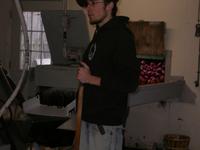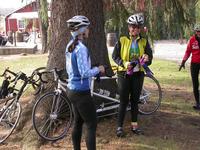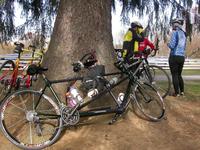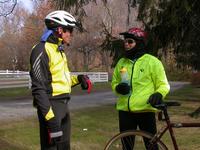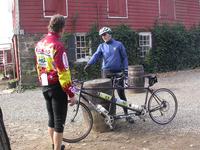 Lunch at Casola's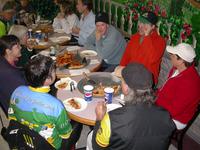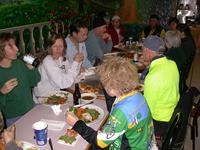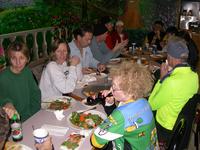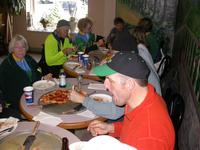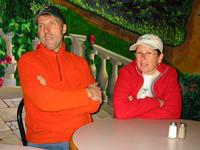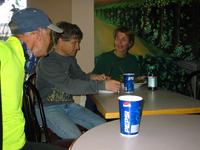 ---
---
Generated automagically on Fri Nov 10 10:45:57 US/Eastern 2006 from 061105.pho dated Fri Nov 10 10:45:53 US/Eastern 2006 by /home/dmk/perl/pho.pl, @(#)pho.pl 1.24.
Copyright © 2006, David M. Kristol (text, photos), Marjorie Brandriss (photos)