Ride the Pines 2006
| | |
| --- | --- |
| Date | October 15, 2006 |
| Hosts | Tandems East (Mel and Barbara Kornbluh) |
| Where | Tuckerton |
| Who (else) | Barbara and Ron Anderson, Claire Hamanaka and Walt Willard, Nancy and John Henderson, Brenda and Larry Isherwood, Renee Mayeux and Bud MacIlvain, Connie Mertens and Don Engleke, Renee and Fred Neibauer, Susan Nicolich and Dave Snope, Pat and Bill Rock, Trisha and Ed Troike, Linda and George Wells; (and future members?) Mary Ann and Ray Martin, Jacqui Romaine and John Hink |
New Jersey is a mix of things that change and things that stay the same. Team Kornbluh's annual Ride the Pines is one of those faithful things that doesn't change a lot. Well, at least the route stayed the same. The parking lot where we all gather is going through a radical transformation with a new gas station being built where we used to park our vehicles in preparation for the ride. Fortunately, Sundays aren't all that busy so there was no trouble parking and setting up our tandems.
The following 15 Teams showed up to ride the mostly pancake flat roads to and from Batsto State Park: Neibauer (Fred and Renee), Troike (Ed and Trish), Engleke/Mertens (Don and Connie), Macilvain/Mayeux (Bud and Renee), Isherwood (Larry and Brenda), Hall (Steve and Barbara), Willard/Hamanaka (Walt and Claire), Snope/Nicolich (Dave and Susan), Henderson (John and Nancy), Wells (Linda and George), our leaders--Kornbluh (Mel and Barbara), our two newest teams -- Anderson (Ron and Barbara) and Rock (Bill and Pat) and two other teams we hope will think about joining us -- Hink/Romaine (John and Jacqui) and Martin (Ray and Mary Ann).
The morning was crisp and pretty near freezing when Team Wells awoke at Oh-Dark:30. After verifying that the weather forecast had not changed and that the weather was going to cooperate, we got up, ate breakfast, dressed, packed our gear which included post-ride clothes, loaded the car, and "racked" the tandem. The totally uneventful ride down the GSP for Team Wells went by in a bit over two hours (including a few necessary breaks), arriving to find a few tandem teams already setting up in the parking lot. Only our hosts, Team Kornbluh (Mel and Barbara) were missing, so Linda busied herself with greeting all the tandemists gathered and the chore of getting everyone to sign in. As the teams set up their tandems and we swapped stories, technical ideas and caught up on our lives apart from tandeming, somebody called Mel and Barbara who had parked their vehicle at the mid-point rest stop, and were tandeming over to meet us at the Acme Plaza. Soon after the telephone conversation, Mel and Barbara rode in to the parking lot.
It only took a few minutes to get the group photo taken and at 9:31:32 AM, we were off, exploring (some of us re-exploring) the roads with old and new friends. For the first five miles the pace was moderate. Then with warmer legs the pack started to break up into smaller groups (that are actually more traffic friendly) through the lightly traveled roads of Atlantic County heading towards Batsto. There was a mechanical on the side of the road and part of our group stopped to render assistance so Teams Wells and Hall took turns trading leads as we progressed towards the mid-point of the ride -- Batsto, which is usually busy at this time of year, and proved to be no different than in past rides with Mel and Barbara.
Fortunately, Mel and Barbara managed to snag their regular parking spot so we all knew where to go for the mid ride snacks. Only one problem -- the "facilities" nearby the parking venue was locked, so Team Wells rode our tandem over to the main building where there was a long line for the stokers, and no line for the captains. Nope, there is no justice in this world! This morning was really busy with overflowing parking lots and a busy road that was bumper-to-bumper with cars that Team Wells drove past them after leaving Batsto since they had decided not to prolong the stay at the rest stop -- just long enough to get some fuel, etcetera and then back on the road.
We were pretty much alone for the first ten miles of the return when a quick look in the rearview mirror showed that the leading pack was closing fast. They blew by Team Wells and, once again, we found ourselves enjoying the roads by ourselves. Most of the way there was a tailwind, though.
We arrived back at the parking lot and the group feasted on pizza, courtesy of Mel & Barbara, to whom we give our thanks for a great ride and a marvelous day of tandeming with our fellow DOGS and tandemists.
It is important to note that the DOGS season is not over. There is another ride on Saturday, 21 October, in Warren County, a Halloween Ride on Sunday the 29th, and the Winter Solstice Party will be 16 December in Mullica Hill! (For all the Southern DOGS -- this is as close as it's going to get so we look forward to seeing you at the party this year!) Also, keep an eye on the website and your e-mail for upcoming rides. Fall can be a beautiful time to ride.
Linda & George Wells
Leaders - Doubles Of the Garden State (DOGS)
Pre-ride socializing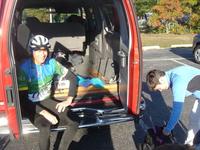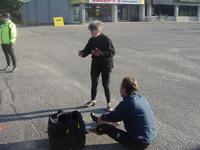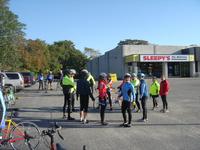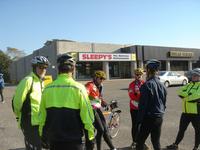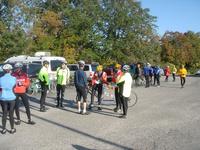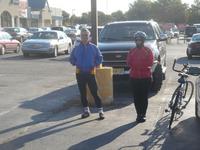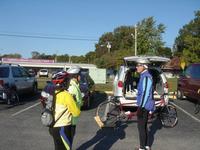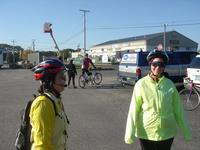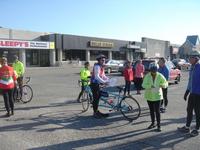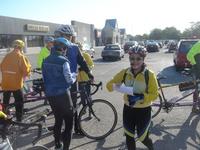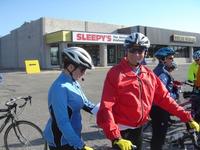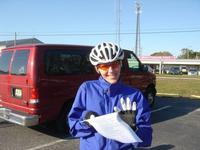 The Group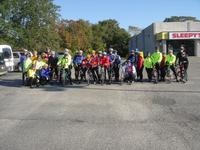 At Batsto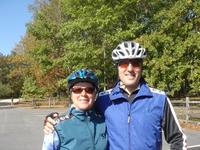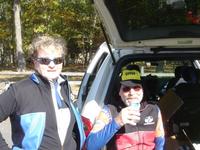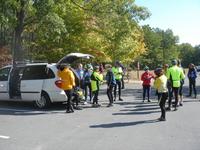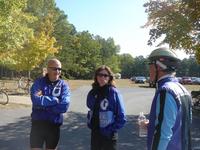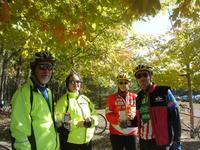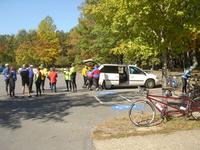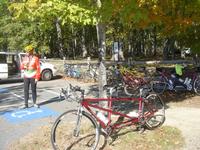 Post-ride pizza, with lots of smiles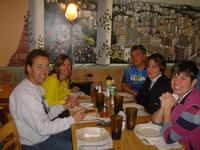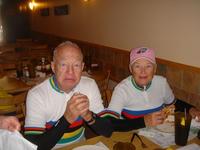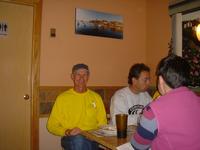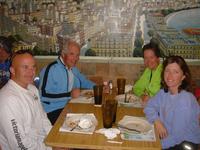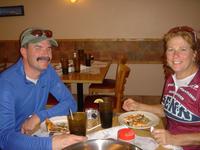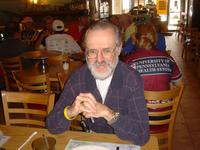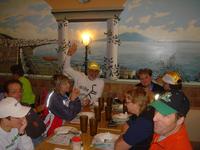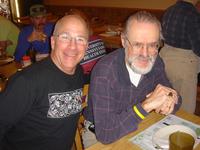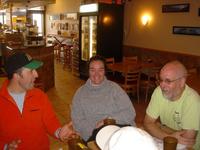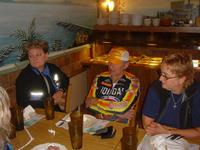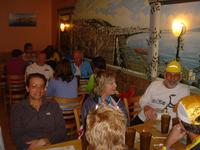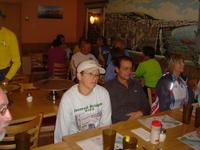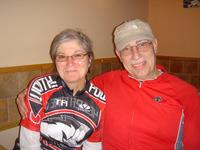 ---
---
Generated automagically on Wed Oct 18 22:54:42 US/Eastern 2006 from 061015.pho dated Wed Oct 18 22:54:41 US/Eastern 2006 by /home/dmk/perl/pho.pl, @(#)pho.pl 1.24.
Copyright © 2006, Walt Willard (photos), George Wells (text)