Boisterous Cloister Clomp (and Covered Bridge Metric)
| | |
| --- | --- |
| Date | August 19, 2006 (and August 18 and 20) |
| Hosts | Brenda and Larry Ishwerwood |
| Where | Lancaster, PA |
| Who (else) | Helen and Bob Bird, Barbara and Tracy Cate, Michelle and Rich Dittmar, Ann and Mike Kruimer, Susan Nicolich and Dave Snope, Cheryl Prudhomme and Mark Cook, Walt Willard; Alan Giadosh (non-member) |
This DOGS 3 day weekend event in Lancaster, PA included a non-riding Friday, a DOGS club ride on Saturday, a NON-DOGS ride hosted by the Lancaster Bicycle Club, the Covered Bridge Ride, on Sunday.
Friday started out a little small & laid back, with two teams, Isherwood & Snope/Nicolich arriving early enough to take the Walking Tour of Lancaster which included shopping at Central Market, wine tasting at the Shoppes with some pretty and some delicious purchases made. A dip in the pool was then enjoyed. Dinner was a simple and delicious meal at Isaac's, next door to the Hampton Inn where we stayed. In the evening three more teams, Cook/Prudhomme, Bird & Dittmar, arrived sporadically.
Saturday was a day of riding for all five teams that arrived on Friday after our wide selection of complimentary breakfast food supplied by the hotel. We borrowed a scenic 35-mile club ride from the Lancaster Bicycle Club which took us through 3 covered bridges and to a historic site in Ephrata. We all again enjoyed the pool. Late in the afternoon we had a surprise team arrival, Tracy & Barbara Cate, but unfortunately they had to stay at another hotel. All six teams enjoyed an early Saturday dinner of delicious food and specialty brews at The Lancaster Brewing Company/Restaurant. We later went to Isaac's for an ice cream/dessert fest! Mike & Anne Kruimer arrived just as we were walking back from dessert, and Walt arrived without his stoker due to Claire having to work on Sunday. It was then early to bed for an early wake-up for the huge 3,000 cyclist Sunday event.
Sunday started with a 6-7 AM breakfast, followed by all 7 1/2 teams leaving at 7:30 for the ride start which was only one block away. We all got our cue sheets and met up with our PA friend, Alan Giadosh, for the metric century ride with Dave & Susan choosing to do the 1/2 metric due to the hot forecast. The ride start time was between 7:30 and 9:30 AM, and we took off at 8:00 AM. It was bike-busy in the first 10 miles until the 1/4 and then the 1/2 metric rides split off. The bikes lessened as the riders spread out along the 63 miles of scenic rolling countryside, which included 6 covered bridges to ride through. Numerous horse & buggies with their occasional road droppings to dodge were along the route. We rode through Floyd Landis's home town on both days' rides and spotted a banner in support of him. Lunch was held at a farm and was completely satisfying. At the ride's end there was more to eat, this time including Turkey Hill Ice Cream, a portable rolling bike museum, peppy music for all to enjoy, and vendors selling their wares. We managed a late check-out which enabled us to take a third-day-in-a-row dip in the pool before freshening up for our not-too-long drive home.
The weekend was such a success that we plan on hosting this weekend again next year, but this time with a short ride on Friday also, with some tourist attractions to be seen.
Friday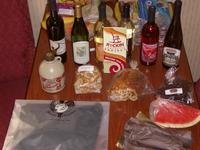 Saturday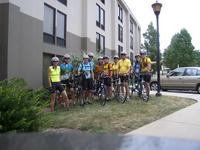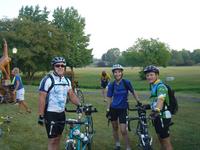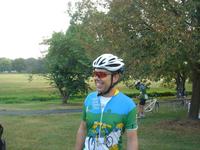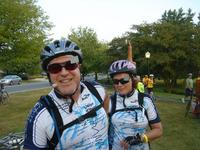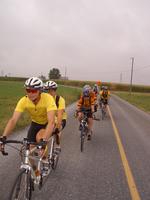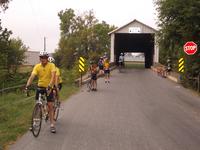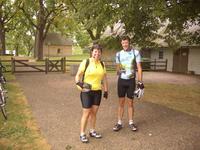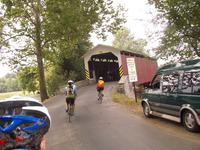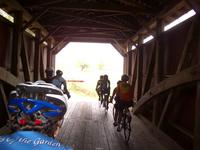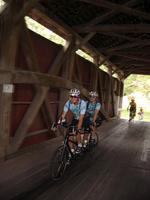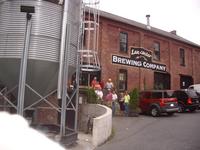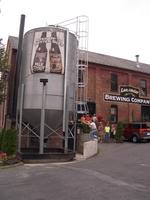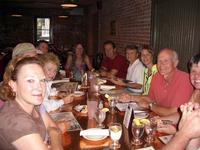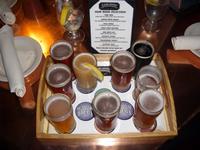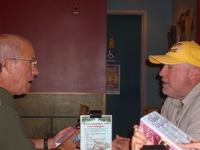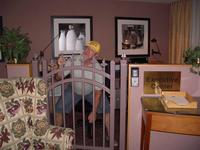 Sunday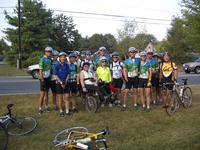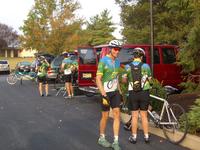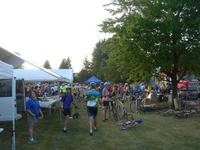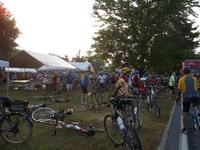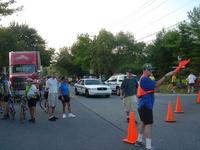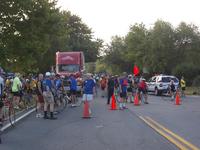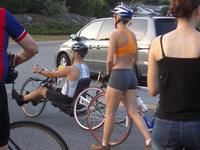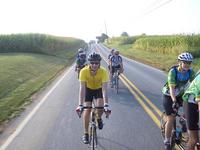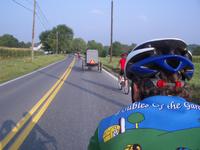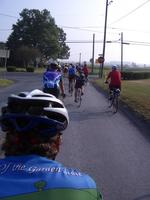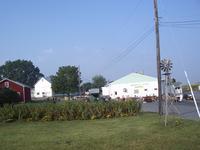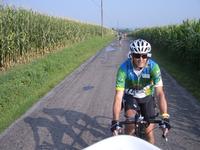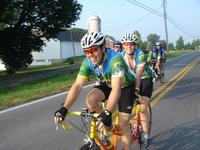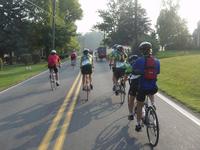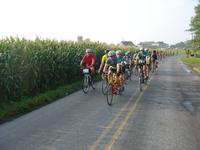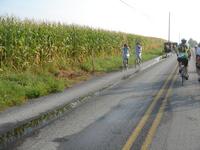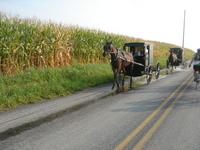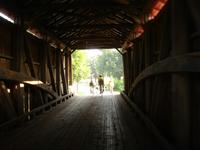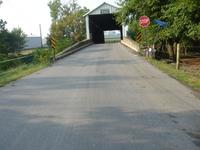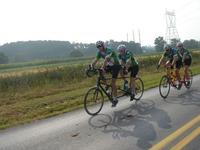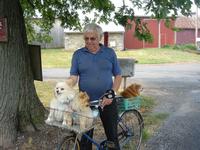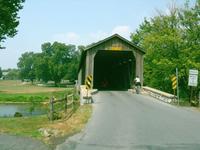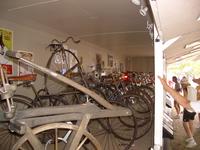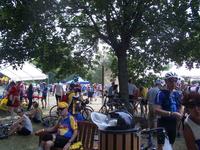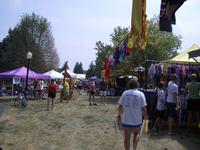 ---
---
Generated automagically on Fri Aug 25 19:12:19 US/Eastern 2006 from 060819.pho dated Fri Aug 25 19:12:16 US/Eastern 2006 by /home/dmk/perl/pho.pl, @(#)pho.pl 1.24.
Copyright © 2006, Brenda Isherwood (text, photos), Walt Willard (photos)