Succa-Roller Cali-Ridge
| | |
| --- | --- |
| Date | July 8, 2006 |
| Hosts | Brenda and Larry Isherwood |
| Where | Isherwood House; Morris County |
| Who (else) | Helen and Bob Bird, Barbara and Tracy Cate, Deb and Al Cudworth, Michelle and Richard Dittmar, Renee Mayeux and Bud MacIlvain (Non-DOGS members...so far), Cheryl Prudhomme and Mark Cook, Dave Snope, Linda and George Wells |
We had great weather for our replacement ride of the camping weekend that had been changed, then cancelled due to flooding, and then the state park closure due to the political turmoil in NJ. Our replacement ride was the one that was doubly rained out two weekends ago on both Saturday and Sunday! We had a good turnout, including a new couple from Lansdale, PA who just bought a tandem from Mel in April and heard about the DOGS from Mel and the display table at the Tandem Expo. There were a lot of the regular faces at our ride, but we were also pleased to have our fellow members from LI attend our ride! We are looking forward to visiting them on their DOGS ride in August.
We did our new route which is a 40 mile loop South to Califon along the Westerly mountain ridge and then returning Northerly on the Eastern mountain ridge. We think the ride was quite scenic on more lightly traveled roads with nice county views. When we passed Dave's house he hopped on and joined the group on his single bike whilst Susan worked, but she was able to attend the post ride festivities later.
We all returned to enjoy a picnic on our deck and our doggie Barkley was happy to get the occasional pat on the head and content to lay under the table in the shade and enjoy the company of all our fellow DOGS! We have rescheduled the "cancelled" camping trip for Friday thru Sunday, August 4 -6 with details to follow very soon from Mark Cook.
Fueling up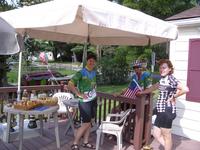 The inevitable group photo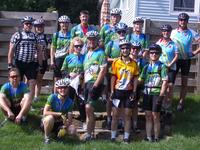 On the road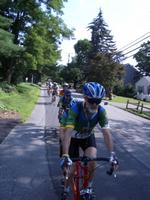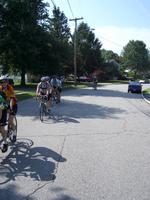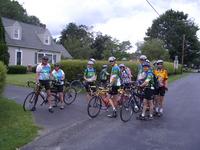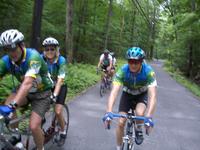 Back at the house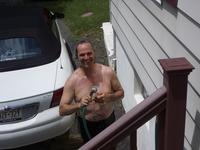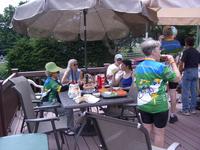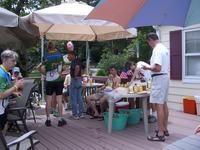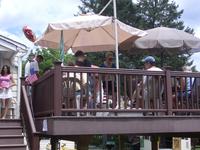 Barkley plays it cool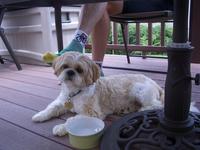 ---
---
Generated automagically on Wed Aug 16 20:25:38 US/Eastern 2006 from 060708.pho dated Wed Aug 16 20:24:42 US/Eastern 2006 by /home/dmk/perl/pho.pl, @(#)pho.pl 1.24.
Copyright © 2006, Brenda Isherwood (text)