Fish, Flowers, and Fowl
| | |
| --- | --- |
| Date | July 1, 2006 |
| Hosts | Claire Hamanaka and Walt Willard |
| Where | White Township; Warren County |
| Who (else) | Deb and Al Cudworth, Brenda and Larry Isherwood, Susan Nicolich and Dave Snope, Cheryl Prudhomme and Mark Cook, Linda and George Wells |
The nice weather belied all the flooding the previous week. The planned route past Belvidere and along River Road was, well, under the river... about 5 feet. We changed the ride to a more inland, yet still familiar Fish, Flower and Fowl ride.
As the incorrigible riders arrived, we began to think we should have called it The Gimps Ride! What is it about cycling that makes you tough? First, Al and Deb got out of their car. Al extricated himself gingerly, favoring the bad back that kept hem from a Florida ride, but not Bike Virginia. Wouldn't want to miss all that rain. Deb was limping with a sore ankle. Then Linda came by with a big cut on her nose. We all surrounded Mark and Cheryl to hear about their recent crash. Mark had some lumps not in the right places, and Cheryl's black eye distracted you from her stitches under her eye and nose. They did a good job! Dave and Susan have been discreet about any injuries they may have had. Not to be outdone, Larry and Brenda arrive, and Brenda comes around the van with a cane! It was all too much, and I even slipped in my cleats in the bathroom on the painted concrete floor going for the paper towels.
Still injury-free, I herded the milling DOGS into a group photo, then off we went. I had to chuckle to myself as everyone hobbled to their mounts, then sped down the road.. Would have been amusing to watch anyone keep up with us! George and Linda had a chain problem as we left the rest stop and no one noticed for a couple miles. We finally made contact, and they signaled us forward requesting an after-ride sag. Claire put on a tasty table made even better by a pleasant ride on a gorgeous day. George and Linda even got back before all the food was gone!
Thanks to everyone for coming out and sharing your company.
Saying hello, sympathising with injuries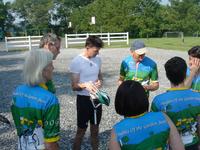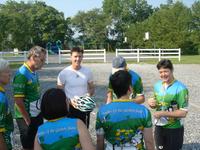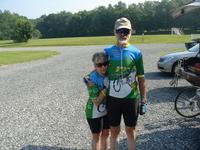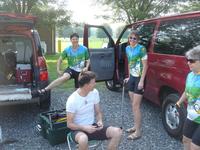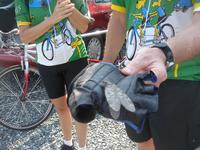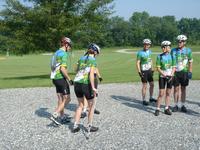 Smile, everyone!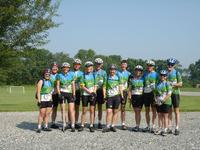 Rest stop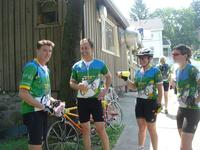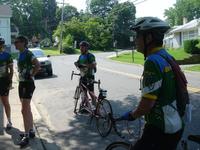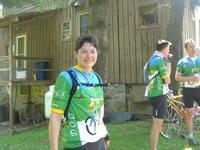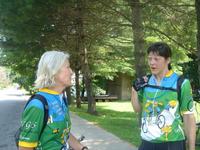 Back on the road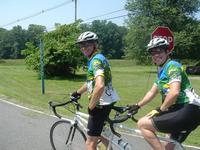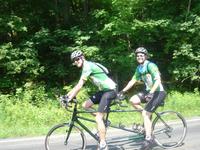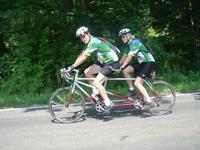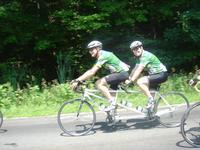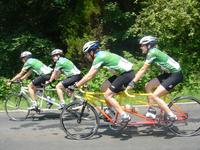 A swollen Ghost Lake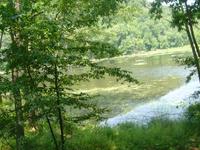 Another bountiful post-ride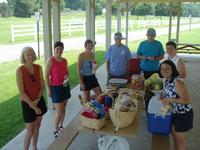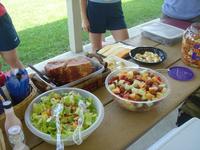 And then, homeward bound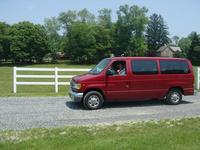 ---
---
Generated automagically on Wed Jul 26 20:45:11 US/Eastern 2006 from 060701.pho dated Wed Jul 26 20:45:08 US/Eastern 2006 by /home/dmk/perl/pho.pl, @(#)pho.pl 1.24.
Copyright © 2006, Walt Willard (text and photos)