Mansions, Lakes, and Streams
| | |
| --- | --- |
| Date | April 29, 2006 |
| Hosts | Cheryl Prudhomme and Mark Cook |
| Where | Prudhomme/Cook home; Morris and Somerset Counties |
| Who (else) | Susan and Greg Adam and Emily, Helen and Bob Bird, Brenda and Larry Isherwood, Dave Kristol (non-riding), Susan Nicolich and Dave Snope, Linda and George Wells |
[Mark Cook report]
We rose to a brisk morning starting out just above the freezing mark. Despite the bright cloudless sky, the temperature at ride start was in the 45 degree area. With jackets and long sleeves the Isherwoods, Wells, Birds, Snope/Nicolich, Cook/Prudhomme and special guest star Greg Adam on his single bike left the driveway on today's journey. The ride was scheduled to head up into the hills of Mendham and Far Hills.
The small group took off through the Great Swamp at a leisurely pace in an attempt to take it easy on our Spring legs and enjoy the local fauna and flora. Greg took a short cut after reaching RT202 while the rest of the group headed up the Jockey Hollow hill. Surprisingly, near the top of the hill we encountered a rather huge, adolescent black bear along the side of the road - not 50 feet from us. If he decided to charge us we would not have had a chance to elude him as the slope would prevent a fast getaway. Fortunately, he was a fan of the Tour de France and was only there to cheer us on. Lucky for us......!
In any case we continued the ride up and down the hills until we encountered a bridge that the county had decided to remove this week! No way to get across so we went around - adding about 300 feet in elevation gained and about 4 miles. This was the most beautiful part of the ride as we passed beautiful estates, brooks, streams, lakes, hawks, thoroughbreds (but no more bears!). Eventually we worked our way back into Basking Ridge and then Gillette.
Back at the house the group cleaned up and prepared to sit in the warm sun and have a sandwich. Susan and Greg arrived with baby Emily in tow, over which everyone fawned appropriately. Dave Kristol stopped by to join the post ride activities. It was truly an enjoyable "Rite of Spring" to once again travel the roads of NJ with fellow tandem friends. Hopefully we'll have many opportunities to do so in the upcoming months.
Hope to see ya'all soon.
---
[George Wells report]

A week after Mark and Cheryl had to cancel their planned exploration of the hills of Morris and Somerset Counties, the weather improved and 5.5 DOGS teams assembled at the Headquarters of Team JETStream. Lining up for the ride were Teams Isherwood (Larry and Brenda), Nicolich/Snope (Susan and David, respectively), Wells (George and Linda), Bird (Bob and Helen), Cook/Prudhomme (Mark and Cheryl, respectively), and Greg (the new-father-half of Team Adam while Susan and Emily were at home).

At 10:18 AM we set out on familiar roads that quickly took us to the climb up Mountain Avenue that crosses Long Hill Road. But, like some of the racers in the Paris-Roubaix, we got stopped by a train in the first few tenths of a mile. Everyone had fresh legs so that first hill was negotiated with relative ease. Team Wells, aboard their new Co-Motion (The Voyager), made the crest without having to drop to the granny-gear -- pretty good by our standards. Then a fast trip down the other side on Meyersville Road and a quick left onto New Vernon Road, thru the Great Swamp and eventually a right on to Lee's Hill Road. Team Wells had a slight lead until the base of the climb into New Vernon where we managed to stay in sight of the rest of the teams and just a bit off the back. We all had a good pace going with beautiful weather and cool temperatures. Then a left onto Glen Alpine Road as it wound over Route 287 and crossed the bridge over Route 202 into Jockey Hollow. This is all uphill riding, but not too steep. At 9.8 on our dial, Team Bird was on our left and Linda shouted to me to look to the right -- and there he was, about 30 feet back from the road -- a medium-sized black bear who looked a bit puzzled at the sight of these weird contraptions with two people pedaling away like mad. Bob noted that he has seen bears a bit closer -- but always in cages. Cheryl even managed to get a picture of the fella! Fortunately, he just stood there and never made a move towards anyone. We pedaled along, heading towards Corey Lane and the climb up Talmadge Road -- known to the locals as the road you don't attempt to drive up in snowy weather as it has a pitch somewhere around 20%. Team Wells and The Voyager made it up in granny gear but with no difficulties. Finally, climbing up to Hilltop Road, made a left turn in front of the Hilltop Presbyterian Church in Mendham. Another quick left and we had a screaming downhill on Hilltop. This was nice because the Team Isherwood rides usually take us in the opposite direction--going "up" Hilltop Road--a really nasty climb because it is long and fairly steep at many points. Going down that road was a nice change of pace. We eventually turned onto Pleasant Valley Road and a left on to Mosle Road.

This ride had a big "IF" at mile 15.8. The bridge on Mosle Road was noted to be "out" for some time but on some of Mark's trips after the "bridge out" signs went up, the bridge was still there. But when we got there today -- no such luck crossing it. The bridge was gone. Not simply being repaired, but absolutely gone with nothing more than some supports left in the river. An "Evil Knieval" jump of the river was out of the question. So, it was "Plan B." This took us up Union Schoolhouse Road with a left onto Roxiticus/Mendham Road. If you don't know the area, this is a dicey turn in a car as Union Schoolhouse kicks up right at the "T" intersection with Roxiticus/Mendham Road. Four of the teams managed to ride up to the top, find a clear road and make the left. Team Wells chose caution over valor and dismounted to walk up and over before pedaling. We've had to make a quick stop at this point once before and it can be nasty and cause an FDGB incident.

Team Bird slowed to wait for us as we pedaled up. Once over the initial grade, this is a nice gradual down-grade road rolling towards Far Hills. Mark had included alternate directions to get back on route. Teams Bird and Wells opted to go directly through to Route 202 in Bedminster and then onto Liberty Corner Road heading back towards our starting point. Team Bird had dropped their chain at one point and were beginning to have problems with a bent chain. So, we remained on Liberty Corner Road, opting to bypass the right turn on to Layton Road and having to climb that hill after passing by the Leonard J. Buck Gardens. No sense in straining a bad chain with climbs that we didn't have to do. We got on Valley Road in Liberty Corner, through Lyons, Millington, and into Sterling. Fairly heavy traffic, but good shoulders and both Teams Bird and Wells are used to riding in lots of traffic. At 1 PM, we pulled into the Church parking lot across from Mark & Cheryl's home. Once again, on Linda's dial, we had ridden 34.3 miles that we covered in 2 hours 42 minutes (from beginning to end), and a bit over 2 hours 20 minutes of rolling time.

The weather had warmed, and we feasted on sandwiches, salads, and some great desserts. Oh yes, Greg cut his ride short so that he could go home and get Susan and Emily and bring them along for the post ride festivities. The party was still in its infancy when who popped in but Dave Kristol, after having taken Marji to the airport to leave for a conference. We spent the rest of the afternoon discussing all the things that had happened in our lives, and of course, tandeming. Cheryl and Brenda took turns holding the, blissfully, sleeping Miss Emily. We also got to see a picture of "Banjo" (Christina Chan and Rich LeGrand's baby) that Mark had in the house.

The sun drifted lower into the western horizon and the air started to chill as the teams broke up and returned to their everyday life. The DOGS had completed our first full day of tandeming for this new season, with the promise of more days to come.

By the way, weather permitting, many of the DOGS Teams will be participating in next Saturday's "Farmlands [Flat] Tour." Maybe you'd like to think about joining us. It's always lots of fun. The DOGS stay pretty much together on that ride -- showing off our wonderful colors, of course.

Linda & George Wells
Leaders - Doubles Of the Garden State (DOGS)
Group Photo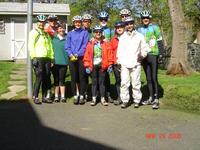 What do bears do in the woods?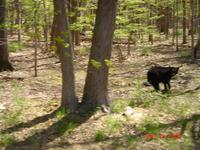 Eagle Sculpture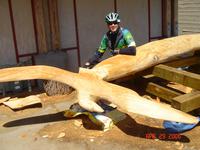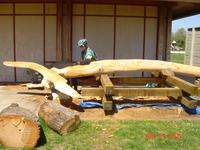 Around the deck with Emily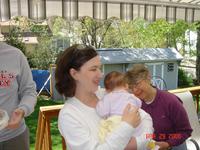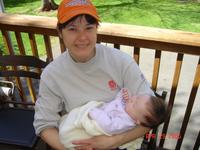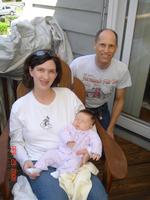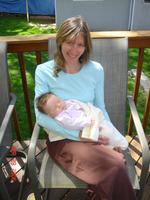 ---
---
Generated automagically on Sun May 21 11:51:39 US/Eastern 2006 from 060429.pho dated Sun May 21 11:51:38 US/Eastern 2006 by /home/dmk/perl/pho.pl, @(#)pho.pl 1.24.
Copyright © 2006, George Wells (text), Mark Cook (photo)