Halloween Eve Ride
| | |
| --- | --- |
| Date | October 30, 2005 |
| Hosts | Debby and Alan Cudworth |
| Where | Kittatinny Valley State Park, Andover; Sussex County |
| Who (else) | Marji Brandriss and Dave Kristol, Claire Hamanaka and Walt Willard, Brenda and Larry Isherwood, Cheryl Prudhomme and Mark Cook |
Five DOGS teams got a real education in Sussex County topology. The ride began like elementary school, with grades from 1 through 6 -- percent. But after we had been riding awhile, we graduated to senior high, with lots of grades of 9 to 12%, with a 14% grade thrown in for good measure. (Yes, we just got an inclinometer. :-) The 14% climb was at a spot where the route slip was somewhat ambiguous, and three teams had turned right instead of heading up the hill. "Surely Al and Deb don't intend for us to go up there!." They got the "benefit" of starting with zero momentum. The downside of all these hills, so to speak, was that many of the corresponding downhills ended at stop signs or traffic signals.
The roads were in great shape, enhanced by low traffic, terrific fall scenery, blue skies and mild temperatures. Three teams dressed in their Halloween finest. Deb used her brains to select an outfit, while Brenda and Larry and Walt and Claire vied to be the club's mascots. As for Al, well, the devil made him do it. A wonderful ride on a delightful fall day.
After the ride (our trick?) we enjoyed far too many treats, many with a Halloween theme. There were so many, in fact, that lots got sent home with their bringers. Although it was warm while we rode, once back at the park, a steady chilling breeze off the adjacent lake led all of us to pull on warmer clothing as we stood around in the shady picnic area for our treats.
Warm-up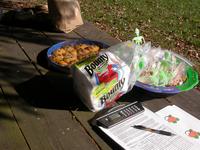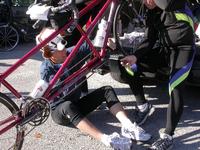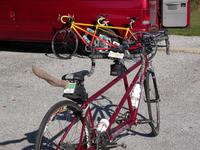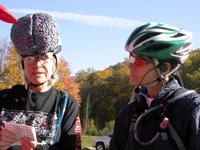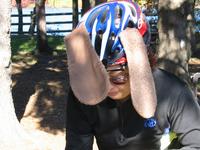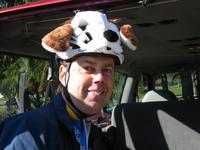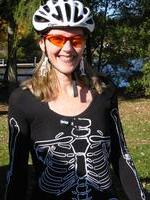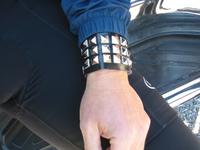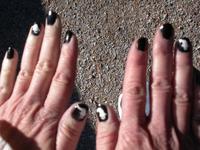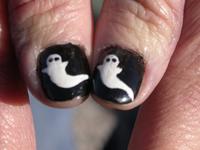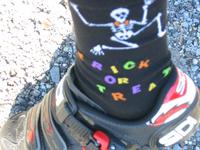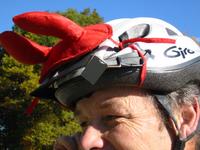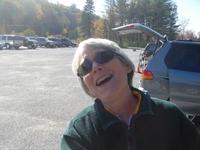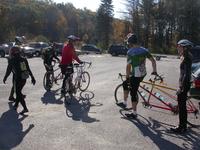 The spooky group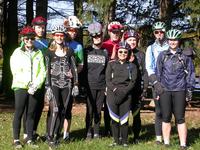 Enroute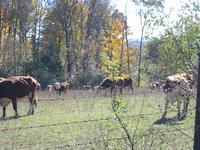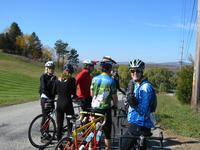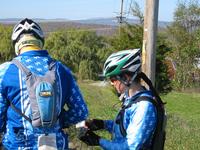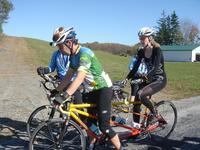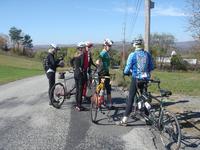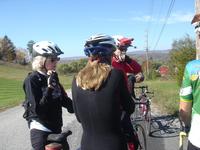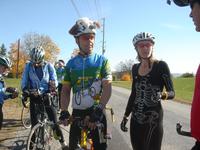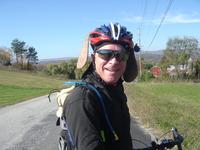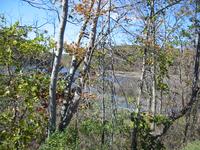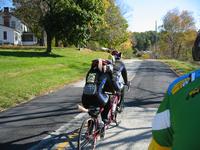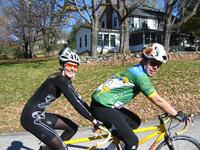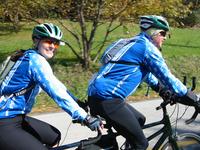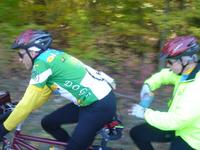 Post-ride fun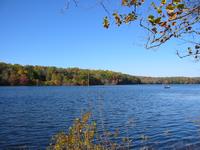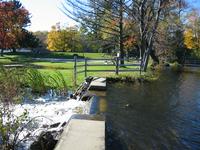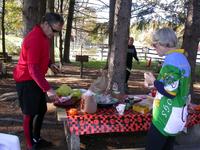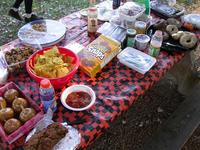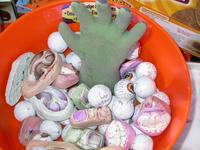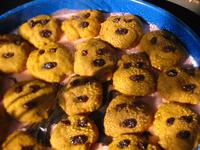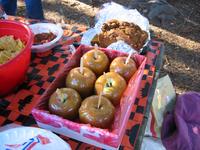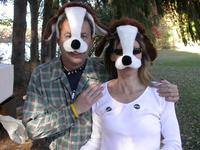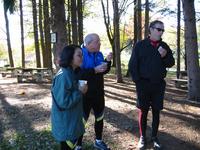 ---
---
Generated automagically on Sun Nov 6 8:50:23 US/Eastern 2005 from 051030.pho dated Sun Nov 6 8:50:02 US/Eastern 2005 by /home/dmk/perl/pho.pl, @(#)pho.pl 1.24.
Copyright © 2005, David M. Kristol (text, photos); Marjorie Brandriss, Walt Willard (photos)