Tour LeGrand/Chan
| | |
| --- | --- |
| Date | August 27, 2005 |
| Hosts | Cheryl Prudhomme and Mark Cook; Marji Brandriss and Dave Kristol (ridemaster) |
| Where | Loantaka Brook Park, Morristown; Morris County |
| Who (else) | Sue and Greg Adam, Helen and Bob Bird, Barbara and Tracy Cate, Christina Chan and Rich LeGrand, Debby and Al Cudworth, Jane and Paul Fialcowitz, Claire Hamanaka and Walt Willard, Brenda and Larry Isherwood, Jane and Paul Kimmel, Susan Nicolich and Dave Snope, Linda and George Wells |
Routes: Great Swamp Hills and Mills (2005) (35 mi.) Swampy Jockey Jaunt (49 mi.)
Rich LeGrand and Christina Chan, former DOGS, current Doubles of the Rio Grande, warned some of us by email awhile back that they'd be coming to visit, and how about a ride? Mark Cook stepped up to organize the Tour LeGrand/Chan, and I agreed to plan routes for the rides.
Ten other teams let us know they'd be coming, so it looked like we'd have a nice crowd. As it turned out, two of those ten were unable to make it, but two other teams showed up, unannounced but welcome, to take their place. Christina had told us she would not be riding, because she's just recently found out she's pregnant, so Debby Cudworth and she went off to do some "girl things" and would rejoin the riders for the customary post-ride goodies. (While we're at it, Sue Adam announced that she, too, is pregnant. Both she and Christina are due in March. We're all wishing you the best.) Meanwhile, Rich planned to try out as stoker for Al Cudworth.
In response to requests for longer rides, I added a 14-mile loop to the Great Swamp Hills and Mills ride (Swampy Jockey Jaunt) to challenge the alpha DOGS with some hills in the Jockey Hollow area. Somehow, though, I couldn't get any takers for the longer ride, so everyone got to enjoy the flat to rolling terrain around the Great Swamp. For good measure, the Morris County Public Works folks seem to have been busy recently and provided us with nice smooth surfaces. Although the clouds often looked ominous, in fact the weather was ideal for cycling, with moderate temperatures and humidity, plus a nice breeze.
The ride got off to a shaky start when Al and Rich got a flat tire within a mile or so of the start. The rear tire looked as though someone had slit the center of the tread for a couple of inches. They turned back and borrowed a fresh tire from Mark Cook, then took a shortcut to meet up with the lead pack.
Everyone else proceeded with only minor mishaps, a few slipped chains, as we crisscrossed the Great Swamp area. (We got to see the same intersection from three different directions.) Traffic was light, and there were lots of other cyclists on the roads. A stop at the Raptor Trust about half way gave everyone a chance to take a break and re-form groups.
Eventually everyone rolled back into Loantaka, where we all engaged in those other favorite DOGS activities, eating and socializing. Mark and Cheryl had brought bagels and cold cuts, which others supplemented with salads and other goodies. Oh, and there were four different desserts. Typical.
Some folks (okay, only men) oogled the Cates' new Santana titanium and carbon-fiber bike. A few paired up to give it a test ride. It's pretty funny to see Larry Isherwood sitting where Barb Cate should be, sticking way up above the frame.
It was a great turn-out, and we all had lots of fun on this nice, pleasant late summer day. It was a nice reunion with Rich and Christina, and it was a nice reunion with the rest of the DOGS, because the ride schedule has been a bit thin, and the weather this summer has often been unpleasant for riding.
Hanging out and getting ready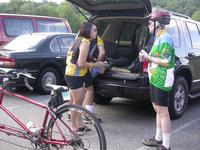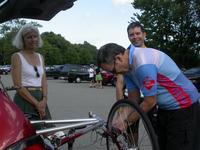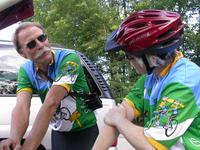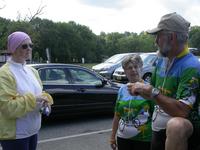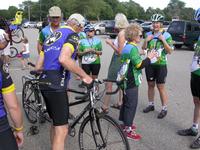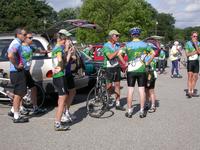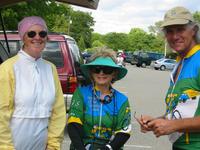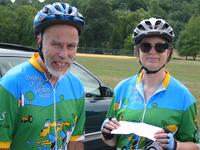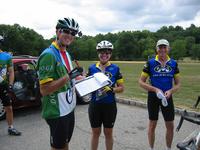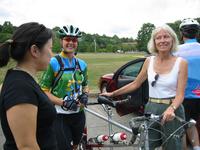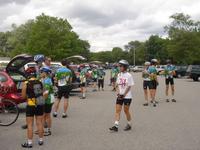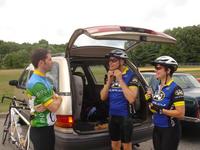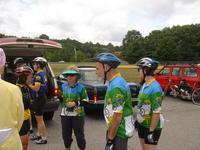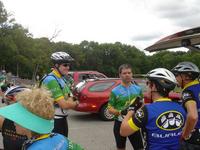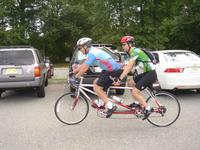 The team picture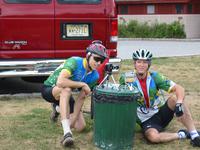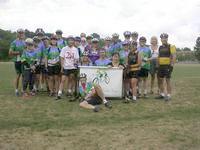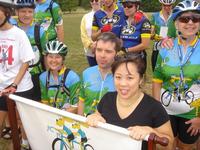 At the Raptor Trust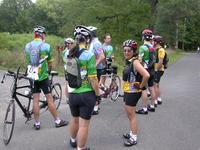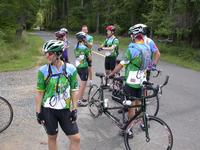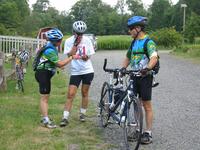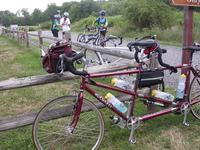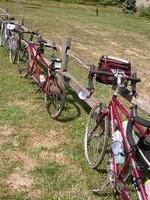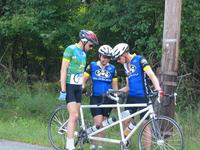 Picnic time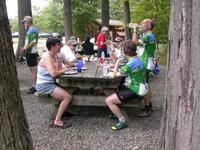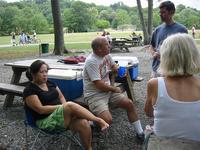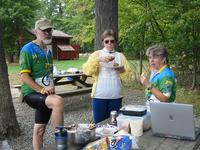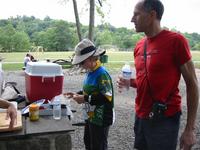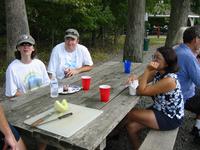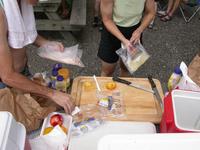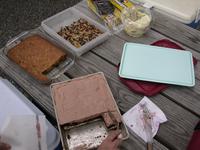 ---
---
Generated automagically on Wed Aug 31 10:14:25 US/Eastern 2005 from 050827.pho dated Wed Aug 31 10:14:22 US/Eastern 2005 by /home/dmk/perl/pho.pl, @(#)pho.pl 1.24.
Copyright © 2005, David M. Kristol (text, photos); Marjorie Brandriss, Brenda Isherwood, Walt Willard (photos)