Whitehouse Farmlands Loop de Loop
| | |
| --- | --- |
| Date | June 18, 2005 |
| Hosts | Brenda and Larry Isherwood, Susan Nicolich and Dave Snope |
| Where | Whitehouse; Somerset County |
| Who (else) | Sue and Greg Adam, Judy Allison and Malcolm Boyd, Helen and Bob Bird, Marji Brandriss and Dave Kristol, Al and Debbie Cudworth, Claire Hamanaka and Walt Willard, Linda and George Wells |
[Team Wells Report]
The Doubles DOGS (DBLS DOGS) (Dave, Brenda, Larry, & Susan) organized another great day of tandeming, this time with a twist--we rode at a moderate pace--approximately 15 MPH--all staying pretty much together throughout most of the ride. The plan worked perfectly. The weather also cooperated with a day fit for riding our tandems--mid 70's.
Nine teams gathered at the park behind the East Whitehouse Fire Station. The roster included Teams: Isherwood, Nicolich/Snope, Bird, Wells, Cudworth, Hamanaka/Willard, Brandriss/Kristol, Adam, and Allison/Boyd. We were also hoping for a tandem couple from the area around New Hope, PA, (not yet members)--they had seen our website and read about today's ride and planned to come, but had to cancel, at the last minute--their loss, they missed a great ride.
This ride was named the Whitehouse Farmlands Loop de Loop because the total 32 mile ride started with a ten mile loop south of Route 22 circling back to the Fire House and then looping north for the final 22 miles. This was a very scenic ride of several New Jersey's farmlands that look much as they did over 50 years ago (something memorable to Team Wells and several of the DOGS on today's ride). With the moderate pace, even Team Wells could keep up--even after dropping their chain, early on in the ride, due to the captain making a lousy shift. The first ten miles went by easily without anyone straining and with all of us staying together.
Shortly after passing the Fire House, we turned north to explore the farm country north of Route 22. In general, the roads were well paved, and very little traffic. The few bad patches of road were, primarily, only a half-mile stretch of Taylors Mill Road. Around mile 21, there was one good stiff climb that did break up the group. It was so stiff a climb, infact, that the writers of today's cue sheet requested that we use our "grandparents" gear (not just "granny")! At Mile 22 (Hollowbrook Road), we were treated to a nice downhill, bringing the group back together at the Pottersville General Store. Rested and restored, we struck out, remaining together for the final ten miles of this ride. To be sure that our return to the Fire House was completed in a safe and pleasant manner, the DBLS DOGS were the last team back, into the parking lot. (Thank you for your thoughtfulness). As advertised, everyone had an average speed right around 15 mph.
There were snacks and beverages provided by our hosts as well as goodies provided by other DOGS Teams. There were also delicious sandwiches bought by several hungry tandemists at the Whitehouse General Store that is across the street from the driveway entrance that leads to the park/picnic area.
Oh yes, so that they could turn their day into a hilly metric century, Teams Hamanaka/Willard and Cudworth completed an additional 30 mile ride. They will have to tell you their story about that ride.
"Be it known--far and wide," the DOGS can say, "We actually do moderate rides." We can also say that there are always teams at all DOGS rides who ride at a moderate pace so don't let your perception of "pace" hold you back from participating in a DOGS rides. For those who didn't make it today, you missed some great scenery as well as the camaraderie of your fellow DOGS.
Linda & George Wells
Leaders - Doubles Of the Garden State (DOGS)
Before...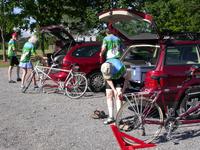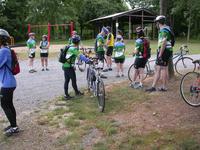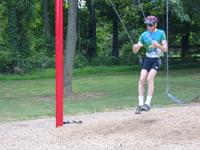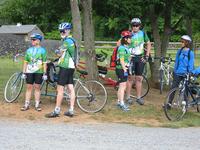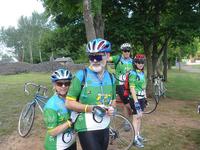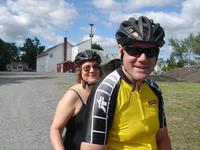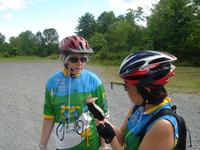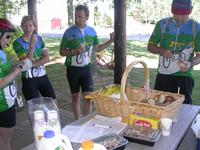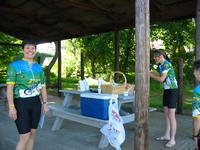 Group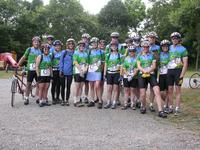 During...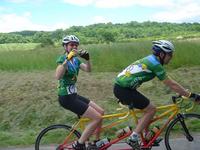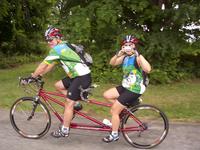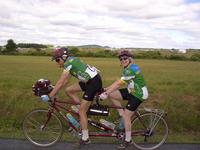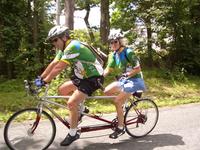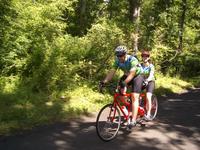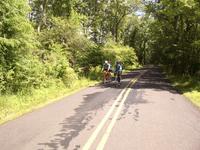 Pottersville General Store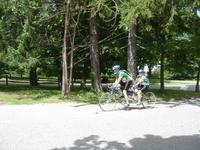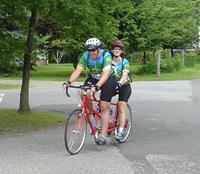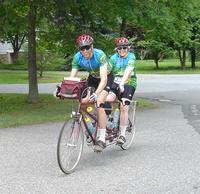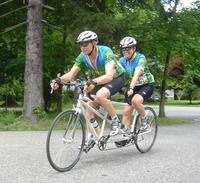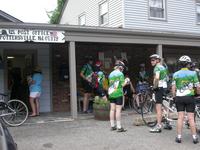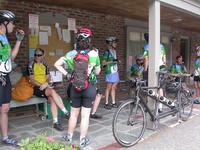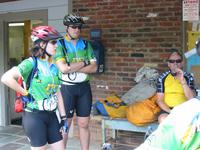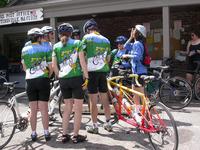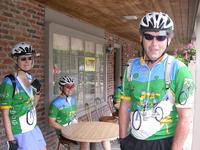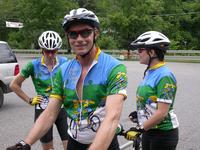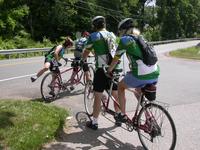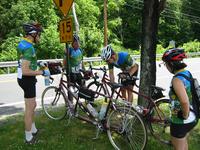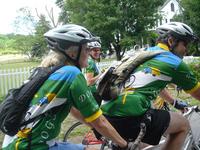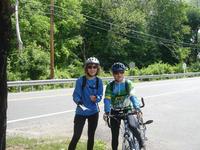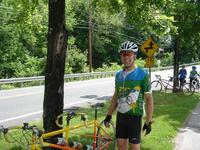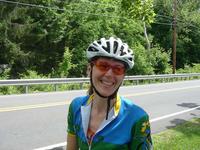 No, really!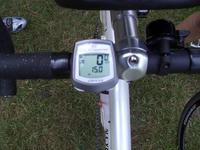 After...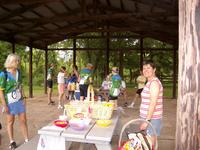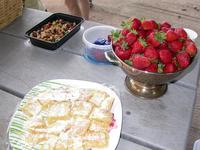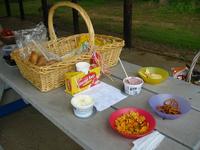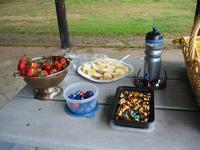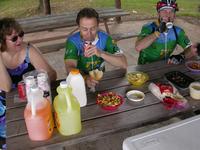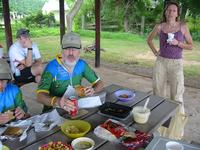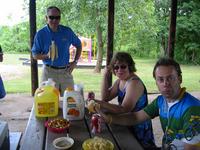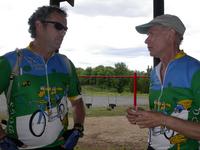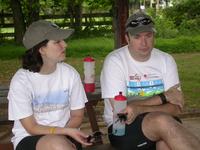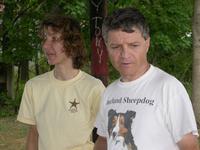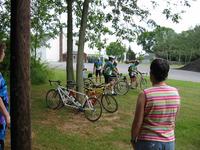 ---
---
Generated automagically on Thu Jun 23 19:01:36 US/Eastern 2005 from 050618.pho dated Thu Jun 23 18:42:06 US/Eastern 2005 by /home/dmk/perl/pho.pl, @(#)pho.pl 1.24.
Copyright © 2005, George Wells (text); David M. Kristol, Marjorie Brandriss, Brenda Isherwood, Walt Willard (photos)