Flip Flop Flapjack Frolic
| | |
| --- | --- |
| Date | March 6, 2005 |
| Hosts | Brenda (and Larry) Isherwood, Susan Nicolich, Dave Snope |
| Where | Califon Island State Park; Morris, Hunterdon Counties |
| Who (else) | Helen and Bob Bird, Claire Hamanaka and Walt Willard, Cheryl Prudhomme and Mark Cook, Linda and George Wells |
[Dave Snope's report]
Fast Flying Fun lovers find Flip Flop Flapjack Frolic quite fine
A group of "Winter DOGS" braved the Hunterdon County weather and enjoyed another successful "pancake" ride on Sunday. Somehow, we have been able to squeeze our DBLS DOGS winter rides in between periods of wintry weather during February and March. Two and a half teams went to the firehouse for breakfast and joined 3 more teams at Califon Island Park at 10:30. Only half of Team Breeze was able to attend due to the fact that Larry had the flu; Brenda faithfully did the ride on her single.
The Wellses had scouted out the route beforehand and declared it "rideable" . We took off at 10:45 after the mandatory group photo. Twenty three miles, a few dropped chains and an invigorating climb or two later we were all back at the park after a sociable and enjoyable ride. Everyone then packed up and headed for the Califon pizzeria for a post-ride de-briefing and chat fest.
Thank you to all of you who came out to ride and made it a very pleasant event.
We are tentatively scheduling the SOS/DST(Start of Season/Daylight Savings Time) ride for April 3.
---
[Team Wells report]
The forecast all this week had been what I call on-again-off-again for this Sunday. The NOAA forecast as of early Sunday morning was for cloudy skies breezy and mid-to-upper 40's -- the monthly winter ride was going to happen. So Team Wells started preparing for the trip to Califon (a.k.a., Cali-FUN). With tandem racked, and gear stowed in the trunk, we headed off to the park where we waited about 10 minutes for the other DOGS to arrive. Team Isherwood's van was already parked there but inside there was only Brenda's single bike -- obviously Larry wasn't up to the ride that day and we learned a bit later that he is home with the flu.
Team-by-team the DOGS assembled and we started off with 5.5 teams (Bird, Cook/Prudhome, 50% of Isherwood, Nicholich/Snope, Wells, and Willard/Hamanaka). Walt took the starting picture and we all mounted our tandems and headed down bank street. The winter weather has left a lot of sand and gravel on the roads, in particular the secondary roads where traffic is lighter and, of course, where we tend to ride the most. At 10:45 (Linda is always checking the start time) Team Wells led off down Bank Street onto Main and then on to Philhower/Frog Hollow. We had a pretty good lead on the pack and were, in a sense, the fox to the hounds. The hounds caught us at the base of the climb at the end of Frog Hollow. On winter legs this is a challenge but Linda and I were up to it and ground our way up the slope in hot pursuit of the hounds that had passed us. Brenda, holding a slight advantage on the climbs, led the pack onto Beacon where we alternated powering down and climbing up grades. Again, those winter legs that just don't get enough miles under them, complained at every climb.
Despite the cool weather everyone seemed to be doing quite well as we curved onto Hacklebarney Road where we were faced with the second really steep grade. The pack was pretty much together as everyone shifted for their granny gears. Bob and Helen had too much of a load on their chain and it refused to shift down so they had to bail and walk -- sorry guys, it happens to all of us sometime. Then a nice downhill grade towards State Park Road where the pack was stopping for a break. Linda and I had discussed this point in the ride on the way over to the park and decided that if neither of us needed the port-a-potty we weren't going to stop, so we powered up the grade and told the pack "sorry, we aren't stopping" as we pedaled over the hill and out of sight -- we were back to being the fox getting a lead on the hounds.
Up to this point the winds seemed non-existent. It turned out that we had been experiencing a tailwind most of the way. As we headed towards Route 24 in Chester, that all changed. We were now dead into the wind and as the cloud cover got thicker the temperatures turned colder. On Valley Brook Road the winds really picked up as our ground speed diminished. I was beginning to fade. I told Linda "I think I'm going to take a left on Frog Hollow because I'm getting tired." Linda indicated that she was in agreement. So, when Frog Hollow came up on the left, we left the route and took advantage of the fact that Frog Hollow is primarily down hill. The wily fox had taken a turn that the hounds wouldn't catch on to.
We pulled back into the lot at the park with about 18.5 miles logged, with a wind-induced average speed of about 12.1 mph for the ride. We put things away and then Bob and Helen pulled into the lot. They had also picked a shortened route diverting to Main Street from Route 513. We were all pretty cold and all of us dove into the windless interiors of our cars and vans. The rest of the pack arrived in short order. Once everyone was all packed up, we headed out to the local pizza restaurant for some food, drink and conversation. We signed cards for Larry and a card for Donna Lian.
Filled with food and drink and pretty much talked out, we all got in our vehicles and headed home. It was a good day of tandeming.
---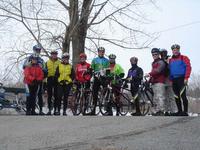 ---
---
Generated automagically on Thu Mar 17 19:05:08 US/Eastern 2005 from 050306.pho dated Thu Mar 17 19:05:05 US/Eastern 2005 by /home/dmk/perl/pho.pl, @(#)pho.pl 1.24.
Copyright © 2005, George Wells, Dave Snope (text); Walt Willard (photo)