Not the... Not as Flat as a ... (Not) The Pancake Ride
| | |
| --- | --- |
| Date | February 6, 2005 |
| Hosts | Brenda and Larry Isherwood, Susan Nicolich, Dave Snope |
| Where | Califon Island State Park; Morris, Hunterdon Counties |
| Who (else) | Helen and Bob Bird, Marji Brandriss and Dave Kristol, Julie and Stu Conway |
It may be Super Bowl Sunday, but a pack of DOGS emerged from hibernation to exercise, rather than spectate, on a blissfully pleasant mid-winter day. Punxutawney Phil may still prove right, but today's weather, sunny, with temperatures near 50, suggests otherwise.
The other four teams met at the Califon firehouse for the monthly pancake breakfast. When we caught up with them at the park around 10:05, they were milling around assessing the riding situation. Larry was concerned that there would be black ice along the route due to the overnight temperatures. After much backing and forthing, we all opted for a leader-led ride to avoid the ice.
The route was essentially a 25-mile out-and-back that covered many roads that have appeared on DBLS DOGS Califon rides in the past, just shuffled and re-dealt. Frog Hollow Rd. was not, mercifully, among them. But its role was filled by the aptly named Mountain View Rd., on which a long gentle slope morphed into something a bit more challenging. But, hey, we were all glad to be outdoors in the sunshine enjoying ourselves.
Back at the park, Julie brought out a batch of homemade cookies to share. Yum!
Note: The customary start-of-ride group photo got taken, instead, at the end of the ride, because of logistical issues. (Okay, okay, here's the deal: Dave and Sue went off to get their bike. We were going to meet them at the Eckard's on Rt. 513 and take the picture there. But when we arrived, Dave and Sue were up on the bike and moving out.) Anyway, we may look a little scragglier than usual, having already ridden.
Preliminaries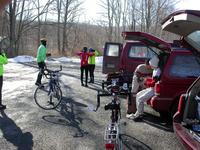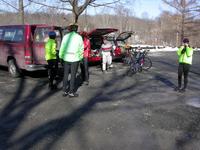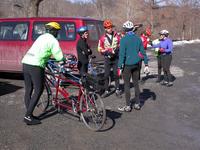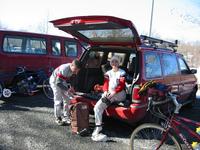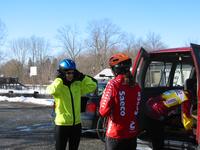 On the road...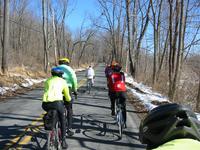 Aftermath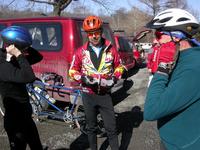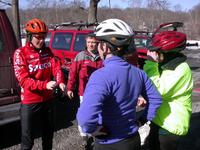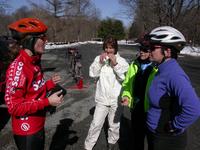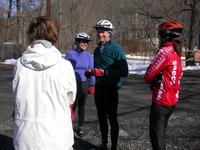 The belated group photo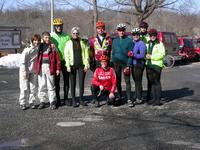 ---
---
Generated automagically on Sun Feb 6 16:55:50 US/Eastern 2005 from 050206.pho dated Sun Feb 6 16:55:24 US/Eastern 2005 by /home/dmk/perl/pho.pl, @(#)pho.pl 1.24.
Copyright © 2005, David M. Kristol (text, photos), Marjorie Brandriss (photos)